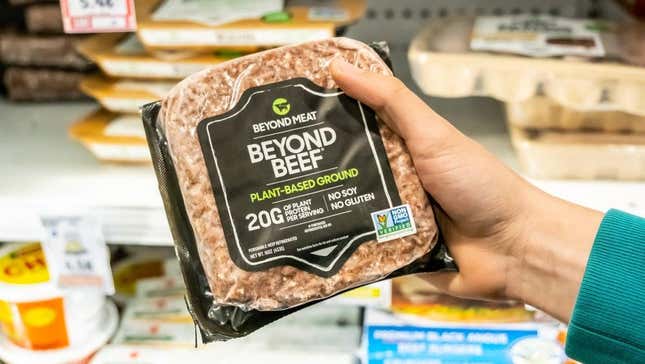 We've long been tracking the steady downward trajectory of the plant-based meat sector as a whole, but it's hard to ignore the struggles of one alternative brand in particular: Beyond Meat.
McDonald's Shrinks Its Restaurant for the Digital Age
From high-profile celebrity endorsements and fast food partnerships to layoffs and, lately, a potential lawsuit, Beyond Meat's 14-year journey has been tumultuous to say the least. Despite the ups and downs, the company's CEO chose to be optimistic in the face of Beyond's most recent earnings report.
How Beyond Meat is faring in 2023
Beyond Meat's revenue for the first quarter of 2023 was $92.2 million, which, as noted in the Q1 financial results, is 15.7% less than the previous year. And although 19.8 million pounds of product were sold, this was a decrease of 7.3% from the previous year as well. But the silver lining comes in the form of the company's net losses, which were much lower—down to $59 million compared to $100.5 million a year ago.
"Some of the kind of systemic shocks that our business went through are starting to subside," said Ethan Brown, Beyond Meat CEO, on the most recent earnings call. "And we're starting to, quarter-over-quarter, get back into a much stronger position with a business that is more appropriate for the current market." Brown also emphasized that Beyond Meat was well on the path to its goal of being cash flow positive by the end of this year.
Unfortunately, Brown expressed this optimism on May 10, and by May 15 Food Dive reported the meat alternative brand's investors are suing the company, claiming they were misled.
The Beyond Meat lawsuit, explained
A class action lawsuit has been filed by the Retail Wholesale Department Store Union Local 338 Retirement Fund.
The filing claims that investors were misled about the company's manufacturing capabilities and the brand's growth outlook. The filing reads in part that Beyond "made materially false and misleading statements and omissions, and engaged in a scheme to deceive the market. These misleading statements and omissions artificially inflated the price of Beyond Meat stock and operated as a fraud or deceit" on shareholders.
The suit calls out Beyond Meat's various fast food partnerships, including McDonald's, Starbucks, KFC, Pizza Hut, and Taco Bell. (Maybe they forgot about Panda Express?) Investors claim that Beyond Meat assured them the company would do extensive testing to ensure the unique plant-based meat products made for these various partnerships could be produced at a commercial scale. As many fast food fans know, most of these fast food partnerships didn't make it very far past the testing stage. The lawsuit alleges that Beyond blamed this on COVID changing consumer habits.
Beyond Meat also announced that its expenses were rising, sales were decreasing, and it had a significant amount of unsold inventory. On top of that, Food Dive explains, bad publicity surrounding the relaunch of the brand's Beyond Chicken, reports about a discontinued Taco Bell product test, and a second round of layoffs did nothing to improve the brand's share prices for investors.
All of this has led to a nasty decline in Beyond Meat's share prices, and investors are understandably unhappy. Who knows if the brand's CEO will find the silver lining here—but if he can, maybe he could tell us what it is.