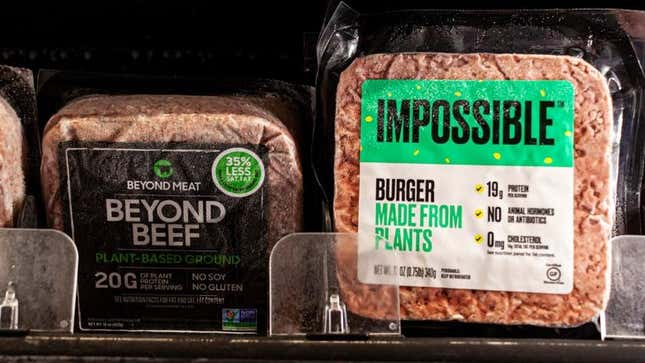 Just over a decade ago, two new companies emerged with a mission to change the way consumers consume: Beyond Meat and Impossible Foods, founded in 2009 and 2011, respectively. Greenhouse gas emissions from farming and livestock production were threatening our environment, and the global consumption of meat was beginning to look unsustainable in the long term. Though they approached the problem with two different recipes, both Beyond and Impossible hoped to provide consumers an off-ramp from their largely carnivore lifestyles.
How To Dispose Of Cooking Grease The Easy Way After Frying
Beyond Meat's founder, Ethan Brown, believed in the power of plants, using lentils and peas to create alternative proteins that aim to mimic the taste of real chicken and beef. By 2017, its products were sold in 11,000 stores nationwide. By 2018, fueled by a flood of investors and large corporations looking to collaborate, Beyond Meat was valued at $1.3 billion.

As for Impossible Foods, its chicken nuggets are truly stellar. Impossible Foods, founded by Pat Brown—unrelated to Ethan—entered the meatless scene in 2011, becoming a formidable Beyond competitor. For the past decade, both companies' products have become ubiquitous at both grocery stores and restaurants, with many consumers opting for these alternatives because they believe them to be healthier (as Pat Brown told the Financial Times in 2014) and better for the environment than animal products.
But the founders' efforts to disrupt the meat industry appears to be slowly fizzling out, as recently reported by Bloomberg. According to market research firm Information Resources Inc. (IRI), supermarket sales of meatless products are down 14% for the 52 weeks ending December 4. Meanwhile, layoffs have plagued both companies: Impossible has laid off 6% of its workforce while Beyond has reduced its staff by 19%.
Plant-based meat as a niche product
Bloomberg reporter Deena Shanker points out that the popularity of fake meat spiked during the start of the pandemic: "Americans bought 5.3 million units of fresh-meat alternatives in the eight weeks ended April 25, 2020—three times the amount from a year earlier."
But now, as the cost of eggs and other household staples reach an astonishing high, consumers are tightening their wallets and reading nutrition labels with a more critical eye than they did in the past. Inflation has forced us to ask the question: Is plant-based meat truly a better alternative or simply an overpriced, sodium-filled substitute? After all, claims about these products' nutritional value and carbon footprint have been in question among consumers since at least 2019.
Why consumers can't embrace Impossible and Beyond
There are other, more unexpected problems with these products that drive away consumers, too, one of which is their off-putting smell. Bloomberg explains that Beyond meat, in order to approximate a burger's juiciness, is processed with cryogenically frozen balls of fat made from canola oil and refined coconut oil, while Impossible's burger patties include a genetically modified yeast called soy leghemoglobin (or "heme," as Impossible calls it) to lend them a meaty flavor; neither of these substances smells great when cooked.
Though the goal for both companies is to achieve price parity, it just hasn't happened yet—plant-based meat is an expensive product to manufacture—and in the current market, few consumers are happy about buying real meat at that price, let alone a product they view as only the next best thing. If Impossible and Beyond eventually become an economical alternative, that could unlock some level of business growth. But as Bloomberg notes, it's possible that that won't happen before cellular meat rises up to dethrone plant-based as the next big trend.