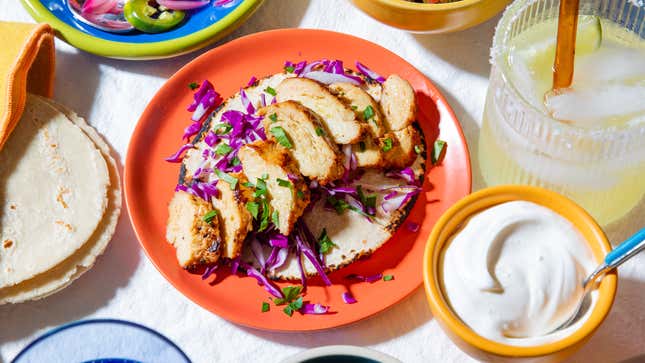 Late last year we wrote about a company called UPSIDE Foods, which has been paving the way to get cultivated meat—that is, meat grown from lab-grown cultured cells instead of from a slaughtered animal—onto store shelves. In November 2022 the company cleared a major hurdle when the FDA declared its cell-cultured chicken product safe to eat, but it still needed the USDA's green light before it could sell its product to the public. That time has come: The USDA has issued UPSIDE Foods a Grant of Inspection, which allows the company to sell its lab-grown poultry to Americans. The futuristic meat is officially cleared for landing on our dinner plates.
How To Dispose Of Cooking Grease The Easy Way After Frying
Lab-grown meat, explained
UPSIDE Foods' website explains how the whole "cell-cultured meat" thing works. The process involves taking cells from the desired animal (a chicken, in this case) and isolating them in a lab. The clusters of cells are "fed" a blend of minerals, salt, vitamins, sugars, water, and amino acids, spurring their growth. After a few weeks there's enough material to "harvest," meaning it's molded into the familiar shape of poultry. The product can be seasoned, breaded, fried, you name it—anything chicken can do, this stuff can.
"At scale, it will be a more humane and future-friendly way to grow high-quality food for meat lovers everywhere," reads its website's "Innovation" page.
Where to find cell-cultured chicken
UPSIDE will, at first, produce lab-grown chicken for a limited number of restaurant partners. It has already processed its first order with chef Dominique Crenn, whom you may have seen on Netflix's Chef's Table and who also developed the over-the-top fine dining dishes in the horror comedy The Menu last year. Her San Francisco eatery Bar Crenn will serve the new chicken product.
This isn't the first appearance of lab-grown chicken at restaurants; a company called Eat Just introduced its product in Singapore in 2020, making Singapore the first country to ever allow the sale of lab-cultured meat. But service at Bar Crenn will be American diners' first chance to taste the protein of their sci-fi dreams.
How you can try and get a taste of lab-cultured chicken
You won't be able to rush out and buy the chicken on your own just yet, but if you're interested, you can enter for a chance to try it at Crenn's restaurant on social media.
Meat substitutes have come a long way. I've been able to taste vegan fish replacements and, of course, plant-based burgers, to mostly positive results. But those were replacements for the meat itself, not the process of how we process actual meat—so how exactly will our taste buds react to lab-grown poultry? Let's hope that anyone who takes a bite cocks their head to the side and declares, "Damn, this tastes just like chicken."