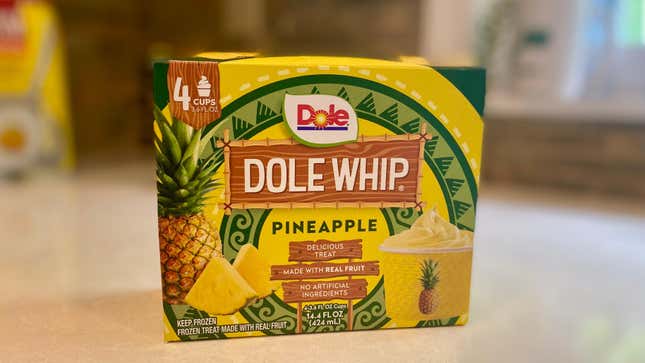 The Pineapple Dole Whip, a fruity frozen treat previously only available in Disney parks and at Disney-owned properties, can now be found in the freezer aisle at grocery stores nationwide. It's available in Pineapple, Strawberry, and Mango varieties, and while it sounds like a simple dessert, there's a surprising amount to unpack here.

How To Dispose Of Cooking Grease The Easy Way After Frying
I tasted the new Dole Whip to see how it compares to the original (which is presented soft-serve-style in the theme parks), and I'll tell you all about it. But I also talked to the person who oversaw the new product's development, and, as with most things Disney, there's a lot to cover about the history of Dole Whip and Disney World food in general. So, let's get into it.
What is the Pineapple Dole Whip?
A Pineapple Dole Whip is a fruity frozen confection with a soft serve consistency, except it's not ice cream, it's entirely dairy-free. Though other flavor combinations are available in Disney World, including a Dole Whip swirled with soft serve vanilla ice cream, the classic Dole Whip is simply pineapple. It debuted in Florida's Magic Kingdom in the 1980s and later was expanded to California's Disneyland and Animal Kingdom, where it is available with a splash of rum; it's also newly available as a fully-imagined cocktail at Wine Bar George in Disney Springs, the retail and dining area in Walt Disney World Resort.
In March of this year, The Takeout learned that Dole Whip would soon roll out to freezer aisles nationwide. Although Dole already sells a pineapple soft serve mix in commercial quantities, that's not branded as the "Dole Whip," and a ready-to-eat version of the Dole Whip has never before been made available at grocery stores.
What makes the Pineapple Dole Whip special?
To say Disney food is beloved is an understatement. People attach memories to it, covet it, drain their bank accounts on it. From popcorn buckets to humble tater tots, those of us who love Disney love Disney's food even more. The Pineapple Dole Whip is no different.
In fact, the Dole Whip holds a special place in the canon of Disney dining, in part because of how and when it's consumed during a theme park experience. It is available at Aloha Aisle, a stand in Disney's Adventureland (located in the Magic Kingdom). It's the perfect treat to seek out midday, when the average park-goer is hot and tired and in need of refreshment. A bottle of water might do the trick, but I prefer to get a cone of silky, sweet-but-tart pineapple soft serve—rejuvenation at its best.
Because its velvety texture is such a big part of its allure, I was skeptical when I heard about the Dole Whip's journey to the freezer aisle. How would it translate to a more hard-pack product?
The Frozen Dole Whip took a lot of testing
There was a long time between when the dessert was announced in March and the moment I could actually taste it. In that amount of time, I could have booked, planned, and enjoyed a trip to Disney World itself. I didn't. But I did talk to Dole while I waited about what to expect from the new product.
Kimberly Galante, Dole Packaged Foods' Head of Product Development & Innovation, Americas, answered my questions about the frozen Dole Whip's consistency and how it would translate. She was upfront: It would not be identical to the park experience.
"Our product is different than what you would find at the resorts," Galante said. "I would say it's more of a cross between a sorbet and an ice cream."
Within Dole, Galante explained, translating the flavor of the much-loved Dole Whip to the new frozen one was a project everyone took quite seriously, and the tests saw a lot of participation.
"Oh my gosh, it was probably the one taste test that I got plenty of people to come to the lab for," she said. "Everybody signed up."
Taste tests were performed weekly throughout the product's development and involved both R&D and marketing teams.
"We would put product in front of them, typically blind," said Galante. "We would ask them to score their likes and dislikes, and after that we would talk about it. Those became the adjustments we made for the next round. We did it until we finalized formulations we were happy with."
Next, it was time to go to consumers.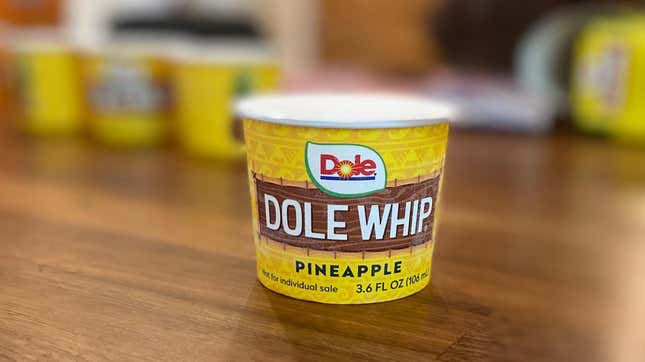 How does the new frozen Pineapple Dole Whip taste?
It took me a few weeks to track down the pineapple version of this treat. Even after the product line was released into grocery stores, I could only find the strawberry and mango versions. I was about to try getting some delivered on ice when my mom happened upon the pineapple variety in her local grocery store and picked it up for me. One box contains four individual treat cups.
The box itself gives off Disney Adventureland vibes, which quickly got me excited for the treat I was about to taste. I'd have to wait a little bit longer, though: The instructions recommend letting each cup sit out before eating. ("Just thaw for 5-10 minutes and then immerse yourself in the fun.") I followed these rules to the letter, and at minute seven I opened up my container and dug a spoon in.

It was soft and fluffy—thanks in large part to the thaw time—but not melty at all. I was a bit disappointed it didn't have any sort of swirl shape at the top like it did in the picture on the box, but hey, I'm a grown-up, I can cope. Actually, coping was not hard, because as soon as I took a bite, I was indeed immersed in the fun.
This thing is delicious. The ingredient list includes both pineapple puree and coconut cream, and both of those flavors were very apparent in each spoonful. It was tropical and yes, it managed to taste special like a Disney institution should.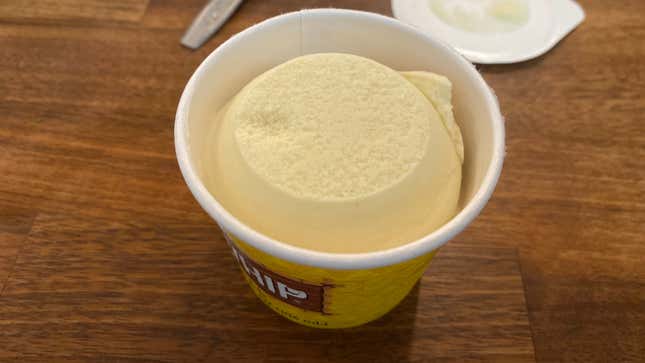 My only hesitation about this version of Dole Whip is its price point: A box of four small cups was $7.59 at my mom's grocery store. That's almost $2 per cup, which isn't that much less than an ice cream cone at my local ice cream stand. Comparatively, that's roughly the cost of a box of Drumstick ice cream treats, and that package contains eight cones. Plus, there are homemade recipes for Dole Whips that may feed a crowd for less.
Still, although it's a bit pricey and departs from the consistency of the original (in the end, I agree with Galante—it's like a mix between a sorbet and ice cream), it was a very delightful few bites of tropical, happy nostalgia for someone who loves eating Dole Whips in Disney World and lives far from that magical place. If you're looking for something that feels a little more momentous than the classic ice cream sandwich, add these to your summer shopping list.