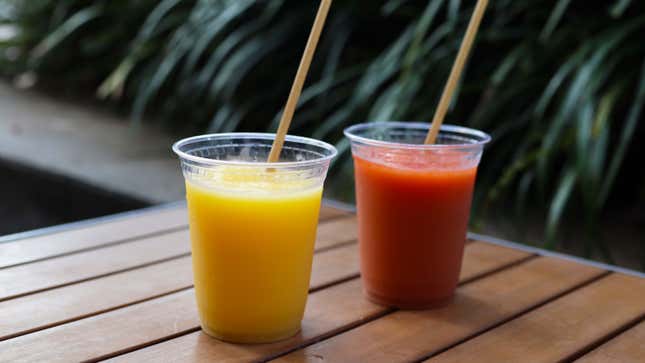 There are certain things you absolutely must do at Walt Disney World; if you don't do them, it's like you weren't there at all. You have to see the fireworks explode behind Cinderella Castle in Magic Kingdom. You have to experience the Spaceship Earth attraction inside the giant dome at EPCOT. You have to take a ride on the Monorail. And you absolutely must, without exception, order a Dole Whip.

How To Dispose Of Cooking Grease The Easy Way After Frying
Disney's Dole Whip, explained
The Dole Whip is simple: a frozen, non-dairy pineapple soft serve treat, enjoyed on its own or as a Dole Whip float with pineapple juice. The dessert was introduced to Magic Kingdom in 1984, followed by Disneyland Park in 1986, and it quickly became a park treat as iconic as the Mickey pretzel.
Since then, the Dole Whip has remained relatively unchanged. New flavors have emerged, including orange, lime, and raspberry, but the classic has remained the most popular. When Disney's Animal Kingdom opened in 1998, it notably started serving alcohol to adults (unlike the almost totally dry Magic Kingdom), and from there a new element came into play: the ability to add a splash of spiced or coconut rum to one's Dole Whip.
It was a nice addition for those of us who were looking for an adult upgrade, but it was only okay. Neither type of rum was a perfect complement to the soft serve, yet I ordered many such drinks over the years, because it was the closest thing I could get to a Dole Whip cocktail. That is, until Wine Bar George came along.
The evolution of the Dole Whip cocktail
Having opened in 2018 with the massive renovation of Disney Springs, Wine Bar George has established a reputation not just as the best place for wine lovers at Walt Disney World, but also one of the best restaurants for wine lovers in the country. Under the guidance of Master Sommelier George Miliotes, a former Disney employee who opened California Grill (among many other restaurants), Wine Bar George pours more than 140 wines by the ounce, glass, and bottle. It also makes a hell of a Dole Whip cocktail.
When the restaurant first opened, it made a splash by serving frozé from its walk-up window, but Miliotes and company quickly realized that a cocktail version of Dole Whip had the potential to hit people in both the taste buds and the Disney feels. The result: frozcato, made with moscato wine, vodka, and pineapple Dole Whip.
If you're thinking that sounds way too sweet, trust me, even for someone who doesn't like sweet wine, it's not. I didn't expect to like it, and I loved it. The tart pineapple balances the sweet moscato perfectly, and the whole thing is bolstered with a swift kick of vodka.
The drink is wildly popular, and the restaurant sells hundreds of them each day. The secret, Miliotes says, is choosing really good ingredients.
"Just like with food," Miliotes tells The Takeout, "you use great ingredients, maybe you don't screw them up, you get something good to eat. You use bad ingredients, there's not much, in the end, you can do with it."
Part of Wine Bar George's genius is that its wine selection is largely based on finding great values. Sure, you can order a $900 glass of Château Lafite-Rothschild, but if you ask Miliotes or another somm for a recommendation, you're much more likely to have them suggest a $12 glass that drinks like it costs $25.
"That's the fun of making the wine list," Miliotes says. "Everybody gets excited about buying expensive, classic wines—they've read about them, they're world famous, they get to try them. But the section of the list from the $9 glass up to the $15 glass, that's where the fun of finding the best at that price is."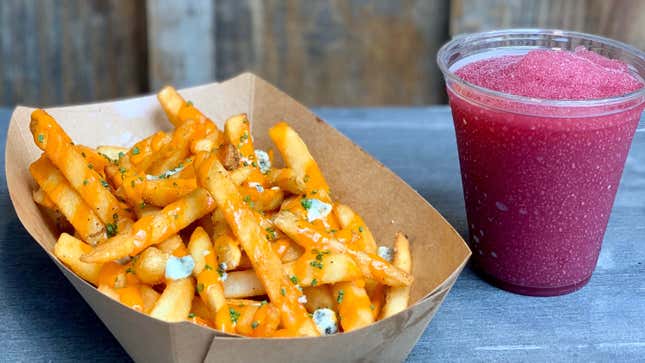 How to make Disney drinks that don't taste like kiddie cocktails
The key difference in making these frozen drinks tip toward sophisticated cocktails rather than sugar bombs is the quality of the wine and spirits going into them.
"For the frozé, I use Protocolo out of Spain that I think is, if not the greatest value for rosé at the entry level price point, has got to be one of the two or three greatest values," Miliotes says.
In the summer, there's a friezling made with Selbach riesling, lime Dole Whip, and vodka. But right now, when the winter in Florida could mean either hot days or chilly ones, there's a frozen old fashioned made with George Dickel Whisky and orange Dole Whip.
"We wanted another frozen drink, but we didn't want it to be sweet," Miliotes says. "Old fashioned drinkers come in when it's hot out, and they're like, 'that is the greatest thing in the world.' Because it's still a cocktail, but it's frozen."
The restaurant is likely to be packed at any time of day and any day of the week, but here's the secret: Order from the walk-up window so you can snag a frozen drink and walk around Disney Springs with it. On your stroll you're going to see a dragon coming out of a lagoon, an erupting volcano, dinosaur bones, cars that drive on water, and a lot of other things that defy logic (outside of Disney, at least). You're probably going to want a cocktail for that.