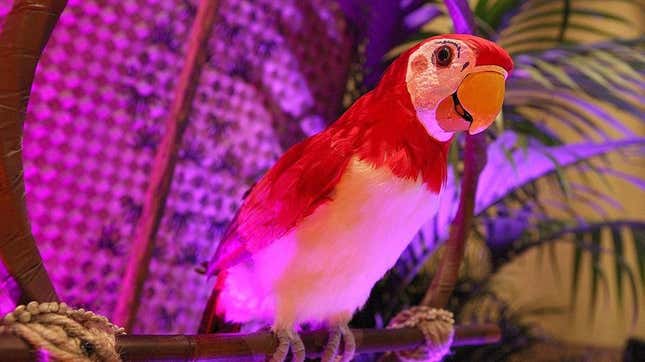 "The collection is so large, we cannot fit it into our current location!" That's how Van Eaton Galleries in Los Angeles describes the Joel Magee Disneyland Collection, a vast trove of collectibles that will go up for auction on July 17—the day Disneyland opened in 1955. (The collection is housed in an old Bed Bath & Beyond building.) Magee, known as America's Toy Scout, has amassed a mind-bogglingly comprehensive collection, and 6,000 original pieces of Disney history will be available to bid on. Among them are many relics of a less celebrated aspect of Disney history: the theme park dining options that have spanned across eight decades.
Before you start getting ready to place your bids, a word of warning: Nothing in the catalog's 500-plus pages appears to be listed for an opening bid of less than $100 (though this video claims a starting price of $50 on some items). This means that, yes, something like a pair of vintage drink stirrers is listed for $100-$200. But for Disney historians and hobbyists alike, it must seem like a small price to pay for these rare artifacts—and much more reasonable than, say, placing a bid of $30,000-$50,000 on a custom Haunted Mansion "Doom Buggy" ride vehicle.
How To Dispose Of Cooking Grease The Easy Way After Frying
The artifacts related to the Disneyland restaurants are some of the most charming, since they speak to the challenge of turning an utterly practical transaction—buying lunch for rapidly waning toddlers—into something "magical" worthy of the Disney experience. Even the paper cups (yes, there are paper cups for sale, opening bid $100-$200) are festooned with illustrations of cute characters to assert that by dining in this establishment, you're part of something special.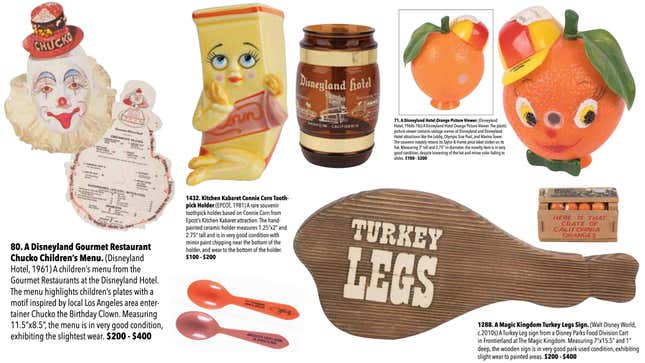 Here's a partial selection of the most notable food-related items you can bid on within the Joel Magee Disneyland Collection:
Late 1960s Popcorn Box: Even if you don't care about Disney stuff in the slightest, it's kind of impressive that a cardboard box, designed to house grease and crumbs for mere hours, could have survived more than 50 years with only minor fading on its Sleeping Beauty Castle facade. It's also a far cry from what would later become a thriving source of Disney revenue: the plastic reusable popcorn bucket, whose myriad elaborate designs have caused hours-long bottlenecks at the theme parks as guests wait in line to get their hands on limited-edition releases.
Snow White Poison Apple Prop: This mostly just looks like a gnarly apple, but the auction catalog provides some illuminating history in the description: "The prop apple is notorious for theft at the hands of Guests, who would happily oblige the Old Hag's invitation and reach for the poison apple. It became such a problem that Disneyland Staff manufactured and readily stored a spare supply of apples Backstage to replace as needed." For $400-$600, you can buy one of the apples, which has been treated with UV paint to glow under a blacklight.
Chucko the Clown Children's Menu: On page 25 of the auction catalog, you'll find what might be the most chilling artifact ever produced by the Walt Disney Corporation. A 1961 children's menu for the Disneyland Gourmet Restaurant is not just decorated with the face of popular contemporary character Chucko the Birthday Clown, but rather shaped like Chucko's head, which is only exhibiting a slight smile. You must bid $200-$400 for the privilege of ruining your appetite.
Mugs: There are more commemorative mugs throughout this catalog's 540 pages than you ever thought possible. "When in doubt, make a mug" seems to be the park's motto. The best looking ones include a 1961 souvenir mug from the Disneyland Hotel featuring amber glass with bands of gold metal and a molded ceramic Enchanted Tiki Room mug from the same era featuring potentially problematic statuary designs.
Turkey Legs signage: On page 467 of the auction catalog sits the item I personally wish with all my heart I could own: a wooden sign from Frontierland in the Magic Kingdom advertising turkey legs for sale, shaped itself like a giant turkey leg. Since the sign is only about 10-15 years old, it's listed for a relatively reasonable sum of $200-$400, and its size, 7"x15.5", would fit nicely on a kitchen wall. Like, say, the span of wall just next to my stove. Not that I've thought too hard about this or anything.
There's plenty more to discover within the massive catalog, so we suggest you peruse it for yourselves. Yes, even if you hate Disney fanaticism—because what's more satisfying than asking, "Who the hell would pay for all this crap?"