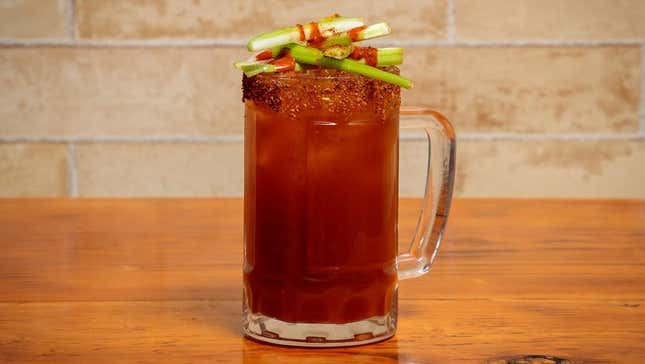 The bloody mary is a classic drink, an infinitely riffable brunch staple and hangover remedy. But another red beverage could be newly poised to take its place: the michelada.
How To Dispose Of Cooking Grease The Easy Way After Frying
For the uninitiated, a bloody mary and a michelada have a similar appearance but some key differences in their ingredients. Both have a tomato (or Clamato) base, with mix-ins like Worcestershire sauce, lime juice, and hot sauce. The core difference is that a bloody mary is made with vodka whereas a michelada is made with beer. That fact alone might be contributing to the downfall of the bloody mary.
Vodka sales in the U.S. remained flat in 2022 at $7.2 billion, while tequila's popularity is on the rise and the latter is poised to overtake vodka as America's best-selling spirit, according to the Distilled Spirits Council of the United States. Tequila and mezcal sales increased last year by 17.2% totaling $6 billion.
The Bloody Maria, made with tequila instead of vodka, is a brunch cocktail that might also be stepping on the classic bloody mary's toes, but the real issue is that beer, the main component in a michelada, is becoming more popular even as vodka falls off—especially light Mexican beers. Micheladas originated in Mexico, and they've long been popular among Latinx consumers. The preferred beer used for the drink is usually a Mexican beer like Modelo Especial.
There's currently a growing interest in Latinx cuisine across the country, particularly Mexican food and flavors. A recent report from Technavio, a market research firm, notes that the global Mexican food market is estimated to grow by $113.85 billion from 2021 to 2026.
The Potawatomi Casino and Hotel recently conducted a bloody-mary-focused survey of over 1,000 people and found that Gen Z and millennials are less likely to drink a bloody mary than older generations. Only 57% of Gen Z respondents and 70% of millennials said they would drink one; both generations prefer mimosas as their brunch cocktail of choice.
Younger generations are drinking less alcohol than their elders overall, so it makes sense that they would steer away from a vodka-based cocktail in favor of a beer-based one. It also makes sense for those who do drink alcohol to choose a michelada, which has lower alcohol content than a bloody mary and theoretically presents less risk of a hangover. Plus, micheladas can be just as dressed up and garnished just as elaborately—think olives, pickle spears, strips of bacon, even the occasional cocktail shrimp or lobster claw. The rim of a michelada is often coated with Tajin and chamoy, while fruits, vegetables, and other savory bites can be stacked on a toothpick to draw the eye and activate the taste buds.
None of this is to say that the bloody mary is dead, but maybe her time as Queen of Brunch has passed.