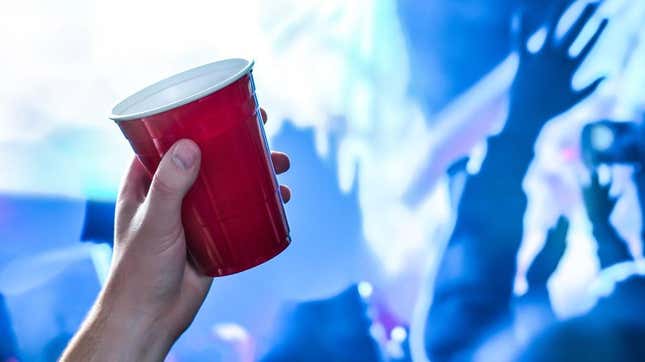 Kids these days just don't know how to party anymore—or maybe they are better at it than the rest of us ever were. Billboard writes that Gen Z isn't buying enough alcohol at concerts, and music venues are suffering because of it. Fellow millennials, let's celebrate the fact that, for once, we aren't the generation being accused of killing an industry.
How To Dispose Of Cooking Grease The Easy Way After Frying
Considering Gen Z is also the generation that invented the borg, a plastic gallon jug filled with vodka, water, and electrolyte packets optimized for partying all night long, it might be hard to imagine why they wouldn't want to get a little loose at a concert. But just as elder millennials embrace different trends from younger millennials, there are also two sides to Gen Z's drinking habits.
Per Billboard, a number of venue operators are noticing alcohol sales declining at concerts, particularly shows aimed at Gen Z audiences. One operator in Tucson, Arizona said they saw a 25% decrease in money spent on alcohol relative to shows that catered to older generations.
A co-authored study from 2020 found that from 2002-2018, the number of college students (ages 18-22) who abstained from alcohol increased from 20% to 28%. And for those who do drink, they tend to consume less than older generations. At the same time, marijuana use increased among college students during the same period, rising from 27% to 31%.
"One of the big trends we're seeing is that Gen Z doesn't drink as much," said Dayna Frank, president/CEO of First Avenue Productions, a concert venue and promotion business in Minneapolis, at the Music Biz conference in Nashville (as reported by Billboard). "They're either eating edibles before they come or there's more of a sober, mental health [focus]."
To better appeal to health-conscious concert-goers, some venue operators are exploring other revenue options such as serving mocktails, sparkling water, kombucha, and even CBD drinks. This might be the best bet for smaller venues to keep their beverage sales up, considering another recent report, this one from data analytics company Kantar, found that 21% of Gen Z had purchased non-alcoholic beer in the last 12 months.
Although Gen Z isn't just cutting back on alcohol purchases at venues for budgetary reasons, this decline in alcohol sales is an ongoing trend that has reached other businesses as well, and at the macro level, it's also partly due to pricing. Drink prices at concerts, music festivals and other live events are pretty insane, so I don't blame the younger generation for skipping out. Pregaming the event at home with more affordable drinks is just smart budgeting.
As a millennial, I've gotta say, not only is it nice not to be blamed for this mess, but one could also argue we should be celebrated—after all, we're the ones keeping the booze purchases flowing at concerts. I might not be buying as many drinks as I used to, but I'm definitely spending, and I'm tipping too. Feel free to thank me later for my contributions to the arts.