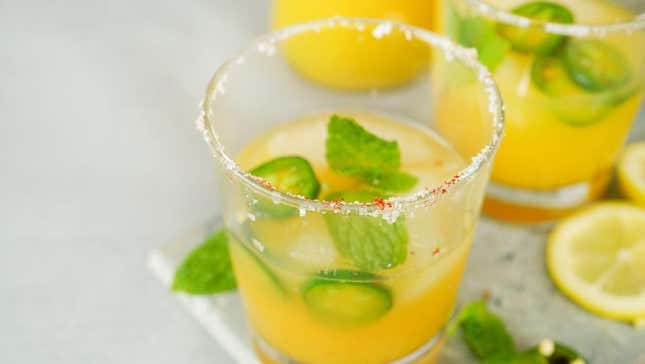 Hard seltzers had their moment,  espresso martinis made a divisive comeback, and the Dirty Shirley caused hangovers far and wide. But now, if sales figures and bar menus are any indication, there's another drink trend that's about to crowd liquor store shelves: flavored tequila.

How To Dispose Of Cooking Grease The Easy Way After Frying
Although the number of regular alcohol consumers has dipped slightly in recent years, the beverage industry is attempting to grab the attention (and money) of those who do drink by presenting lots of flavorful innovation. Take ready-t0-drink cocktails, for example, which ascended in 2022 as the drink of the summer: From canned Jack & Coke to Simply Spiked flavored lemonades, the biggest releases packed more of a punch than their predecessor, hard seltzer.
Bacardi's Annual Cocktail trends Report for 2023 indicates that bold, even spicy flavors are what consumers are seeking in tequila-based cocktails. Also notable is the fact that Drizly's list of the trendiest drinks of 2023 includes a cucumber jalapeño tequila from the brand 21Seeds.
Tequila's rise in popularity
It's no secret tequila has gained major popularity in recent years. From 2017 to 2021, tequila's share of the liquor category on delivery service Drizly rose from 10% to 18%, according to Drizly's data platform BevAlc Insights.
In addition to holding volume on Drizly, agave-based spirits—a category that includes both tequila and mezcal—grew to become the third-largest spirits category in the U.S. in 2021, just behind vodka and whisky. Now, agave-based spirits are even predicted to beat out vodka in 2023 and become the largest category by value. Zooming outward, tequila's global market revenue was valued at $9.7 billion in 2021 and is predicted to reach $13.5 billion by 2028, according to a press release from Vantage Market Research.
But staying above the competition means keeping things fresh, and that means finding opportunities to offer variety and novelty. Cue the new influx of tequila-based ready-to drink cocktails.
While tequila gained traction as America's liquor of choice, it also began to carve out a place for itself in the RTD category. IWSR also reports that vodka and tequila bases dominate the RTD category, with the two accounting for more than half of the new spirit-based RTD launches between 2019 and the first half of 2021.
"The majority of new spirit-based releases use vodka and tequila, partly because consumers prefer them and partly because these spirits tend to be more mixable than whisky," said Mariana Fletcher, Head of Analytics for IWSR U.S.
Where tequila is headed next
We saw it first with vodka: cucumber, lemon, mango, peach, tamarindo, hell, even vanilla vodka, all lined up on the shelves. Tequila looks to be headed down that same path. And these new fruity tequila options are likely more than a passing fad.
In fact, Joe Cruz, founder of YaVe, a tequila brand with infused flavors like jalapeño, mango, and coconut as its core offerings, tells The Takeout that flavors are the natural next step for tequila's growth and popularity.
Looking at past industry trends, Cruz knew infused tequila was the way to go. He cites Absolut Vodka's 1986 launch of Peppar, a pepper-flavored vodka for Bloody Marys, as well as the introduction of flavored rum and flavored whiskey to the marketplace.
"It's the evolution of this industry in general," says Cruz. "I mean, there's always something new… it was just tequila's turn."
He has a point. Despite having been introduced in an era predating Prohibition, flavored whiskeys have only gained popularity over the past decade or so. Drizly's BevAlc insights reported that more than 16 million cases of flavored whiskey were sold in the U.S. in 2020, whereas fewer than two million cases were sold 10 years before.
One drawback to this phase in tequila's evolution is the potential for oversaturation: a glut of lower-quality tequilas hitting the market, their loud, artificial flavors masking their shortcomings. While Cruz hopes to add more flavors to YaVe's lineup, he's also wary of what the increased popularity of this type of tequila could mean for the drink as a whole.
"I think it's going to be an amazing uptick, but every once in a while you're going to have someone who says, 'I hate the flavors,' and that's because someone is going to do the artificial B.S. that's going to skew people away from it until they taste YaVe or something else," says Cruz.
The best way to combat this potential loss in quality, Cruz says, is by sticking to quality ingredients and processes. For example, he notes, the way most would approach making a mango-flavored tequila would be to buy a mango syrup and pour it into the tequila. YaVe goes through an infusion process instead; this means that actual mango fruit is macerated to get all its juices and oils out to make its own syrupy liquid, then that liquid its placed in a stainless steel container with blanco tequila for 35 to 40 days and filtered before bottling. Incorporating real fruit into the tequila-making process takes more effort, but the difference in the final product is clear.
Flavored tequilas also offer a refreshingly simple sip: Infusing the tequila itself to make a premium pour means consumers don't have to buy multiple ingredients to craft complicated cocktails just to mask the taste of a lower-quality spirit. Bacardi's Trend Report indicates that drinkers are looking for simplicity and quality ingredients and are willing to pay more for them; 72% of bartenders surveyed for the report said they're seeing the most "premiumization" within the tequila category.
Cruz says YaVe was designed with the idea that people could make a simple cocktail at home using just a few ingredients because it already carries most of the flavor. In 2023, it's likely we'll see more tequila drinkers cutting out the frills and relying on infused tequila to drive their cocktails.