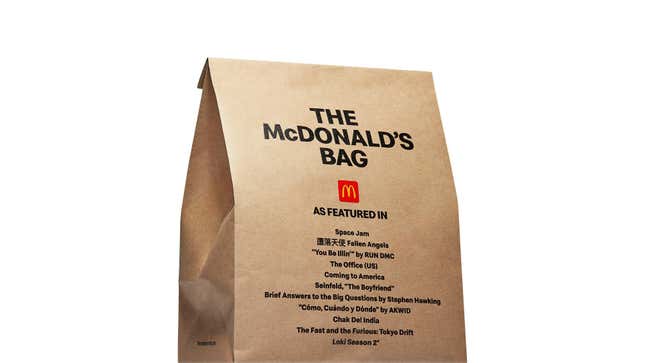 From celebrity collab meals to recommended menu hacks to a nostalgic mascot comeback, there's one thing we know about McDonald's: the chain loves itself and wants to remind us that we love it too. McDonald's newest promotional meal, recently announced via press release, is a perfect example of this, and it doesn't even offer anything new for fans to taste.
How To Dispose Of Cooking Grease The Easy Way After Frying
Although the "As Featured In" meal is partially to promote the newest season of Marvel Studios' Loki, premiering October 6 on Disney+, it actually nods to the many times McDonald's has been featured in pop culture. The meal will be available starting August 14.

"It's not only our real-life fans who have a go-to order... for decades our favorite movie and TV characters have, too," said Morgan Flatley, Global Chief Marketing Officer and Head of New Business Ventures, in the announcement. "The As Featured In Meal is our biggest Famous Order yet, celebrating the most memorable McDonald's references across the world of entertainment."

Customers who order the As Featured In Meal get a choice of 10-piece McNuggets, a Quarter Pounder with cheese, or a Big Mac, with a medium order of fries, a medium drink, and Sweet 'N Sour Sauce. Each of the entree options have been featured or mentioned in some form of entertainment, be it a television show, film, or popular song.

McDonald's uses the example of George Costanza's date in Seinfeld proclaiming, "I haven't had a Big Mac in a long time," as well as Troy Dyer in Reality Bites, who "take[s] pleasure in the details" in life such as a Quarter Pounder with cheese.
We could all think of at least a dozen unique instances of McDonald's being woven into pop culture. For me, the one that comes to mind quickest is the scene in the Spy Kids movie from 2011 in which the main characters use a futuristic microwave to rehydrate a dry pack of food into a full McDonald's Big Mac meal.
Or how about The Fifth Element, in which a McDonald's restaurant is featured as a futuristic design with a designated drive-thru for flying cars? And though it's been a constant talking point for nearly 30 years, we can't forget the discussion in Pulp Fiction surrounding the French name for a Quarter Pounder with cheese. Yes, McDonald's is an iconic brand and everybody knows it. The chain really has nothing to prove on that front.

This nostalgia play is one that McDonald's marketing team has spent decades perfecting. The Golden Arches may be focused on menu improvements and forward-thinking restaurant expansion for the future, but its strategy for attracting customers is heavily rooted in the past. Consider the hype that built around the return of Happy Meal Halloween buckets. Even just a whiff of these spooky little pails sent the internet into a tizzy.

There's also the more recent success of McDonald's Grimace Birthday shake. Although unconventional and likely unintended, the return of the purple McDonaldland character sparked a TikTok trend in which people try the shake and wind up "dead" by the end of the video. The mini horror videos were surprisingly embraced by the company rather than ignored like many would assume. Whether it was the nostalgia or the horror, humor blend of TikTok videos, the campaign was a major success. The #grimaceshake has over 3 billion views and the company sold millions of the shake, The Wall Street Journal reports.
Further banking on its own historic popularity, McDonald's also recently announced it will be opening a new dining concept based on an alien character it featured in its advertising in the late 1980s. The character is definitely one of the brand's lesser known creations, but does that really matter? McDonald's knows everyone loves a good throwback.