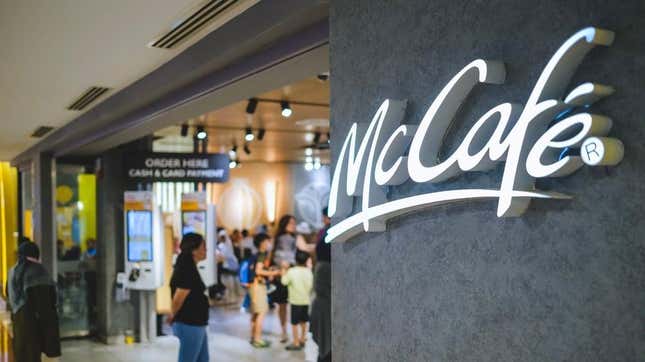 McDonald's McCafé bakery offerings might not be the shining stars of the breakfast menu, but they do provide a sweet, warm counterbalance to the many savory offerings available, and they're served all day. If you are one of the outliers who prefers these McDonald's treats to an Egg McMuffin or Sausage McGriddles, you'll want to hustle to the drive-thru, because the pastries are getting the boot.
How To Dispose Of Cooking Grease The Easy Way After Frying
Which McDonald's breakfast menu items are going away?
In an emailed statement, McDonald's confirmed to The Takeout that the Apple Fritter, Blueberry Muffin, and Cinnamon Roll, the only permanent McCafé bakery offerings, will be phased out starting this month. These McCafé baked goods first made their appearance in October 2020 after McDonald's axed its all-day breakfast menu to streamline operations during the pandemic. Midnight Egg McMuffins were out, but 10 p.m. Cinnamon Rolls were in. Since debuting the three pastries, McDonald's has also run a few limited-time promotions, including the Cheese Danish and the Glazed Pull-Apart Donut, but none seem to have made a big splash.
"We're always listening to our fans and adjusting our menu based on what they crave," McDonald's USA wrote in a statement. "We know goodbyes are never easy – but fans can still satisfy their sweet tooth with our iconic Chocolate Chip Cookies, Baked Apple Pie and frozen desserts at restaurants nationwide."
Sure, the cookies, pies, and McFlurries remain—but those are all part of McDonald's "Sweets & Treats" menu, not the bakery one. Does this mean the end of the McDonald's McCafé bakery as a whole? Will McCafé focus solely on coffee going forward?
Asked whether the existing breakfast pastries would be replaced by something else, McDonald's declined to comment. However, recent regional market testing gives us hope that some fresh baked goods might grace the menu once more.
How McDonald's might bring pastries back to the menu
Late last year, McDonald's conducted a limited-time test in Kentucky where it offered Krispy Kreme doughnuts at select locations. Customers could chose from the classic Krispy Kreme Original Glazed doughnut, a chocolate iced doughnut with sprinkles, and a glazed raspberry-jelly-filled doughnut. Just like McDonald's proprietary pastries, the doughnuts were available all day long; unlike McDonald's pastries, the Krispy Kreme doughnuts could be ordered a la carte or by the dozen.

"McDonald's is always looking for ways to give our fans more of what they crave, and we often conduct tests to inform future menu decisions," read the press release announcing the partnership. "This small-scale test will help us understand how offering new bakery items like Krispy Kreme could impact operations in our restaurants."
It seems like McDonald's learned all good things from the test run, because in March of this year it announced plans to expand the Krispy Kreme rollout to 160 locations throughout the Louisville and Lexington areas of Kentucky. It's still a limited-time test happening in just one geographical area, but there's no reason to think it won't be successful enough to expand further.
Plus, after some social media buzz broke the news early, McDonald's confirmed to Today last week that it will be offering a new Cookies & Crème Pie for a limited time in select areas of the country starting July 14. The pie features a chocolate cookie crumb crust filled with fluffy vanilla crème and chocolate sandwich cookie pieces. The new dessert will be available at participating locations in select markets, including Los Angeles, Seattle, Chicago, and New York City.

At this point, we can only speculate what will become of the McCafé bakery and its middling breakfast pastries. As for how much longer you can grab a Cinnamon Roll, Blueberry Muffin, or Apple Fritter from your nearest McDonald's, the company tells The Takeout that the phase-out of the current menu items will vary by restaurant. If any of these treats are calling your name, I suggest you answer quickly.