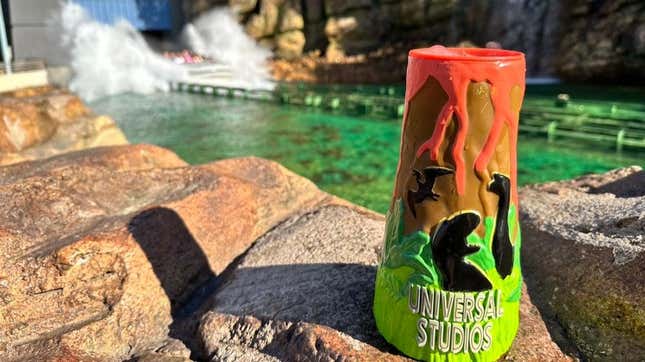 There are volcanoes erupting all over Universal Studios these days. But rather than run away from them in a desperate attempt to save themselves, people are running toward them, and paying for the privilege.
How To Dispose Of Cooking Grease The Easy Way After Frying
It's easy to see why—these volcanoes do look extremely cool. They're overflowing with "lava," and each is small enough to hold in your hand. If I'm being honest, though, the real draw is that each one is full of booze.
This summer, Universal Studios parks in both Hollywood and Orlando have released a Jurassic World volcano tiki cup, which might be the coolest drink you can get in any theme park anywhere right now. It's at Isla Nu-Bar, the dinosaur-themed tiki bar in the Jurassic World area of both Universal Studios Hollywood and Universal Orlando's Islands of Adventure park (also home to the Wizarding World of Harry Potter).
The cup itself looks like a volcano: a rocky mountain emblazoned with the Jurassic World logo, molten lava spilling out the top and down over the vegetation and the dinosaurs below. This collector's item would be fun on its own—but the magic trick inside is what really puts this drink over the top. There's a compartment in the base for dry ice, and as soon as a beverage makes contact with the bottom of the cup, the whole thing "erupts" in a sputtering, fizzing libation that's as fun to gaze upon as it is to sip.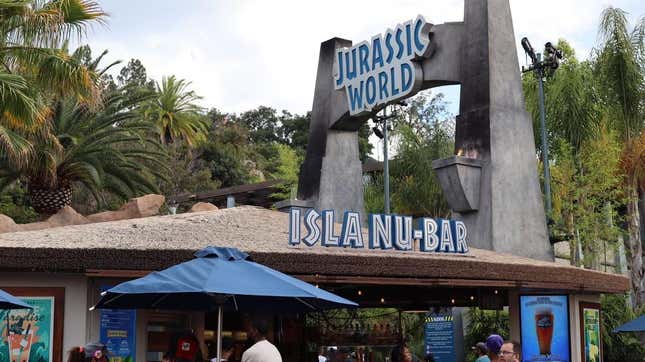 One thing that Universal does especially well is its themed bars. Simpsons Land offers both Moe's Tavern and Duff Beer Garden, which serve Duff, Duff Dry, and a "Flaming Moe" that's really just orange soda with some bells and whistles. The Hog's Head Tavern in the Wizarding World of Harry Potter serves several varieties of magical brews including a Dragon Scale Ale; my favorite is hard cider with a shot of Fire Whiskey, a proprietary liquor distilled exclusively for the park.
But out of all the places to grab a drink at Universal Studios, Isla Nu-Bar is the most fun. And no, that's not just because it's directly outside the exit of Super Nintendo World, which is a dry land. 
The name Isla Nu-Bar is a play on Isla Nublar, the island home of Jurassic Park in the original 1993 film. Situated just between Jurassic Cafe and the Jurassic World ride, it's perfectly themed as a dinosaur tiki bar. The servers wear an adventuring uniform complete with a safari hat (a look that would be right at home guarding the raptor pen), and they work in a thatched-roof hut decorated with hanging flowers and plants, as well as posters advertising "a taste of paradise" via dinosaur beverages with imagery of a tropical drink set against lush foliage with a brachiosaur or two grazing in the distance.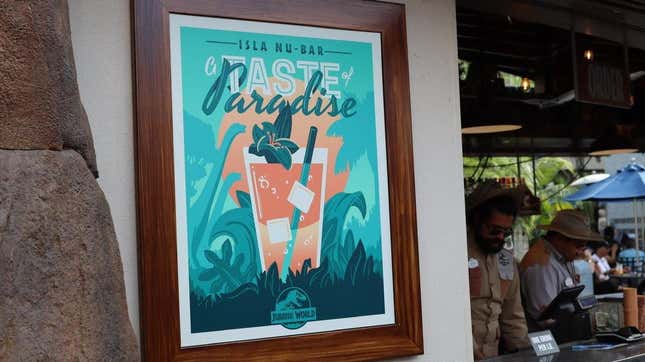 On the menu, there are classic tropical drinks, some with a bit of a twist: there's a standard Pina Colada, but the "Tropical Margarita" has both tequila and coconut rum. The Painkiller has coconut and pineapple like usual, but comes with the addition of peanut butter whiskey—a flavor profile that works better than it sounds like it would.
Isla Nublar IPA is another park exclusive brew, which a poster in Isla Nu-Bar advertises as "an adventure 65 million years in the making!" It's an American-style IPA with notes of pineapple, grapefruit, and orange, brewed with citra and mosaic hops and "prehistoric yeast," the origin of which I can only speculate about. Hopefully it wasn't extracted from frog DNA.
For the non-beer or cocktail drinkers, there's wine on offer, too: a "Pterroir-dactyl" rose and a "Blanc-osaurus" riesling. According to the Boozivore Principle I just invented, puns make any drink taste better, especially at a theme park.
For my volcano drink (which costs $40, a price that includes the cup and the cocktail), I stuck with the theme and chose Jurassic Water, which is a little bit like an Isla Nublar Iced Tea: gin, vodka, rum, tequila, raspberry liqueur, melon liquor, blue curaçao, grenadine, sweet and sour, and club soda. When you can see this drink in a glass, it has red and blue layers, like something terrible might have happened in the "water" because of a rogue dinosaur.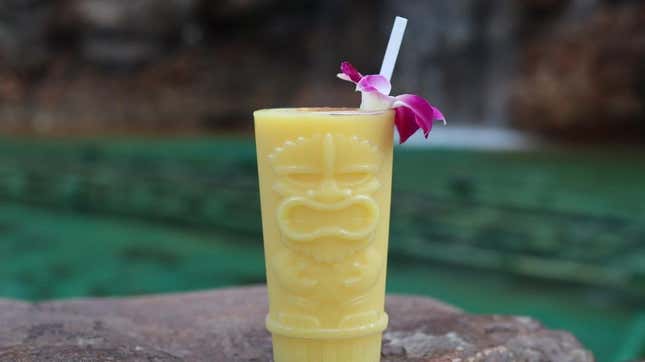 The bartender prepared my volcano cup with dry ice, then poured the drink. It immediately started erupting, smoke and bubbles everywhere. Passersby stopped to ask what it was. "It's my dinosaur volcano," I said with all the pride the situation warranted.
I was concerned the drink might be too sweet, but I was pleasantly surprised by how balanced and light it tasted. Maybe it was because the drink was kept frigid by all the dry ice, but I found it perfectly refreshing on a sizzling summer afternoon. I took my dinosaur volcano over to the edge of the Jurassic World ride, watching as boat after boat escaped the Indominus Rex waiting inside the building. Blue, the most famous raptor from the Jurassic World movies, made an appearance at the Raptor Encounter nearby, where parents were letting their kids get just a little too close to an apex predator for comfort. With all the prehistoric danger that lurks in the park, it's nice to unwind with a drink.