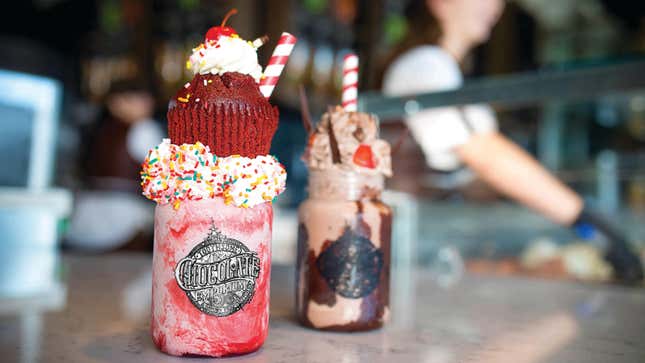 Remember the book The Chocolate Touch, in which a kid wishes he could eat chocolate for every meal and becomes cursed with the power to turn all foods into chocolate with a touch of his lips? The Toothsome Chocolate Emporium & Savory Feast Kitchen is kind of like that, only it's no longer a cautionary tale and there's a lot more booze.

How To Dispose Of Cooking Grease The Easy Way After Frying
Toothsome is an unabashedly steampunk-themed restaurant, with massive "smokestacks" rising into the sky above Universal CityWalk, the shopping and dining district that surrounds Universal Studios. The establishment is helmed by two "highly regarded steampunk ambassadors," per Universal: Penelope, an explorer and inventor, and Jacques, her robot companion.
The conceit of the place—and yes, it's theme-park-adjacent so it needs a conceit—is that Penelope left her family behind in London to travel the world with Jacques by her side, only to return home to find that her family had already set off to look for her. "We have set out to join you in your adventures," they said, as the story goes. "Surely the world isn't so big that we can't find you. We shall look for you wherever chocolate can be found." And so it was that Penelope created the Toothsome Chocolate Emporium, in the hopes that her family will find her there.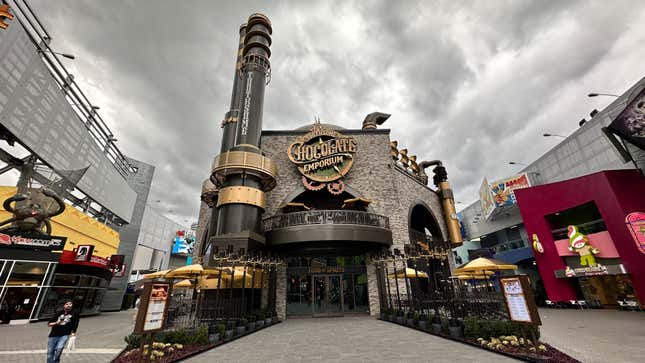 Penelope's parents didn't appear to be present on the day I visited, but just about everyone else was. Since Toothsome opened at CityWalk Hollywood in January, reservations have been booked solid. (Two other locations, at Universal Orlando and Universal Beijing, have also opened within the past year.)
As someone who doesn't love chocolate, I figured this restaurant, which infuses chocolate into everything from the cocktails to the bread to the main courses, would be my nightmare scenario, a real Chocolate Touch situation. But to my pleasant surprise and utmost relief, all of the food was a lot more delicious than I expected it to be.
With the help of a fellow theme park gastronome (one who had already tasted her way through the Orlando Toothsome location), I started getting acquainted with the menu. She started with the Chocolate Old Fashioned, made with chocolate whiskey, cherry liqueur, and cherry and orange bitters. I went with the Spresso 'Tini, which features double chocolate vodka, white chocolate liqueur, espresso, and Kahlua, garnished with a chocolate-dipped biscotti.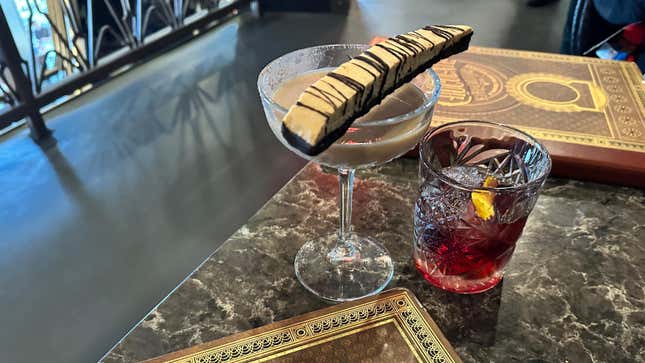 There are multiple non-chocolate options on the menu (a pub burger, some bruschetta), presumably to cater to a broad array of diners, but we wanted the full Toothsome experience, so we chose an all-chocolate lunch. The first dish to hit the table was Chocolate Almond Bread served with salted caramel butter. It sounds sweet, but it was surprisingly savory, as the bread highlighted the earthy elements of the chocolate.
Next came the Pork Belly Sliders with caramelized onions, mustard aioli, and arugula; the skewers holding the sandwiches on their tiny pretzel buns also speared through pieces of chocolate-dipped bacon. I ate the sandwich, but I could tell I was on my way to chocolate overload, so I skipped the porky garnish.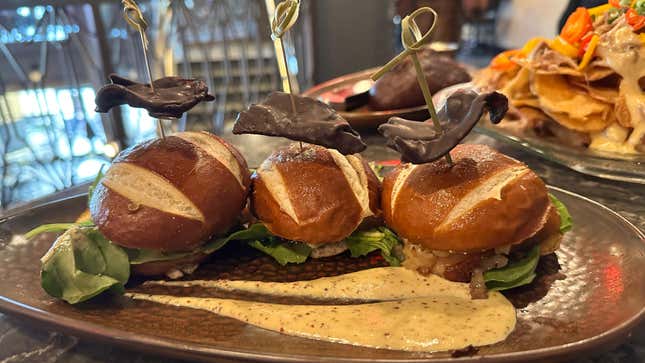 For our mains, I chose Cocoa Pork Tenderloin, chocolate-crusted medallions over sweet potato mash and roasted carrots, with a sherry-white chocolate reduction. My friend went with Braised Short Rib over cheddar grits, served with roasted carrots and cocoa gremolata. The short rib was good, but the pork was a shocker.
The white chocolate sauce was only a little bit sweet, complementing both the meat and vegetables with surprising balance; this entree was so good that I kept eating long after I meant to. I was admittedly energized to keep going by the PB Cup Fashioned I had ordered as my second drink, made with chocolate whiskey and peanut butter whiskey, plus orange and mole bitters, garnished with a wheel of dehydrated, chocolate-dipped orange and some tiny peanut butter cups.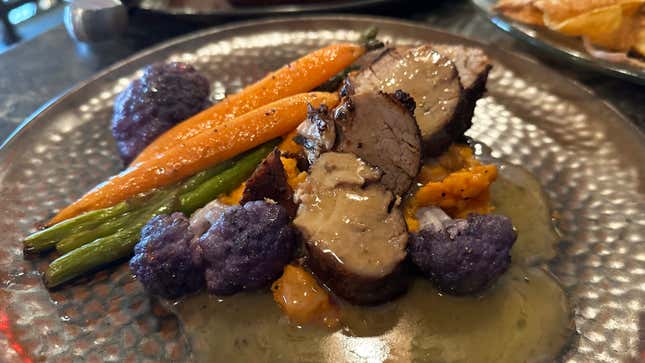 Though the entrees left us both stuffed and well past the limit of our appetite for chocolate, I felt like we had to order at least one dessert, lest we leave feeling like failures. We opted for the Triple Chocolate Bread Pudding with white chocolate ice cream on a bed of chocolate cake crumbles. There were chocolate chips in the warm dessert, but everything else was lost in a cocoa haze.
The dessert was great, even if it left us feeling like we needed a hike through the theme park to work all that sugar out of our systems (a predicament I've definitely put myself into before). On the way out of the Emporium we walked past Jacques and Penelope, and yes, we took a whirl through the sweet shop, decorated with huge sculptures made of—what else?—chocolate.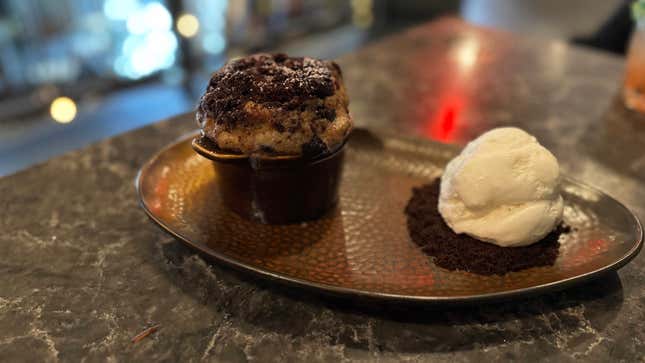 Toothsome serves brunch all day, but the real star of the show is its menu of milkshakes, which come with an entire additional dessert, like an ice cream sandwich or a piece of cake, plopped on top. I even dedicated a second visit to tasting one of these unique creations: at the walk-up counter I ordered the Espresso Buzzzz, made with coffee ice cream and espresso and garnished with lots of chocolate-covered espresso beans and no fewer than four white chocolate-dipped biscotti. I couldn't finish it, but I really, really tried.