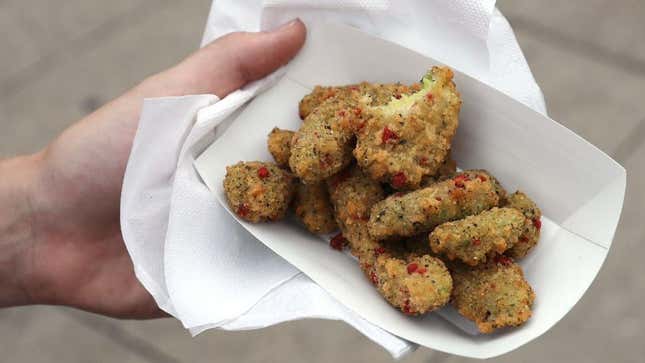 Anyone who thinks of state fairs as some charming relic of a bygone era of American history probably hasn't been to a state fair in quite some time, if ever. The state fairgrounds, one quickly learns upon entering through the gates, are a bustling epicenter of innovation, whether it takes the form of record-breaking agricultural feats, blue ribbon creations, or butter sculpture ingenuity. And of course, each year sees an all-new menu full of foods humankind has never thought to deep-fry before.
How To Dispose Of Cooking Grease The Easy Way After Frying
The Iowa State Fair, one of the largest in the country, has been held nearly every year since 1854, and it's been located on the same Des Moines fairgrounds since 1886. Not only are there roughly 200 food stands to choose from, but the New York Times wrote a breathlessly fascinated 2012 feature specifically focused on the Iowa State Fair's deep-fried foods on a stick—the event's signature serving style. More than 50 different treats come on a stick each year.
There are plenty of such offerings this year, along with 64 all-new items for the sampling. The fair runs from August 10-20, so you can start menu planning now.
New foods at the 2023 Iowa State Fair
Here's the full list of the new foods to get excited about this year. Some of them are delightfully devoid of explanation, so we'll have to use our imaginations:
Vietnamese Sandwich (Banh Mi)
Salted Coffee (Café Muoi)
A-Hootenanny ice cream
Amish Donuts
Apple Pie Cookie Ice Cream
Bacon and Sweet Corn Lobster Rolls
Bacon Cheddar Pretzel Dog
Bauder's Cherry Dream Ice Cream
Berry Bowl Frozen Sorbet
Birch Beer Soda
Blueberry Mini Donuts
Bubble Tea
Bucket of Soda
Buffalo Chicken Bacon Ranch Fries
Burrito Bowl
Butterbeer Ice Cream
Byrd Dawg Crispy Chicken Sandwich
Caramel Apple Cake Pops
Catfish in a Boat or on a Stick
Chicken Salad Hoagie
Chopped Brisket Sandwich
Chopped Italian Chicken Hoagie
Chopped Italian Ham Hoagie
Chopped Italian Roast Beef Hoagie
Citrus Boost Energy Drink
Cookie Dough Sundae
Cotton Candy Art
Cotton Candy Cheese Cake
Craft Link on a Stick
Crunchy Cool Ranch Pickle on a Stick
Deep Fried Bacon Brisket Mac-N-Cheese Grilled Cheese
Deep Fried Strawberry Shortcake on a Stick
Deep Fried Sweet Corn Nugget
Dill Pickle Flavored Cheese Curds
Dough Crazy (Chocolate Chip, Cake Batter, Brownie Batter, Brookie, CC Dough w/o CC, Monster, Cherry Chocolate Chip, Cookies and Cream) Sweet Stick
Fried Caramel Apple Cow Tail
Grilled Shrimp on a Stick
Grinder Ball
Hot Stuff Grilled Cheese
Iowa Sweet Corn Sundae
Iowa Twinkie (Jalapeno Filled with Pulled Pork, Corn and Cream Cheese, Wrapped in Bacon, Smoked with Sweet and Sticky BBQ, Finished with Ranch)
Korean Bacon Egg Dog
Korean Egg Dog
Lamb Gyro Salad
Made from Scratch Bacon Maple Monkey Bread
Orange (with Peppermint) Sipper
Orange Float
Orange Slush
Orange-Frosty
Oreo Brownie Blast
Peanut Butter Cream Donuts
Pop Corn Shrimp
Pork Belly Pinwheel
Raspberry Chipotle Grilled Cheese
Shrimp Ceviche
Shrimp Poke Bowl
Shrimp Tacos
Soft Serve Chocolate Chip Cookie Dough Sundae
Southern Fried Corn on the Cob
The Ooey Gooey All American Grilled Cheese
Ube Funnel Cake
Walking Banana Dessert
Walking Smores Dessert
Walleye in a Boat or on a Stick
Were you counting? That's seven new foods on a stick. It's probably for the best that prices aren't yet listed beside each item.
Particularly intriguing are all the items that are sort of hard to form a mental picture of. "Bucket of soda"? Is that simply an ice bucket filled with bottles, or is it like Fried Coke, introduced at the State Fair of Texas in 2006? If the latter, it might pair well with the Dill Pickle Cheese Curds, a form of which also made their debut at PNC Park this year.
"Dough Crazy" sounds like there's a hell of a lot going on—maybe too much to try teasing apart here. But if we're going for something chaotic, surely it's the Iowa Twinkie. In fact, that might be our favorite item out of all 64 on this list.
Other notable state fair foods
State fairs are clearly a font of culinary creativity, and they've pretty much always served that purpose. The Minnesota State Fair's beloved institution of Swedish egg coffee, for example, was popularized by the Salem Lutheran Church, which first set up its annual tent on the fair's Midway in 1950. And while the origins of the corn dog remain contested, its roots can indisputably be traced back to state fairs in multiple states.
In 2020, at the height of the pandemic, state fairgrounds knew they'd have to get clever if they wanted to proceed with anything close to their normal operations. One Midwestern solution was the Wisconsin State Fair Food Drive-Thru, which allowed cars—58,456 of them, all told—to pull up to each kiosk and grab unique offerings such as cream puffs, lemonade, and a brand-new dill pickle pizza, all at a comfortable social distance. The lines were so long that drivers were warned to arrive with a full tank of gas. These are, apparently, the lengths we'll go to in order to secure our favorite once-a-year foods. Can anyone who's tasted pickle pizza honestly say they wouldn't do the same?