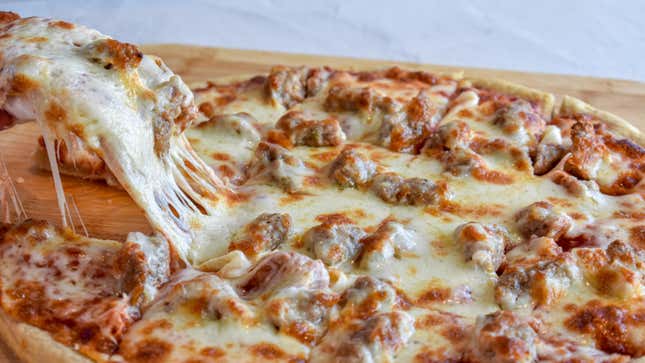 Beer and pizza: In the pantheon of food pairings, it's hard to name a more beloved combination. Omnivores and vegetarians embrace it, and thanks to innovations such as gluten-free crusts and non-alcoholic brews, there are plenty of options for everyone. But if pizza and beer are good as a team, why not combine them? Home Run Inn's new Beer Pizza is the answer to this age-old question. From now until the end of the summer, visitors to Chicago's Wrigley Field (and Home Run Inn's standalone restaurants) will be able to chow down on personal pies with an injection of malty flavor.
How To Dispose Of Cooking Grease The Easy Way After Frying
On the surface, it's a combination reminiscent of a kid (or a slightly tipsy dad) smashing two action figures together. And while Home Run Inn's Beer Pizza might be the newest on the market, the restaurant chain is hardly the first to make the connection. Pizza crusts are made of bread, beer bread is already a thing, and even King Arthur Flour has a recipe for Quick Beer-Crust Pizza.
But here's where the Wrigley faithful raise their foam fingers and cry, "Aha!" You see, the beer isn't in the pizza's crust—it's in the sauce.
What sets Home Run Inn's Beer Pizza apart
Home Run Inn is mixing beer into its pizza sauce?
"That is a very unusual decision," said Dennis Lee, acclaimed pizza expert at The Takeout, in response to the announcement. But the fact was confirmed by Home Run Inn's Senior VP Gina Bolger: "Yes, [it's in] the sauce, not crust."
Specifically, the company is using a non-alcoholic wheat ale flavoring. It's an intriguing pick, as wheat beers have a certain distinctive flavor that might just pop through the tomato brightness.
Why do things this way? Let's engage in a bit of speculation. Say you're the owner of a large-scale pizza outfit in, I don't know, the Land of Sky Blue Waters, and you want to add a bit of hops to your pies. From a manufacturing standpoint, it's probably much easier to inject a bit of a flavoring into the sauce than create what would amount to a whole new production line for the crusts. Cooking is alchemy, but baking is chemistry—start playing around with the contents of your dough and the consequences scale pretty quick. But again, this is pure conjecture, and so long as the end product tastes good, it doesn't particularly matter to the consumer.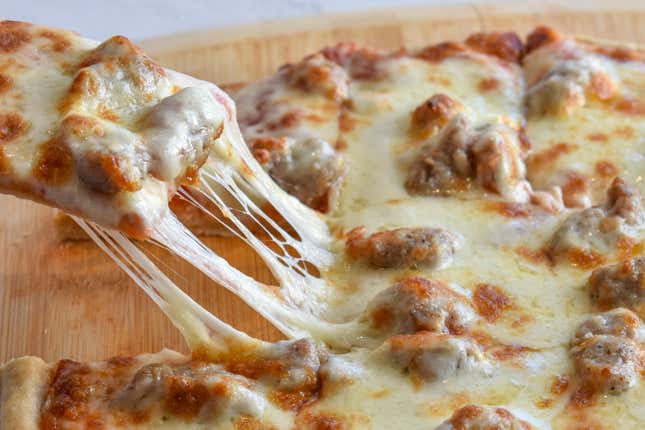 Where to find Home Run Inn's Beer Pizza
Which brings me to the sad news: If you, like me, are salivating over the very concept of beer pizza, you might be in for a long drive. As of this writing, Home Run Inn's Beer Pizza has a limited distribution. Per Bolger, the pie is "available at Wrigley Home Run Inn branded pizza stands through the remainder of the season, and all nine Home Run Inn restaurants for a limited time."
This last bit provides an option for the non-baseball fans, or those who don't want to pony up for a bleacher seat. After all, while small sporting venues tend to have affordable options on tap, dinner at the big ballparks tends to get pricey. But in this case, the costs appear to be largely in-line: $13.49 for an 8" sausage beer pizza at Wrigley, while an 8" cheese version runs $10.50 at Home Run's outside locations. Visitors to the standalone restaurants have more options when they order.
"At our restaurants," says Bolger, "you can order the beer pizza in any size and add whatever toppings you would like. We offer in a personal 8-inch, 12-inch, 14-inch or 16-inch."
The big question is this: Will this hopped-up concoction be making its way into grocery stores? Home Run Inn offers one of the best frozen pizzas on the market, and this beer offering could be a potential grand slam. The company's answer is a definitive maybe.
"We're not sure if it's going to make its way to the grocery store but we are having internal conversations about this for the future….so stay tuned!" Bolger said.
Okay, Home Run Inn. I can wait. Until then, I'll just have to console myself with a Hamm's and a Tombstone.