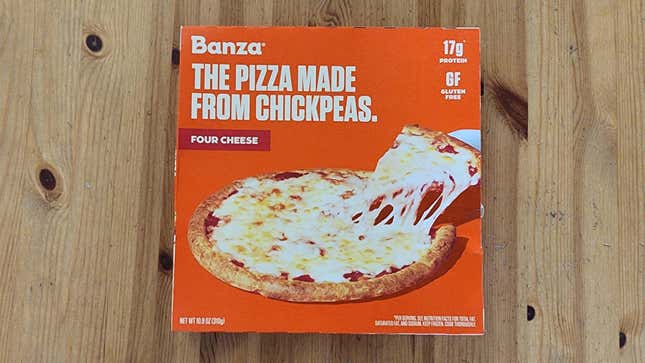 Most frozen pizzas just aren't very good. Let's face it, there's plenty of room for improvement in this whole category—and I'm saying that as someone who loves Home Run Inn and can see the appeal of drunkenly gorging on Red Baron or DiGiorno. A big problem with frozen pizza is the crust, which is often some combination of thick, dry, and bland, and more often than not, it makes me feel terrible after I eat it. So occasionally, I'll turn to a gluten-free brand, which I can eat for lunch without needing a nap afterwards. There's only one GF pizza that fits the bill: Banza four cheese pizza made from chickpeas.
Dr. Pepper Strawberries & Cream Is Tearing Us Apart
What does Banza's chickpea pizza taste like? 
The pizza, which measures 9" in diameter, is savory and substantial without feeling heavy. In short, it's more than just doughy filler. The crust itself is made from chickpeas, so the flavor is mild (much more tame than, say, a crust made from cauliflower) but still quite distinctive.
Cauliflower crusts, by the way, can turn a little bit gummy when cooked; it's not uncommon to get some of that stuff stuck in your teeth as you're eating it. Chickpeas, though, mimic the tasty neutrality of a flour crust fairly well. It's why I prefer a protein-forward Banza pizza to the (perfectly serviceable) Milton's veggie pizza made with cauliflower crust and topped with roasted zucchini, onion, and bell peppers.
What chickpea crust does right is maintain the overall aesthetic of a regular frozen pizza crust—it tricks you into thinking this is a gluten-filled meal. Banza crust is thick and crunchy, but the flavor it carries is far greater than the pale, cardboard-tasting crust synonymous with most frozen pizzas.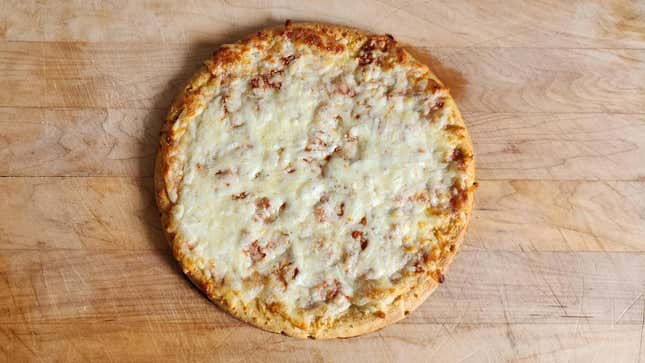 The cheese blend on the pizza is good, too, if not somewhat unusual. Instead of Romano, this pizza uses a mix of mozzarella, provolone, white cheddar, and parmesan. It's not as bitey as I'd like from a four cheese pizza, and it's bordering on a Provel type of blend, but it works. The flavors aren't incredibly exciting, but that's true of every frozen pizza. Still, there's a straightforward savoriness to this pie that hits right every time.
You won't catch me making Banza recommendations too often. The brand's chickpea pasta is abhorrent, a crime against Italians here and abroad. Chickpeas just don't work when molded into pasta shapes. Far too grainy and mealy. No bounce, no give, no delightful chew. But with a frozen pizza crust, there's kind of nowhere to go but up.
And since all frozen pizzas are at least a little bland, Banza benefits greatly from some condiments in your fridge. Chili crunch, gremolata, pesto, a drizzle of olive oil and salt—these are things you can safely apply to a Banza four cheese pizza. It's not like a Tombstone or a DiGiorno, which, as lovely as they are, call for ranch and ranch only.
I just ate this pizza and I don't feel like I have to go lie down. I feel satiated, upright, and lucid, which is the best you can hope for after eating a frozen pizza.