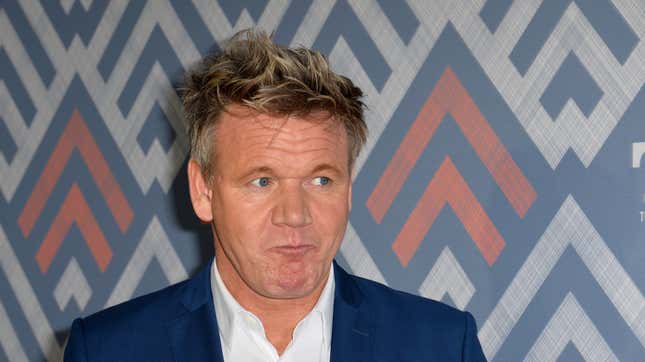 There's a ton of money to be made in celebrity-branded consumer packaged goods, whether it's energy drinks, cake mix, pies, booze, or anything in between. But now, it seems, frozen dinners are the next big move, and two recent entries in the freezer aisle have some big names attached. Celebrity chefs are the latest group of stars to tackle the freezer section at the grocery store, and both Gordon Ramsay and Andrew Zimmern have taken the leap—each of which is something of a surprise, for different reasons.
How To Dispose Of Cooking Grease The Easy Way After Frying
Gordon Ramsay's new frozen meals
The infamous, nonstop-shit-talking Gordon Ramsay has just released his own eponymous line of frozen dinners. They're exclusively available at Walmart, for just under $6 each ($5.94 at the Walmart location near me). The meals come in eight varieties:
Lasagna
Four cheese macaroni bake
Chicken pot pie
Mushroom risotto
Lemon caper chicken
Shepherd's pie
Slow roasted beef
Fish and chips
These all sound pretty inoffensive, if not downright bland, coming from a chef who has racked up 17 Michelin stars (as documented by the Escoffier School of Culinary Arts) during his long-televised career. Mashed has already ranked all eight of the new dinners, and none of the meals, save one, really impressed the crew. The rest were labeled "mushy," "soggy," and "lackluster," all of which are common pitfalls of frozen dinners.
I don't know, man. If I were as successful as Gordon Ramsay, I think I'd be putting my name on products less likely to underwhelm—or maybe I'd stay entirely focused on the live restaurant experience, however gimmicky it might be. Ramsay's decision to slap his name on this product, as with his line of seltzers, is questionable at best. He's made his reputation on not only cursing out folks on television, but being a skilled chef as well.
"It thrills me that these dishes are so widely available for anyone to experience, and I hope they inspire the home chef in everyone," said Ramsay in the press release. That's a fine goal, but some dishes just don't lend themselves to being produced on a mass scale, and fish and chips appear to be one of them.
Andrew Zimmern's new frozen meals
Chef and TV show host Andrew Zimmern also announced his own new line of frozen meals, focused primarily on comfort food. These, also available at Walmart, have a price point similar to Ramsay's, at just under $6 per box.
He made the announcement on X, stating that the meals would include an award-winning turkey dinner (no word on which award), his grandmother's meatloaf, Swedish meatballs with egg noodles, and mac and cheese topped with caramelized onions and roasted pork.
These meals from Zimmern are surprising, but not for the same reasons that Ramsay's are. Zimmern built his career off of traveling the world as the host of Bizarre Foods, searching for some of the most unique (and sometimes challenging) food out there. Granted, I can't imagine seagull and muskrat meat, both of which he once told The Takeout he hated, would sell too well in TV dinner format.
And to be fair, Zimmern has shifted away from that adventurous territory. His most recent television show, Family Dinner, which airs on the Magnolia Network, features him traveling across the United States seeking out what everyone's unique heritage and history brings to the dinner table.
His line of frozen meals reflect a much more Midwestern sensibility, which would make sense, since Zimmern's home base is in the Minneapolis area. It's somewhat surprising he didn't aim for something with a bit of Chinese-American flavor, though, considering he dabbled in that particular cuisine at his restaurant Lucky Cricket, which is now closed. This might have been a bit more unique in the frozen meal space than comfort food dishes.
When it comes to mainstream celebrity-backed foods, booze seems to be the product du jour. But for celebrity chefs, the frozen aisle seems to potentially hold the golden meal ticket, especially when it's in partnership with a company as big and as inescapable as Walmart.