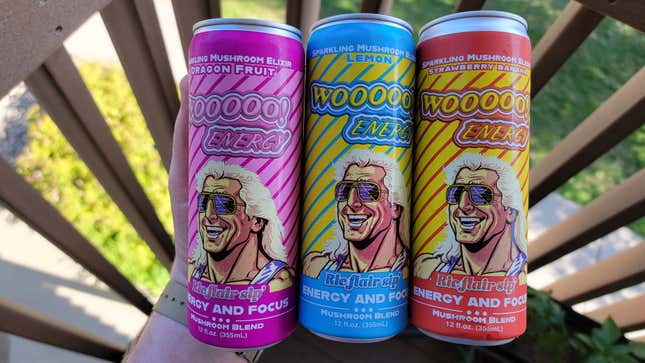 Break out the sequins and hitch up your tights, because Ric Flair is back on the scene. The professional wrestling legend (who appeared in his "final" match just last year at the age of 73) is breaking into the functional beverage market with a new line of energy drinks, aptly named Wooooo! Energy. The lineup offers three distinct flavors, all of them "made with Natural Antioxidants, Nootropics and Caffeine that deliver hours of sustained, Non-Jittery Energy & Focus but WITHOUT THE CRASH!" Read on for more exclamation points.
How To Dispose Of Cooking Grease The Easy Way After Frying
Ric Flair's energy drinks, explained
"What's with the 'wooooo'?" you might ask. This is Flair's signature catchphrase, and it's as goofy as it sounds. Yet just like the man himself, there's a sincerity behind the silliness that's oddly endearing. And as both a lapsed wrestling fan and an energy drink skeptic, I was amused when I first saw Flair's platinum-haired likeness rendered in sweaty aluminum.
But it wasn't the flashiness of the cans that caught my attention. Instead, it was Wooooo!'s "Sparkling Mushroom Elixir" gimmick, which feels particularly appropriate for a man who performed under the moniker of "Nature Boy." According to the company's website, each of the Lemon, Dragon Fruit, and Strawberry Banana beverages are made with a base of adaptogenic mushrooms.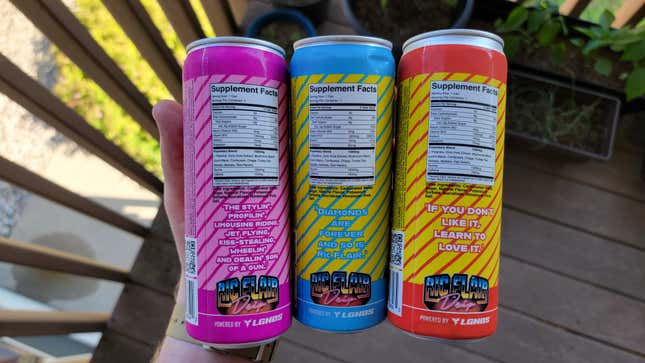 "These compounds," reads the marketing copy, "contain adaptogens that help the body fight off harmful chemicals and biological effects that create stress at the cellular level. Using these naturally potent antioxidants daily, can help protect and enhance overall well-being." And like Flair, "Adaptogenic mushrooms have been around for centuries." The Wooooo! website includes a detailed breakdown of each of variety of mushroom, including such entries as Chaga, Red Reishi, and Turkey Tail.
Flair isn't the first wrestler to dabble in beverages. Stone Cold Steve Austin has his own beer, and Chris Jericho made headlines with his "A Little Bit of the Bubbly." But between the colorful marketing and the fungal intrigue, it was only a matter of time before I secured a sixpack for testing.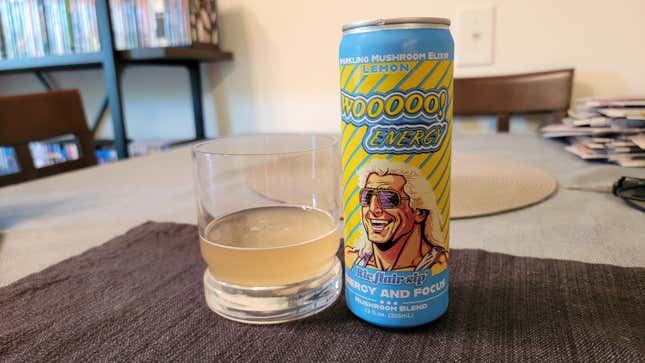 The Lemon in the bunch
I'll be frank: After my first sip of the Wooooo! Lemon concoction, I got the sense I was in for a bad time. Poured in a glass, the liquid gives off a distinct locker room aroma, if said locker room were filled with lemonade and farts. And that sour citrus flavor hits like a Flair chop to the tongue. Yet there's also an overwhelming combo of effervescence and sweetness that coats the palate and nasal passages.
But strangest of all was the aftertaste. After the burning hammer of acid, the flavor looped back around to murky gym locker. It's gotta be the mushrooms, right? Now, maybe this is the exact type of intensity that the energy drink crowd goes for. And despite my protestations, the experience was only strange, not offensive. The real question is, could the remaining flavors stage a comeback?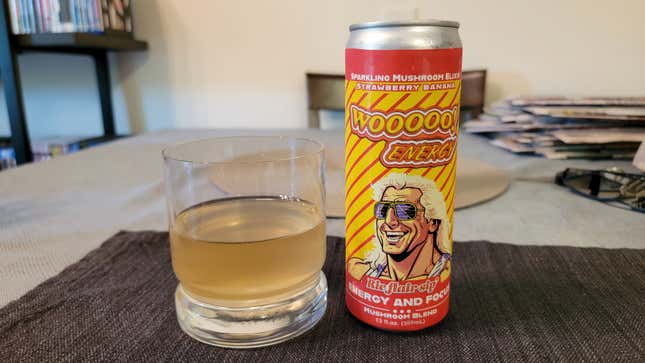 A Strawberry Banana surprise
As I cracked open the second can, one thought immediately sprang to mind: My god, what is this smell? 
There were strawberries and bananas, obviously, but also a hint of something vaguely biological and ripe. Much less of a sensory assault than the Lemon drink, though. In fact, the Strawberry Banana is actually rather pleasant.
The fruit flavors stay at a friendly level, and there's a vague, oddly welcome astringency at the end. Maybe it was the magical mushrooms starting to kick in, but as I stared into the eyes of the man on the can, I could hear old Naitch's voice: "You like that, don't ya!? Wooooo!"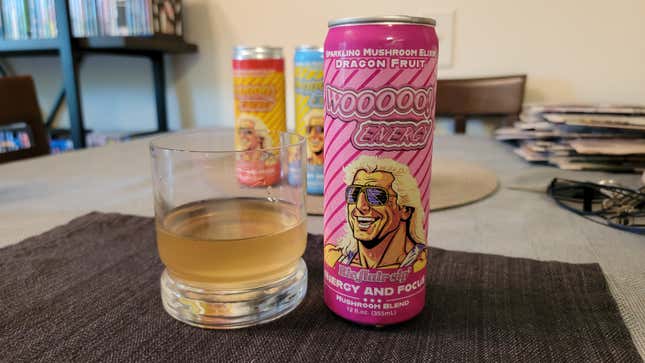 Clotheslined by a Dragon Fruit
By the time we hit Dragon Fruit territory, I was feeling the effects. A sharpness crept into my vision, and I found my senses bearing down on the beverage's tangerine-like scent. Once again, the first sip was shockingly sweet, and there was a faint taste of Lemon Pledge.
It's a little cloying, for sure, but I could see finishing an entire can so long as I could chase it with a strong, perhaps spicy flavor (which would really enhance the top-rope impact). In truth, I had to force myself not to finish this one, despite the beckoning gaze of Mr. Flair.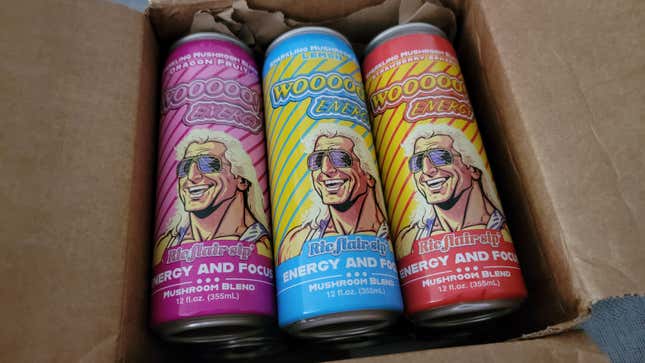 Are Ric Flair energy drinks worth the price?
As mentioned above, I'm not generally an energy drink or pre-workout powder enthusiast. So when the mushrooms kicked in, it was certainly an interesting experience. The boost of energy and focus came as advertised, and two things become quickly apparent: I wanted to go on a run, and I needed to visit the bathroom.
Flair himself was known as a cardio king. And with the power of Wooooo! coursing through my veins, I had my best jogging experience in recent memory. Normally, I prefer the Stair Climber (another Flair favorite), but getting out into nature seemed like a more appropriate experience. Running through the streets with a belly full of energy drinks might not sound like a great time, but it was an absolute blast.
At a cost of $30 (with an additional $11 in shipping), a sixpack of Wooooo! Energy is an expensive proposition. But it certainly performed as advertised, even if one of the flavors was a bit of a botch; in a way, the price feels right on brand for the "Stylin', Profilin', Limousine Ridin', Jet Flyin'" Flair. And while I can't see these being an everyday indulgence, a pack of Ric Flair Sips, much like the world of professional wrestling to the uninitiated, is an undeniably interesting novelty.