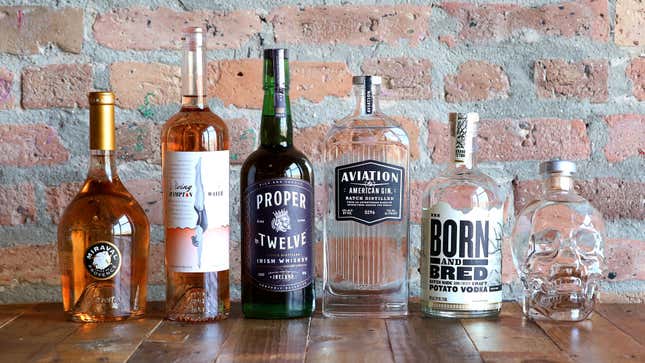 Here is an honest statement of fact: I love Channing Tatum. Love him. It's not in a Tiger Beat, put-his-poster-on-the-wall kind of way. I'm just purely, irrationally fond of him. When he makes good choices, I'm kinda proud, like I was somehow involved? It makes no sense. But it also means that when I read that he had a famous-person-alcohol, I immediately, totally, irrationally wanted a bottle. Why? No reason. That's the thing about celebrities. They are professionally charming, and they use that like freakin' mind control or something to make you want things. And in this case, unless you're allergic to potato-based alcohol beverages, that's pretty harmless.
The celebrities of the world, they're not content to merely drink the alcohol nowadays. They often attach their names to it, and are sometimes even more directly involved. We've collected a few of the more notable celebrity booze offerings here with some thoughts on their origins, how they taste, and how they might best be enjoyed. This is by no means an exhaustive list—such a task would take quite awhile and result in an extremely lengthy, and probably boring, read. Consider it instead a sort of children's treasury, provided the children are over 21 and consuming responsibly.
So read, and drink, on—and keep in mind that perception affects our experiences, so if you irrationally love Channing Tatum, odds are his vodka will taste slightly better to you than it might otherwise. Such is the power of the professionally charming.