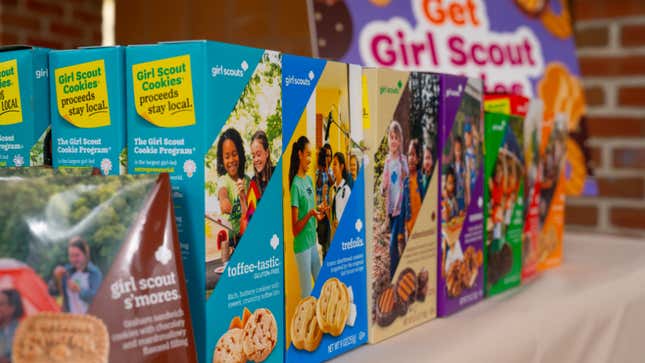 Everyone loves their Girl Scout cookies. So much so that the newest variety, Raspberry Rally, has not only sold out via official ordering channels but has popped up on eBay for prices as high as $79. But high demand isn't the only reason the cookies are no longer available. It turns out that one of the two companies that produce Girl Scout cookies, Little Brownie Bakers (owned by Italian confectioner Ferrero), is struggling to keep up with production. And the Girl Scouts of the USA aren't happy about it.

The 2023 Girl Scout cookie shortage, explained
CNBC reports that the scouts' cookie sales season has been plagued by various production issues for weeks. In Louisville, Kentucky, the Little Brownie Bakers factory has been experiencing periodic delays and low inventory since January. This is a big deal, since LBB produces 75% of the nation's Girl Scout cookies. The other 25% are produced by ABC Bakers in Richmond, Virginia.
The most recent issue to befall LBB was a March 5 power outage due to severe weather, which stopped cookie production altogether, thereby setting scouts back even further in their sales goals. These issues have not just affected the Raspberry Rally supply; mechanical issues at the factory have also impacted the production of Samoas. This is particularly unfortunate, since those delectable rings of toasted coconut, caramel, and chocolate are the biggest seller after Thin Mints, according to Girl Scouts of the USA.
Also worth noting is that LBB is, by most accounts, the superior cookie producer to ABC. Having tasted the Raspberry Rally cookies produced by each bakery, we found that both were good, but LBB was the clear frontrunner. Even though LBB claims to have already produced and shipped more cookies than this same time last year, it hasn't been enough to meet demand.
"We are extremely disappointed that LBB is again having challenges with managing their production," a representative for the Girl Scouts of the USA told CNBC. "We will address these issues with our baker partner in the future and we are keeping all options open to do right by our girls."
"All options"? Ouch. I don't know about you, but I'm sensing some tension. It's disappointing for many Girl Scout troops, who can't meet their cookie selling goals due to the lack of supply. Scouts in some states (Oregon, New Jersey, New York, Georgia, and Alabama, to name a few) are stuck offering only Thin Mints, Adventurefuls, and S'mores, because that's all that's left to sell. Not a bad selection, but a severely limited one.
"Global supply chain issues, local labor shortages, and even unforeseen severe weather have all impacted the selling season, but Little Brownie Bakers is on track to fulfill initial orders," Ferrero told CNBC, nothing that its factory is putting in overtime to ensure all existing orders are delivered properly.
This couldn't be further from the predicament faced by scouts just two years ago, when 15 million boxes of unsold Girl Scout cookies were destined for the garbage due to COVID-impacted in-person sales. Now that scouts maintain a thriving online business, inventory is less impacted by whether scouts sell at booths in public places.
Unfortunately, every ambitious sales team runs into production snags at one point or another. This situation is extra disappointing since those teams are mostly children trying to raise money for their own troops. Let's hope the issues get resolved soon, because when you mess with the Samoa supply, you mess with all of us.