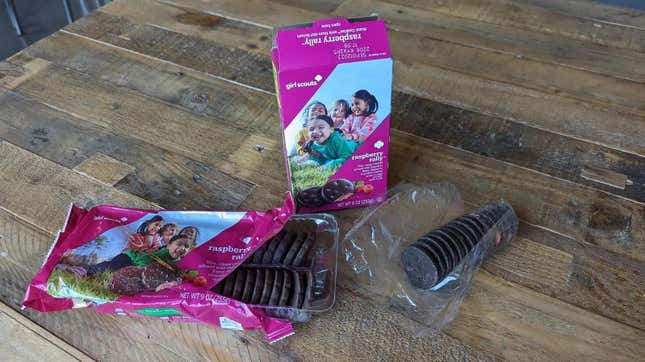 Listen, we tried the new Girl Scout cookie. In fact, we tried it twice, and it was pretty great. But paying $36 for a single box is where we draw the line—and that's what some people on eBay expect bidders to pay.
How To Dispose Of Cooking Grease The Easy Way After Frying
The Raspberry Rally, unveiled for the 2023 sales season as the Girl Scouts' first ever online-exclusive cookie, had quite a successful debut. Axios reports it's currently sold out, and some customers lucky enough to have scored a box (or tray) are now selling them at a huge markup on the secondary market. One box even sold on eBay for $79.99—not just listed at that price, but sold.   
What's all the fuss about the new Raspberry Rally Girl Scout cookies?
In order to fund its programming and leadership opportunities for children, Girl Scouts of the USA puts a lot of effort into cookie season. Along with the classic cookie lineup (which includes favorites like Tagalongs, Samoas, and Thin Mints), a new flavor debuts each season, to varying degrees of success.
For the 2023 season, the Girl Scouts announced a cookie for the digital age. The Raspberry Rally is the first ever Girl Scout cookie to be sold exclusively online. The aim of the cookie's online exclusivity is to help scouts learn about digital marketing and balancing both in-person and virtual sales.
Described as "a 'sister' cookie to the beloved Thin Mints," the raspberry flavored cookie is thin, crispy, and coated in the same chocolate as its mint-flavored sibling. For those not familiar with Girl Scout cookie sale and distribution, the cookies sold by the organization are produced by two different major U.S. bakeries. Which bakery your $5 (or $6) box of cookies comes from depends on the region in which they are bought. Although both bakeries produce the same cookie, there are some differences in formulas and packaging, which we found particularly noticeable with the Raspberry Rally.
Nevertheless, online resellers are trying to cash in on these cookies no matter which bakery they come from. On eBay, you'll find listings for the Raspberry Rally going for anywhere from $12 (plus $10.20 for shipping) to $75 for a single box. Many sellers use the title of the listing to point out that the cookies are sold out online, clearly hoping to capitalize on their scarcity.
A spokesperson for Girl Scouts USA told Axios that the organization is disappointed to see the cookies hit the resale market because they don't result in "proceeds that fund critical programming" for the Girl Scouts.
Much like paying exorbitant amounts of money for a McDonald's Happy Meal toy, shelling out $70 for a box of cookies is not a practice we endorse. If you're going to pay steep prices, try to make sure that money goes straight to the scouts, who regularly demonstrate impressively creative marketing skills to drive purchases. If the scouts are sold out of the cookie you were hoping for, there's a chance you'll find it at ALDI.