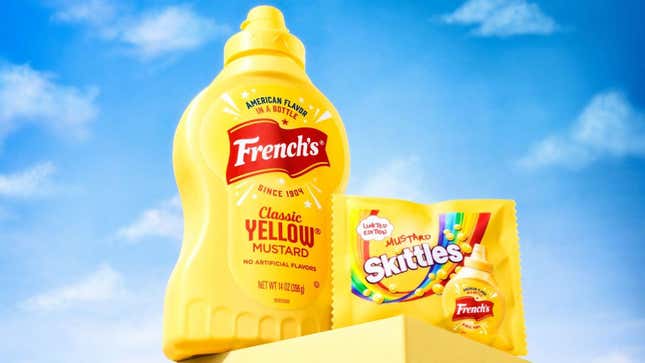 This Saturday, August 5, is National Mustard Day, but we'd understand if you didn't have this one marked on your calendar. It's not an occasion that most consumers set aside to celebrate. Know who does? French's, the number-one mustard brand in the nation, whose electric yellow condiment is synonymous with American cuisine. Each year, French's celebrates National Mustard Day with the release of a new mustardy product to surprise and delight consumers, and this year's entry might top them all: Mustard Skittles.
How To Dispose Of Cooking Grease The Easy Way After Frying
You won't be able to purchase French's Mustard Skittles at the grocery store; the press release notes that free samples will be handed out on August 5 in New York City's Hudson River Park from 11 a.m. to 3 p.m. If you're not in NYC, you have until Saturday, August 5 to head to Frenchs.com/MustardSkittles and enter to win a pack of the super limited-edition condiment candy.
Why is any of this happening? French's knows we might be confused.
"Few partnerships make sense," the brand assures us on the Mustard Skittles website. "This one truly does not, which means it absolutely does."
French's odd mustard-flavored snacks, explained
Though Mustard Skittles might be "summer's tangiest yellow candy," they're hardly the first oddball product that French's has brought to market in recent years. This is the fifth year in a row that the brand has celebrated National Mustard Day with a wacky, headline-grabbing release. Let's take a stroll down memory lane and review its prior puzzling products.
Seeing the list above, candy seems like a natural extension of the gimmick. French's described for The Takeout the process of developing each year's National Mustard Day treat, and it sounds like a 1:1 blend of culinary innovation and marketing magic.
The brand begins its planning months in advance of the "holiday," brainstorming various ways to make its Mustard Day release as unexpected as possible and thinking about which brands might be willing to collaborate to help them get there.
"Once we land on the partnership, we work with our amazing culinary and flavors team at McCormick to ensure the bold and tangy flavors of French's Classic Yellow Mustard comes through," Valda Coryat, VP of North America Marketing for Condiments & Sauces at McCormick, told The Takeout via email. She added that the team gets to "taste test all rounds of the recipe creations," and confirms that the process is "a lot of fun."
From there, it's all about brand activation, baby. This year's Mustard Mobile made stops in Atlanta, New York City, and Washington, D.C. to hand out Mustard Skittles and generate on-the-ground curiosity and excitement around the product. Coryat refers to National Mustard Day as an "annual breakthrough moment," one that French's seizes upon to differentiate itself from its competitors.
That seems demonstrably true, doesn't it? While other mustard brands have generated headlines with odd products, French's is working to make it an annual tradition, a pattern of self-imposed one-upmanship. If Mustard Skittles are strange, what could be stranger? Since we've already been treated to ice cream, candy, bread, beer, and doughnuts, my bet is on some kind of breakfast cereal for National Mustard Day 2024. Kellogg's, expect a call.