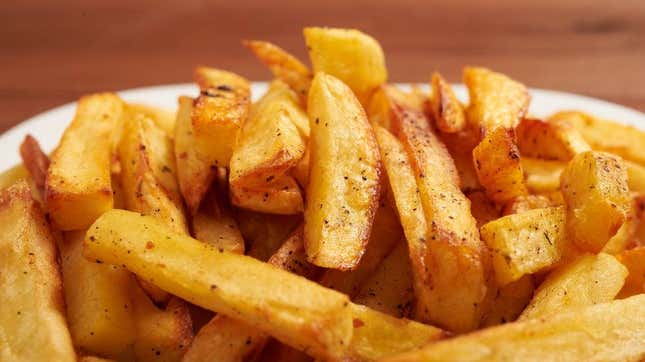 Few foods are as universally beloved as an order of fries—so you'd think we would agree on which date we ought to celebrate them. National French Fry Day falls on July 13—or July 14, depending on who you ask. Yet there are so many reasons to appreciate these crispy, golden wonders that it almost makes sense to set aside more than one day in their honor.

How To Dispose Of Cooking Grease The Easy Way After Frying
Up until 2022, National French Fry Day was always celebrated on July 13, but a petition circulated by twin fast food chains Checkers and Rally's asked that it be changed to the second Friday in July so that it would always be celebrated on a "Fry-day," USA Today explains. Being that the change is fairly recent, it seems as though some restaurants have not yet gotten the memo, or their promotion schedules were already locked by the time the change went into effect.
The exact date of celebration for this national food holiday might be a bit unclear, but all that really means is that there's more time to get your hands on a free order of French Fries.
Here are the places offering free fries on either July 13 or 14.
There you have it. The fries, whether sweet, crinkle-cut, steak, or skinny, will be piled high on July 13 and 14. Go get them while they're hot and fresh.