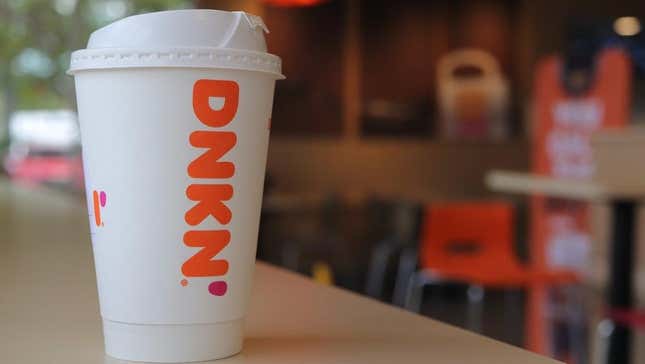 I have to admit I'm a Starbucks kind of person, but that doesn't mean Dunkin' hasn't fed my caffeine needs plenty of times in the past. Dunkin' impressed me recently with its member-exclusive Brownie Batter Iced Coffee—but the chain has now broken my heart quietly and without warning. Dunkin' has discontinued the Dunkaccino from its menu offerings… at least for now.
The drink, a simple combination of hot chocolate and coffee, was available as both a hot and cold beverage but now sits in the graveyard of discontinued Dunkin' menu items (alongside other favorites of mine, like the chicken biscuit). When I wanted a hot coffee from Dunkin' but had no idea how to order in a way that would yield the correct amount of sweetness, I knew I could count on a Dunkaccino to get the job done.
The Dunkaccino also made its big screen debut back in 2011 when it starred in a fake commercial alongside Al Pacino. The fictional advertisement was featured in Jack and Jill, a movie I'd call one of Adam Sandler's worst, but regardless, the Dunkaccino was front and center. Watching Al Pacino rap and dance in celebration of this simple beverage was almost enough to make watching that movie worth it.
The discontinuation of the Dunkaccino happened almost silently, as often happens with beloved fast food menu items, but Today reports that Reddit users were already hot on the trail of the drink's disappearance early last year. An alleged internal memo from 2022 listing a number of Dunkin' items to be eliminated from the menu was circulated online, and the Dunkaccino was one of the many items included.
"As we focus on innovation and finding new ways to delight guests, we continually evolve our menu in an effort to deliver a fast, frictionless experience," a spokesperson for Dunkin' told The Takeout via email. "The Dunkaccino is retired for now, but there's always the chance for its return in the future."
Until then, I will lie awake at night thinking about all the times I went to Starbucks and passed up the chance to sip on a beautiful blend of chocolate and caffeine. I'm sorry, dear Dunkaccino. I took you for granted. Please come back soon.