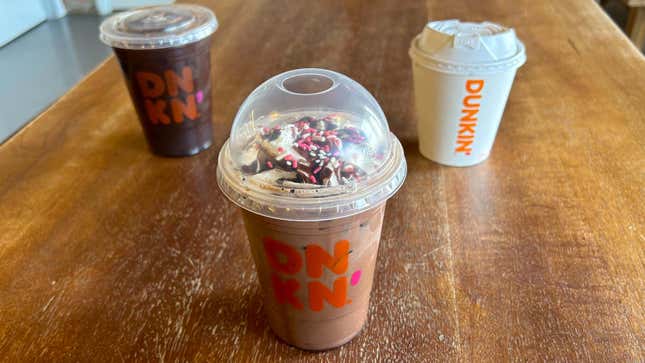 Seasonal menus are nothing new for fast food chains, but Dunkin's newest coffee drink is uniquely exclusive: As part of the chain's Valentine's Day menu lineup, Dunkin' is offering a suite of Brownie Batter drinks available only to its rewards members, and yes, one of those drinks is definitely worth signing up for yet another loyalty program.
How To Dispose Of Cooking Grease The Easy Way After Frying
Dunkin's Valentine's Day offerings debuted on February 1 and include a number of returning items such as the Cocoa Mocha Signature Latte, Strawberry Dragonfruit Refresher, the Heart-Shaped Brownie Batter Donut, and Cupid's Choice Donut (filled with cream and topped with strawberry icing). All of those, it should be noted, are available to anyone. Dunkin' confirmed to The Takeout that the Brownie Batter beverages comprise the brand's first-ever member-exclusive drink lineup.
Per a press release sent to The Takeout, the Brownie Batter drinks contain espresso with "gooey, bowl-licking brownie batter flavor" and are topped with whipped cream, a mocha drizzle, and sprinkles. After signing up for Dunkin' Rewards, I placed an order in the app for a small size of each drink; the prices ranged between $3.19 and $3.99 per brownie-batter-flavored offering, though price will vary slightly by location. Here's how each drink fared in a taste test.
Dunkin' Brownie Batter Signature Latte
The most disappointing of the three, this Valentine Day offering tasted like your average mocha latte. Despite whole milk, whipped cream, and sprinkles, the drink didn't taste very rich, nor did it evoke the idea of brownie batter—just a sweetened hot coffee with a bit of chocolate flavoring. It did not inspire any loving feelings, nor would it inspire me to dedicate any songs to it. The hot Brownie Batter Signature Latte is fine, but forgettable.
Dunkin' Brownie Batter Signature Iced Latte
Visually, the iced version of the Brownie Batter Latte delivers a bit more pizzazz than its heated counterpart (whose whipped cream and sprinkles melted into oblivion almost immediately). Ultimately, though, it seems like the brand made a mistake in marketing the Brownie Batter flavor as "gooey" and "bowl-licking." While it's obvious that description wasn't meant to be taken literally, it does paint a specific picture in the mind of the customer (me) of something with a thicker texture, or at least more heft, like batter, and this has none of that. Consequently, a better route for this drink might have been a blended format, like Dunkin's frozen coffee offerings. This iced latte was just all right and, once again, tasted more like a generic mocha drink than anything distinctively brownie-esque.
Dunkin' Brownie Batter Iced Coffee
I completely underestimated just how much I would enjoy this drink. What I expected was a bitter coffee taste with a hint of chocolate, as has been my experience with many flavored coffees. However, I forgot that I was ordering from Dunkin', so the coffee achieves its flavor with two pumps of Brownie Batter swirl—aka, ultra-sweet flavored syrup. As I sit here writing this, I'm still sipping on the drink an hour after picking it up from Dunkin', and though the ice has melted, the flavor has yet to dilute. It's a flavor that doesn't remind me of brownie batter at all, but it does lend a more concentrated chocolate taste than the previous two drinks, and that's good enough for me.
Despite the "exclusivity" of these brownie drinks, it's fairly simple to get your hands on one: If you're not a Dunkin' Rewards member, just sign up by entering a few bits of personal info and the door to brownie batter indulgence (or something approximating it) will swing wide open. Although they lack a truly "brownie batter" flavor, none of these drinks were terrible—each one just didn't pack enough unique flavor to make me fall in love.But if Dunkin' is looking to add something like an ultra-mocha iced coffee to the menu, this is probably the way to do it.