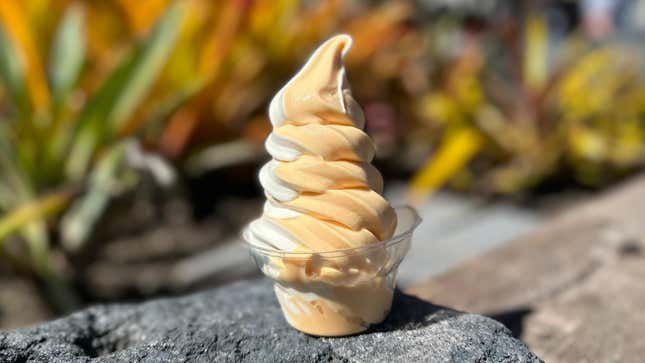 Anyone who has even a passing familiarity with Disney lore has probably heard of Dole Whip. The frozen pineapple treat served at both Walt Disney World and Disneyland, and which recently made the leap to grocery stores, is so popular that it has spawned its own holiday—Dole Whip Day passed in a tropical flurry on July 20 this year. But long before the dairy-free pineapple soft serve stole the hearts and stomachs of Disney vacationers, there was another dessert cooling park guests down between roller coasters and spinning teacups.
How To Dispose Of Cooking Grease The Easy Way After Frying
And this one came with its own mascot.
Orange Cream, explained
Originally known as Citrus Swirl when it debuted at Walt Disney World's opening in 1971, today's Orange Cream is a little bit like a Creamsicle in soft serve form. One part is Dole Whip Orange, a kind of sherbet texture with a bright, fruity orange flavor; the other part is vanilla soft serve. Swirled together, they comprise the one single treat I absolutely must order every time I visit Walt Disney World.
While I like Dole Whip, especially in its supreme form as a float with pineapple juice, I don't crave it the same way. Maybe that's because compared to Orange Cream, it's readily available. Sure, Dole Whip is only available at one place in Disney's Magic Kingdom—Aloha Isle, next to the Enchanted Tiki Room—but it's relatively easy to find elsewhere. At Walt Disney World's Animal Kingdom park you can find it both spiked and non-spiked. Disney's Polynesian Village Resort sells it at Pineapple Lanai. And at Wine Bar George in Disney Springs, Dole Whip is mixed into a surprisingly delicious frozen cocktail.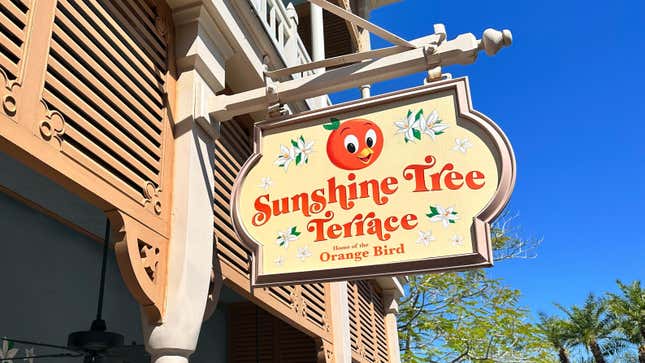 But Orange Cream is different. There are a scant few places in all of the Walt Disney World Resort, a place the size of San Francisco, where it's available. There's one outpost in Animal Kingdom and one in Disney Springs, but the most recognizable is the quick-service kiosk in Magic Kingdom, called Sunshine Tree Terrace.
Perched inside the Sunshine Tree Terrace just above the soft serve machines is a little shelf. On it, there's a crate of oranges next to an old-fashioned juice press, and a basket of oranges ready to be weighed on a produce scale. Presiding over all of it is Orange Cream's mascot, Orange Bird.

A brief history of Disney's Orange Bird
Even if you've never had an Orange Cream, you've probably seen Orange Bird before—and he definitely doesn't look like any ordinary bird. His body is bright orange, and his head is an orange fruit with big friendly eyes and a tiny yellow beak. His wings are bright green orange leaves.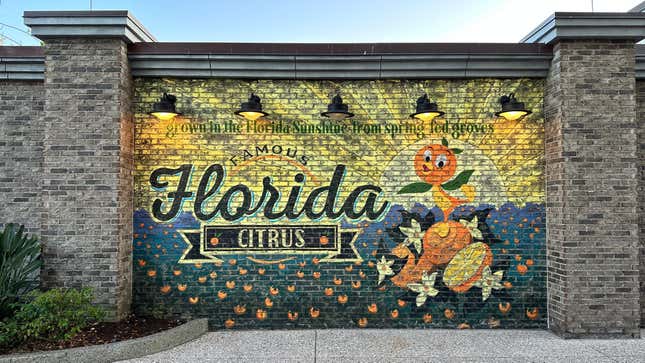 The cheerful little citrus mascot adorns a mural in Disney Springs that underscores his original purpose: to help sell oranges. "Famous Florida citrus," the mural reads, "grown in the Florida sunshine from spring-fed groves." If it sounds like an advertisement, well, it unapologetically is. Orange Bird started as an advertising concept designed by Disney as part of an arrangement with the Florida Citrus Commission, a government agency for the promotion of the state's most famous export.
In 1969, as Disney was in the planning stage of the Walt Disney World Resort in Orlando, the company struck a deal: The Florida Citrus Commission would sponsor both the Tropical Serenade attraction in Adventureland and the attached quick-service restaurant, the Sunshine Tree Terrace. In exchange, Florida orange juice would be served everywhere on Walt Disney World property, and Disney's animators would design a mascot to help promote the juice.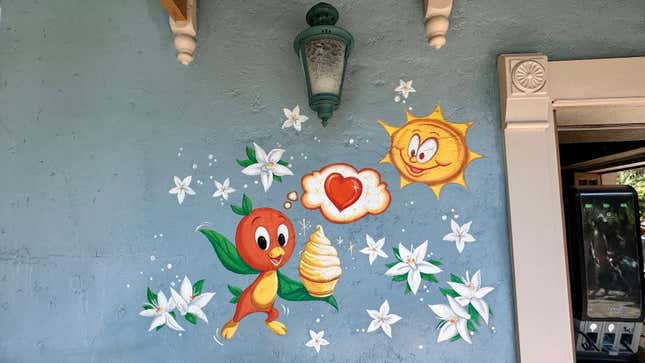 The partnership was—I'm sorry, I have to do this—fruitful. Orange Bird debuted in March 1971, months before the official opening of Walt Disney World, and immediately captivated the public. He was a walk-around character in the parks who would appear for meet-and-greets, and he was depicted in commercials and on billboards. There's even an Orange Bird album of fruit-inspired songs.
The cute cartoon certainly had the intended effect. The funds generated by the commission built the attraction that is now Walt Disney's Enchanted Tiki Room, and the restaurant that is now Aloha Isle, all of which are sponsored by Dole.
The everlasting appeal of the Orange Bird
The contract with the Florida Citrus Commission expired in 1987, according to D23, and Orange Bird went into hibernation until 2012, when he was awakened for Walt Disney World's 40th anniversary celebration. Though the dominant pineapple-flavored Dole Whip product had since taken over Orange Cream's original location in Adventureland, a new Sunshine Tree Terrace opened nearby. It's still there today, and you can easily spot the kiosk by its typically long line. Last year, Orange Bird received the ultimate honor: his own Little Golden Book.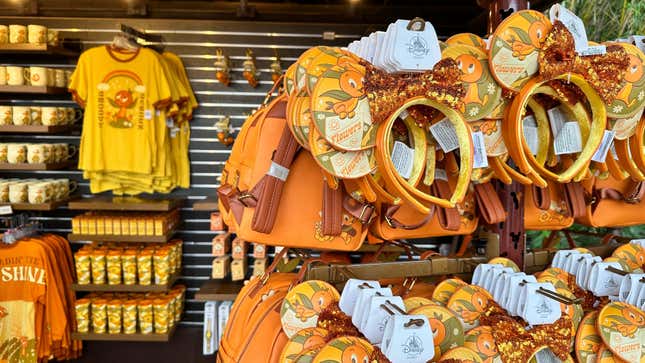 People love the little guy, even if they don't fully understand why. Despite never being featured in a Disney film, he's one of the company's most beloved characters, especially in the 21st century following his return to the parks. Orange Bird was the mascot of the 2023 EPCOT International Flower and Garden Festival, inspiring merch like Mickey ears and spirit jerseys with his citrusy little face on them, and he pops up in places like this year's Disney cast member Easter egg decorating contest.
Orange Bird is so ubiquitous that he's even creeping into Disneyland, the original Disney resort, despite the California parks not serving Orange Cream in any form. You can buy Orange Bird Minnie ears there, or even a little "shoulder buddy," a magnetized stuffed animal that sits on your shoulder as you walk around the park.
You could say Disney is in its Orange Bird era right now. So am I.