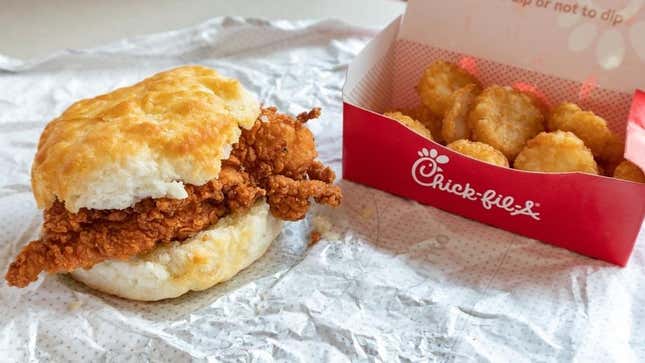 As the nation's third-largest fast food chain in terms of sales, Chick-fil-A has to be mindful about the experience it offers its millions upon millions of customers every day. Menu testing is certainly part of the process, but so is tweaking the layout of its 2,800 restaurant locations, making changes for optimum efficiency and profitability. Nation's Restaurant News (NRN) reports that two new Chick-fil-A store designs will be tested by the brand beginning in 2024.
How To Dispose Of Cooking Grease The Easy Way After Frying
The first of Chick-fil-A's two new designs (renderings can be seen here) is an elevated drive-thru concept—not "elevated" as in high-end, but literally elevated, with a kitchen that sits directly above a set of four drive-thru lanes. NRN notes that the lanes will be designated for either mobile order pickup (as we've seen with Chipotlanes) or traditional order-at-the-box drive-thru. Because the kitchen is a story above customers' cars, food will be delivered via a "meal transport system," which calls to mind those little chutes at the bank and/or Wendy's weird tunnel-dwelling robots.
This new Chick-fil-A isn't even the first time we've seen a fast food kitchen stacked on top of four drive-thru lanes. That's pretty much the design of Taco Bell Defy, which debuted last year in Minnesota to much fanfare. It's a clever layout, since it allows a fast food chain to purchase roughly the same amount of real estate while expanding its drive-thru capacity.
Such was also the thinking with McDonald's Fort Worth test location, which shrank its footprint by eliminating the dining room entirely to focus on drive-thru and pickup. The new Chick-fil-A design won't have a dining room, either; it debuts next year in the Atlanta metro area.
Because drive-thru is seen as the antithesis of city living, Chick-fil-A will also be testing a walk-up window concept in the most appropriate place: New York City, where driving a car to pick up one's fast food simply does not compute. The window will primarily be for mobile order pickups, but technically, placing an order at these locations is also doable.
"We're evaluating customers' experience," Khalilah Cooper, Chick-fil-A's executive director of restaurant design, told NRN about the new designs. "Does it feel easy? Does it feel seamless? Can they navigate this easily? Are we giving them time back?"
Of course, "giving customers their time back" is a nice way of putting it; in the fast food world, that also conveniently translates to "getting more customers to spend more money more quickly." Still, if sales numbers are any indication, customers are ready and willing to do said spending—and if they can get through the drive-thru or walk-up line quicker while they do it, they'll probably consider it as much a win as Chick-fil-A does.