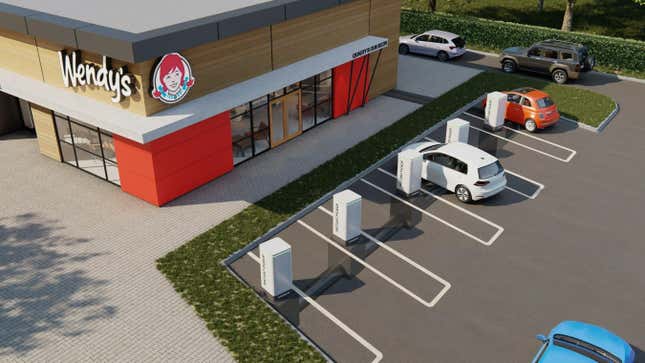 The robot-controlled future of fast food is nigh, my friends. Not only are robots being trained to prepare our food and take our orders, but soon those bots will deliver the food right into our hands. Wendy's has announced it will soon be piloting a program in which small robots travel through a system of pipes to transport your order from the restaurant right up to your car window.
How To Dispose Of Cooking Grease The Easy Way After Frying
Wendy's has not yet determined which restaurant will serve as the testing ground for this new order pickup system, but it is expected to be put in place by the end of the year. Matt Spessard, Wendy's Senior Vice President and Global Chief Technology Officer, confirmed to The Takeout via email that the brand is evaluating restaurants on the East Coast with high digital order volume.
Wendy's underground order delivery, explained
The home of the 4 for $4 deal is working with Pipedream, a hyperlogistics company, to bring this futuristic system to life in existing Wendy's restaurants. Rather than implement the new technology at a brand-new location, Wendy's is choosing to outfit an existing restaurant with the system. Deepak Ajmani, U.S. Chief Operations Officer, told The Takeout this is being done to test whether the underground system will "increase digital ordering capacity."
"The delivery system will be powered by autonomous robots traveling on a rail underground with the ability to remove obstructions and service the system," said Spessard. "Crew members will be trained to operate and clean the carriers to maintain the brand's cleanliness standards and to ensure a fast, frictionless and reliable experience for both crew and customers."
Pipedream expects the installation to take less than two weeks, and it won't interrupt restaurant operations for the most part because the majority of construction will happen overnight.
How will Wendy's new pipe delivery system work?
Trying to picture Wendy's orders traveling through a network of underground tunnels and up into customers' hands might conjure images of Mario and Luigi traveling between game levels through a series of big green pipes. To an extent, that's exactly what this pilot program will be—or, in a more boring comparison, you could picture it like those tubes at a bank drive-thru.
For all digital orders, whether pickup or delivery, Ajmani and Garrett McCurrach, CEO of Pipedream, explained that the underground system will work something like this:
Upon arrival, customers or delivery drivers pull into a designated parking spot next to an Instant Pickup portal.
The person communicates with the restaurant crew via a speaker, much like placing an order at the drive-thru.
A standard tote is loaded by associates in the restaurant and placed in an autonomous robot.
The robot is lowered into the underground pipe.
The robot shuttles the order to the customer portal for retrieval.
"The intent is that Pipedream's temperature-controlled delivery technology can ensure that fan favorites, like Dave's Classic Lemonade, are delivered without a spill and fries are always Hot & Crispy," said Ajmani.
The process seems simple, but it's powered by an almost baffling amount of technology. McCurrach describes the small robots as being "battery powered, fully autonomous and self servicing." The underground bots use sensors to detect where they are within the system and in relation to each other, and are able to stay underground for long periods of time, only leaving for routine maintenance.
A driving force behind this new robo-heavy initiative is the fact that digital ordering has made up 11% of Wendy's sales since March. Whether or not a tunnel system of little worker bots will be able to increase restaurants' capacity for digital orders remains to be seen, but since Wendy's is the first fast food chain to partner with Pipedream, the entire industry will no doubt be watching this pilot program very closely.