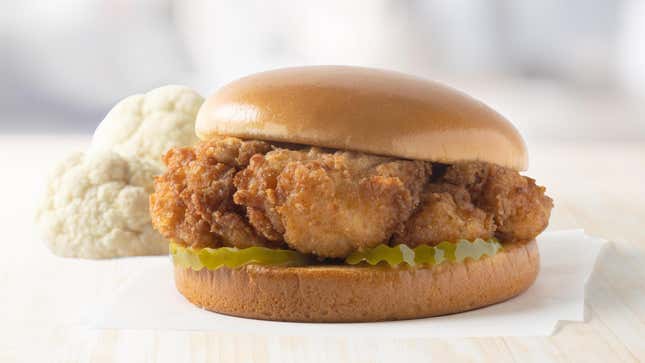 Chick-fil-A's not exactly known for its inclusive politics, but it is now testing a product that's trying to usher in at least one additional customer demographic: non-meat-eaters. The brand is currently working on a fried cauliflower sandwich, which it describes as a "plant-forward" entrée. The cruciferous vegetable is sliced into a "patty" that is then marinated and breaded in the same ingredients as the classic chicken sandwich, then pressure fried and served on a buttered bun with pickles.

Why cauliflower makes sense for Chick-fil-A
Although Impossible Foods has been doing impressive things with faux poultry in recent years, not everyone's enthused about plant-based chicken. There are some days when I'm into the idea, but often when I'm looking to cut down on meat, I just reach straight for the veggies. The issue is there aren't many plants that can function as a one-to-one substitution for meat. So when it comes to replacing, say, an entire filet of chicken with a similarly giant, solid hunk of something that grew in the ground, you don't have a ton of options.
Cauliflower's an excellent vegetable for this purpose—though if you think about it as a substitution for chicken, you might get a little tripped up. Bite for bite, convincing yourself that a mouthful of buffalo cauliflower is identical to a mouthful of buffalo wing is a pretty futile endeavor. They're nowhere near the same thing.
Instead, cauliflower should be considered in the greater context of its application. Biting into a thick slab of deep-fried cauliflower alongside pickles and a buttery bun promises the same visceral appeal of biting into an identically seasoned fried chicken patty with those same pickles and that same bun. Your teeth sink into the whole thing, creating one big, succulent mouthful after another.
I was once skeptical that cauliflower could be a suitable swap, but I recently tried just such a sandwich at a local shop here in Chicago, TriBecca's. One of the sandwiches on the TriBecca's menu features a fried cauliflower slab, and it turns out I didn't miss the chicken one bit. While it surely wasn't a chicken sandwich, the experience of eating it was identically satisfying.
G/O Media may get a commission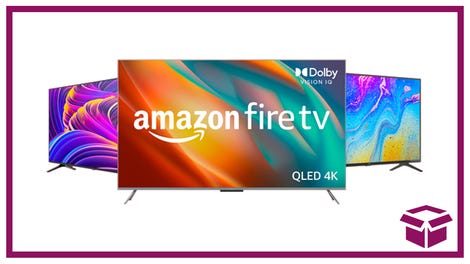 Ooh. stunning.
New Amazon Fire TVs
Is the Chick-fil-A cauliflower sandwich vegan?
Sorry, vegans, there's a reason Chick-fil-A's new Cauliflower Sandwich is being described as a "plant-forward" entrée rather than "vegan." Dairy and eggs are both included in the ingredient list, and the sandwich is prepped in the same space as the chicken because there is no dedicated kitchen area for non-meat items.
Chick-fil-A primarily sells chicken, so I'm guessing the cauliflower option is not aiming strictly for vegan business. Instead, it's aiming for people who, like me, would prefer to skip meat a few times a week.
Where is Chick-fil-A's new cauliflower sandwich being tested?
The test sandwich is only available in three markets right now: Denver, Colorado; Charleston, South Carolina; and the Greensboro-Triad area of North Carolina.
I'm predicting that this item will soar through its test market phase with flying colors and that this would be a pretty safe bet to add to the permanent Chick-fil-A menu. It doesn't deviate much from the chain's core product, and if the buzz around initial reports of the sandwich is any indication, it appeals to those who want to include more veggies in their diet, even when it comes to fast food. If plant-based meat substitutes like Beyond and Impossible fall out of favor, more chains could start using cauliflower as a non-meat option, because it's certainly a tasty swap.