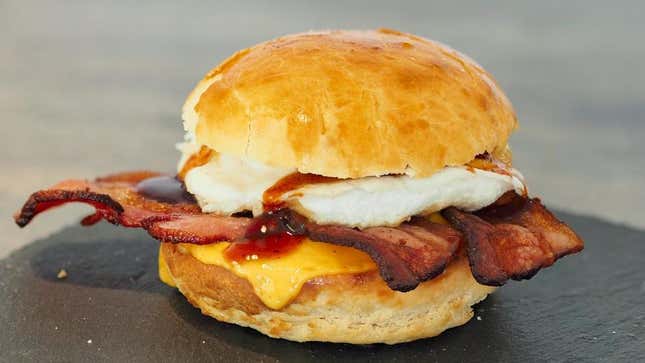 We are truly blessed to live in a world where breakfast sandwiches exist. The combination of crunchy toasted bread and soft, pillowy eggs complements a wide range of salty, melty ingredients to form the most perfect bites any meal can offer. But for all the countless (and beautiful) riffs we've seen on breakfast sandwiches, there's very little innovation happening with the meat inside them.
I come from New Jersey, the land of the single best breakfast meat in the United States: Taylor Ham (or, yes, pork roll), a smoked, spiced, and emulsified gift from the gods. Outside of the Garden State, though, it can be tragically hard to get your hands on. Breakfast sandwiches nationwide tend to stick to the same few carnivorous options: sausage, bacon, ham, or maybe chorizo if you're lucky. Why not branch out beyond the basics?
While there's a lot to love about a classic sausage, egg, and cheese, you are doing yourself a disservice if you don't try a few other meats. Embrace the unconventional—you might realize you've been missing out on something truly great this whole time. Here are seven meats you should try on a breakfast sandwich.