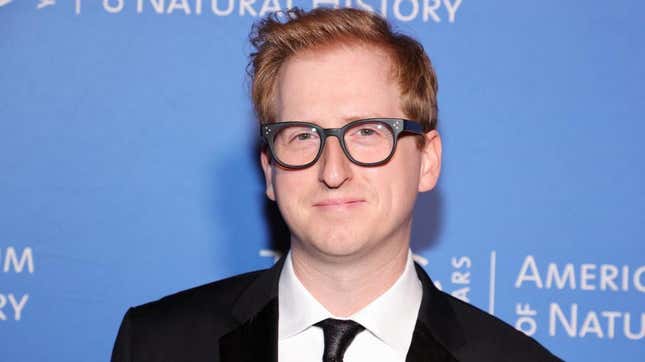 One of the first times I hung out with comedian and Bobby Flay enthusiast James Austin Johnson, we were both high as hell outside of a comedy show in Echo Park in Los Angeles. He was so enthusiastic to connect over food that he proceeded to deliver the most intricate Chopped impression I've ever heard. And when I say a "Chopped impression," I mean the entire fucking show—Ted Allen, Scott Conant, the judges, the chefs, and all the stupidly specific things they say about cooking and eating, like "I have an aversion to raw red onions."
This is the Best Dairy Substitute for Your Morning Coffee
James has been killing it on Saturday Night Live lately, and as a friend, I couldn't be happier. I was really sad to watch him leave Los Angeles for New York a few years back, and not just because we had a short-lived food podcast that 200 people listened to—he was my favorite person to eat with in LA. James understands food in ways that I feel most comedians do not.

James has watched thousands of hours of food shows because that's how the man unwinds. Instead of multi-cam sitcoms or prestige dramas, he watches Tournament of Champions and Triple D. And by tunneling hours upon hours of food television, James had developed a deep understanding of food and the people within that world. Combine that with his rare, natural gift for comedy, and I think he's truly one of the more insightful people to speak to about dining.
Most recently, we got to talking about egg sandwiches in New York City, and James had a lot of thoughts.
The Eggslut sandwich, explained
"Buddy, do you know what I miss [from] LA right now?" JAJ asked me. "Of all the things, the Eggslut style soft scramble sandwich with chives and spicy mayo on milk bread. I feel like so many places had that sandwich. I can't find it anywhere here."

"Surely you can get a good egg sandwich in NYC," I said.
"I mean, yeah, there are 1 million egg sandwiches but for some reason not that one," he said. "In fact, I can't find a soft scramble anywhere. Every egg is fried so hard it just tastes like pennies."
The sandwich James is specifically talking about is the Fairfax—a soft scrambled egg sandwich with chives, caramelized onions, sriracha mayo, and melted cheddar cheese on a soft brioche bun. It's made by Eggslut, a popular chain with locations around Los Angeles, as well as in Las Vegas and a handful of international cities. The Fairfax is incredibly indulgent and delicious, the type of thing that makes you feel like you're having mimosas at a sit-down brunch.
It is decidedly not the cheap, walk-and-talk foil-wrapped bacon, egg, and cheese sandwich (BEC) synonymous with life in New York City. And James is right: It's an LA thing. All across Los Angeles you'll find soft scrambled breakfast sandwiches, whether at French bistros or at popular breakfast joints. We have hard fried egg sandwiches, sure, but in comparison we have way more breakfast burritos and soft scrambles.
Why the BEC reigns in NYC
So why aren't there more soft-scramble-style sandwiches in New York? It likely comes down to tradition, convenience, and equipment.
When I say "equipment," I mean a flattop. Most bodegas are equipped with a flattop and a slicer, but to my knowledge most of them don't have a gas range stove. Flattop eggs call to be hard fried, and a soft scramble should be cooked gently in a pan with a ton of butter. A good soft scramble needs to be stirred and folded gently in a circular, edged pan if you want it to come out right. A flattop is, well, too flat to achieve that motion, to create textured, layered ribbons of egg. It makes sense that the fried egg sandwich would be frustratingly dominant in New York, where most people get their breakfast from a place equipped with a flattop and not a six burner.
I also don't want to gloss over the fact that James said these hard fried bodega eggs taste like pennies. I personally love that shot, since I prefer a soft scramble 100% of the time.
Soft scrambled sandwiches are much more creamy and decadent, and they call for perceived "gourmet" ingredients like chives, creme fraiche, gruyere, and even Comte cheese. That style of sandwich is a bit more elegant and thus more pricey, which won't cut it in NYC.
Even with rising inflation, the BEC still runs under $5. There is no elevating it; the effort would be rejected. The culture demands a cheap, satisfying, quickly fried egg, and thus the bodega BEC is an institution. I don't see our bullshit West Coast brunch sandwiches (assuming those are your words, New Yorker) making a dent in BEC culture anytime soon.
As a city, Los Angeles has a lot of options for a cheap breakfast: burritos, doughnuts, and Armenian pastries, to name a few. A sultry egg sandwich, meanwhile, is more emblematic of our annoyingly luxurious and thriving brunch scene. Simply put, Los Angeles culture permits a soft scramble to be more omnipresent.
But to James, and everyone else who, like him, might be craving a more decadent breakfast, I'd like to emphasize that the soft scrambled egg sandwich can be found in New York City—you just have to be strategic about where you look for it.
Perusing The Infatuation, it becomes clear that New York City has plenty of soft scrambled egg sandwiches. Golden Diner in Chinatown, Court Street Grocers and Leo in Williamsburg, and Golda Kitchen in Bed-Stuy all serve wonderful versions of a soft scrambled sandwich. In a way, the dish is emblematic of a good restaurant, or maybe of New American food as a whole: It's well worth seeking out and supporting the spots that do it right.
In addition to those spots, the wildly popular South Korean chain EGGDROP (which has over 290 locations in South Korea) might be bringing a more fast-casual style of scrambled egg sandwich to NYC soon. Per its website, it has completed its registration for New York, so I'd expect to see a shop or two open up in the city quite soon. EGGDROP's Mr. Egg sandwich features soft scrambled eggs and special sauce on a brioche bun. It's simple, but it just might fill the gap in the city's sandwich scene that leaves James craving Eggslut.
Will New Yorkers embrace it once it arrives? A flattop-fried egg with some cheddar cheese and pre-fried bacon is the type of simple, fast, affordable, and beloved thing bodega shop owners can recreate over and over again without much fuss. The nostalgia is already deeply in place. A slow, soft scramble is an indulgence that requires hitting pause on one's day, a vibe that seems to fit Los Angeles more than Manhattan. But if there are enough people out there like James Austin Johnson, the soft egg scramble should fare just fine.