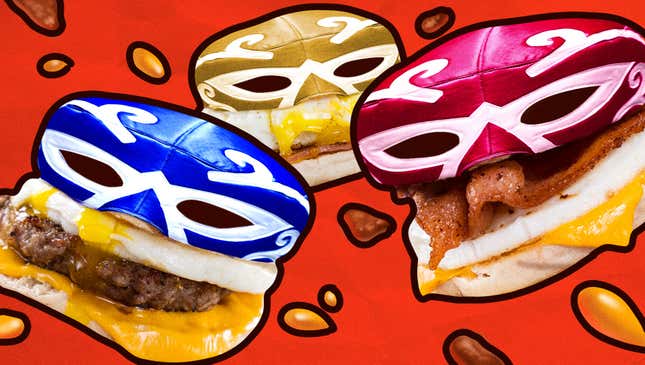 Welcome to American Sandwiches Week, a celebration of the mighty sandwich through the lens of Americana.
---
Chain breakfast sandwiches, psychically, feel on a different plane from most fast food. On one hand, the idea of fast food's incursion into our bodies at 7 a.m. gives us pause. On the other hand, chain breakfast sandwiches are delicious. They have become ritual for road trips, a quick fix at airport terminals, a family indulgence on Saturday mornings.
McDonald's set the standard with the Egg McMuffin, a Canadian bacon-and-egg breakfast sandwich created by a Santa Barbara franchisee in 1972. The popularity of that sandwich yielded the Sausage McMuffin with Egg (I'm on record saying it's the best part of McDonald's), and later, the beloved/maligned McGriddle. McDonald's success was the proof of concept for other chains to follow suit—Taco Bell was the most recent to dive headfirst into the breakfast pool, in 2014.
Breakfast sandwiches are essential to the American sandwich canon. And so we must assess its current state. For this taste test, we purchased a sandwich representative of the breakfast menu from five popular chains: McDonald's, Burger King, Starbucks, Dunkin, and Taco Bell.
---
McDonald's Triple Breakfast Stacks McMuffin
Nutrition: 780 calories, 57 g fat, 1,560 mg sodium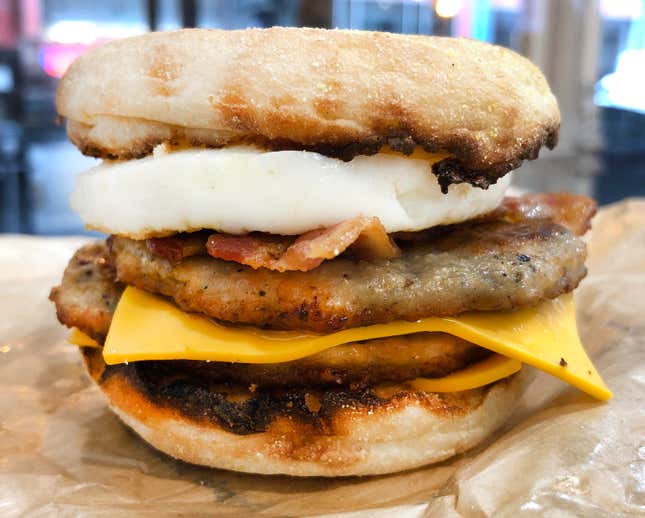 Tasting notes: I have not heretofore tasted a better breakfast sandwich than McDonald's Sausage McMuffin with Egg, so logic would dictate this latest sandwich would improve upon the original. I humbly submit it does not. It has more to do with the original Sausage McMuffin's perfectly engineered proportion—one sausage, one egg disc, two crisp English muffins. It strikes the ideal balance of savory meat to rich egg and semi-melted American cheese. The Triple Breakfast Stack, even for this avowed carnivore, feels superfluous—the flimsy bacon adds little, and the extra sausage patty throws the ratio out of whack. (Too much meat, you say?! Think of it as ordering one-and-a-half ribeye steaks—love the "one," don't need the extra "half.") This is not a bad sandwich, it just doesn't improve on the original, which in my view was/is perfect.
Grade: B+
---
Burger King's Fully Loaded Croissan'wich
Nutrition: 570 calories, 37 g fat, 1,650 mg sodium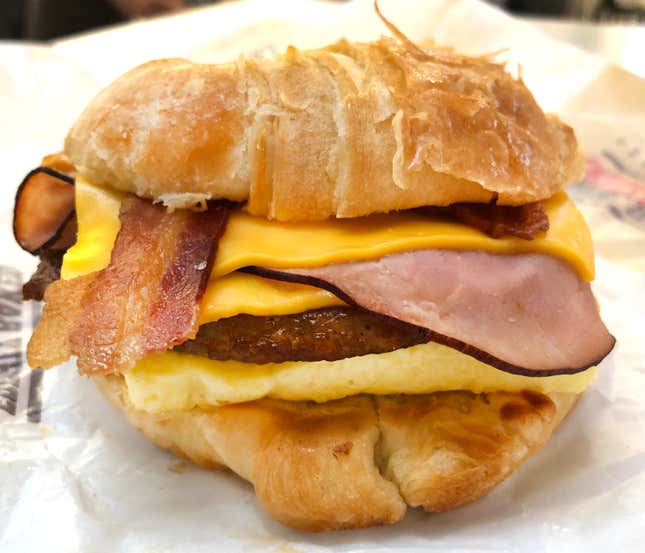 Tasting notes: The fatal flaw to this breakfast sandwich is its soft, textureless, shapeless form. The so-called "croissant" disappoints, providing zero structural support for the piles of protein it's supposed to hold. Worse yet, the croissant is void of any buttery appeal or flakiness—it's just oily and doughy. The eggs taste like nothing, the ham brings only a salty hit on the backend. The idea of a croissant breakfast sandwich is luxe and indulgent, and such high expectations coupled with such unimpressive results makes for a disappointing breakfast experience.
Grade: D+
---
Taco Bell's Steak Breakfast Crunchwrap
Nutrition: 660 calories, 42 g fat, 1,280 mg sodium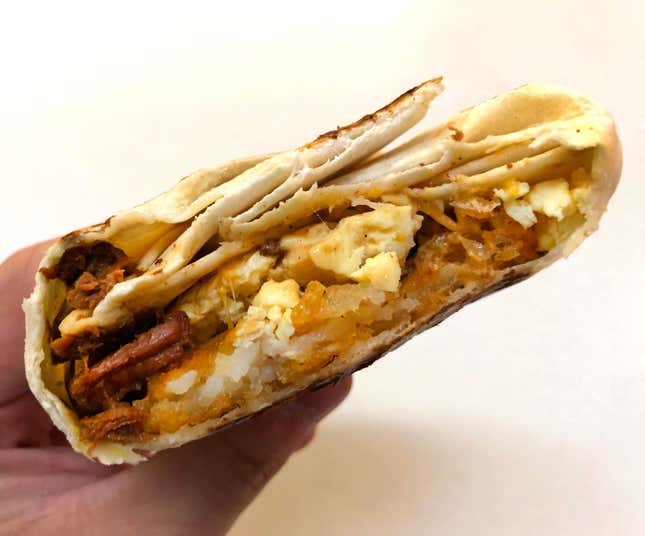 Tasting notes: Novel in all respects. First is its hexagonal shape and hockey puck-thickness, making the sandwich ideally contoured for one-handed consumption. Unlike the Burger King Croissan'wich, the double crunch from the griddled tortilla and hash brown makes it texturally satisfying. (Why don't more restaurants insert hash browns into their sandwiches? It's a no-brainer.) I went with the steak, which adds an indelible Taco Bell-y flavor, but next time I might stick with bacon (with Diablo sauce) just to underscore its breakfast qualities. This was the first time I've sampled a Crunchwrap and I was mighty impressed.
Grade: A-
---
Dunkin's Maple Sugar Bacon Breakfast Sandwich
No nutritional info provided by Dunkin.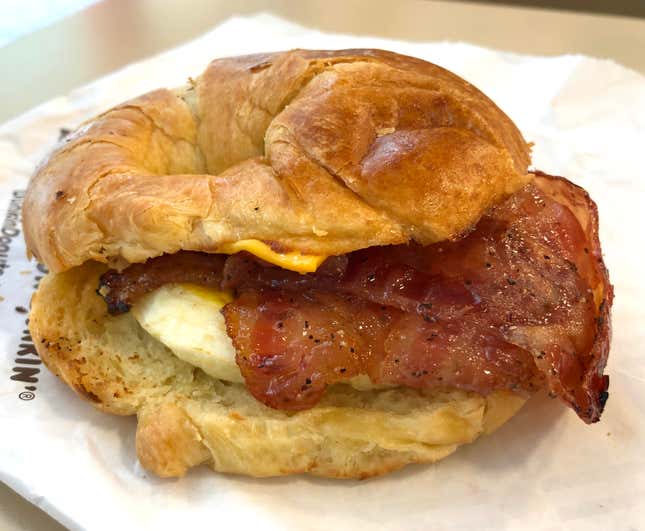 Tasting notes: Essentially a syrup-and-cured meat breakfast in sandwich form, without the tainted McGriddles name. The croissant is much improved over Burger King's insipid, mushy offering—Dunkin's at least has crispness and good structure. The bandaged-sized bacon, flimsy and lacking smoke flavor, is shellacked with a sticky maple-tasting syrup flecked with black pepper. As the sandwich nears your lips, the aroma is almost candy sweet. But the flavors meld well, its sweetness not overbearing. (The egg disc, though, gets lost in the shuffle.)
Grade: B-
---
Starbucks' Double-Smoked Bacon, Cheddar & Egg Sandwich
Nutrition: 490 calories, 27 g fat, 910 mg sodium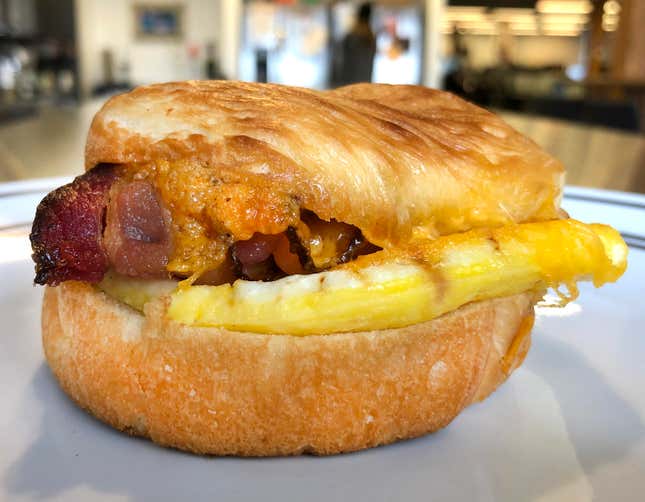 Tasting notes: The most notable quality of this sandwich is the quality of the bacon—thick, meaty, unctuous, the type of bacon you'd get as part of a $25 breakfast plate at the Four Seasons. Starbucks advertises this as "slow-smoked for 10 hours over hardwood," and indeed it's the star attraction of a fantastic sandwich. The croissant roll is on the opposite end of Burger King's—a rather dense crown and heel, but undeniably buttery and brioche-like. Extra points for using cheddar, a more assertive cheese than American, and for a reasonably fluffy egg patty. But the bacon is the marquee.
Grade: A