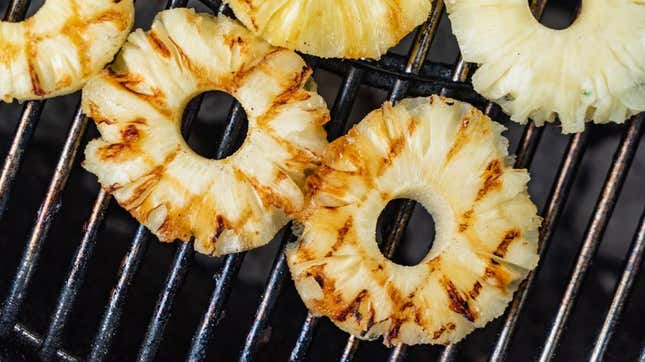 As the host of a backyard barbecue, hearing guests get excited about a particular dish is the ultimate form of flattery. And in addition to sharing one's best recipes with partygoers, it can be just as exciting to impart other forms of wisdom, too. Here are some other ways to enhance the cookout experience, beyond the great food—all of which are cheap and easy to add to the setup.
How To Dispose Of Cooking Grease The Easy Way After Frying
Fly fans
In the heat of the summer when bugs want to swarm the appetizers as much as the guests do, a fly fan is a surprisingly effective way to keep insects at bay. Flies, mosquitos, and bees hate having to fight against a breeze, so installing a small battery-powered fan in front of the food can make a big difference. Alternatively, this flapper model rotates directly over the food, creating a bug barrier, and automatically stop when a human hand reaches into the bowl. (Read more about fly fans here.)
Grill light
There are many grilling accessories that, despite being popular gifts, are functionally useless. However, according to barbecue pro Jesse Valenciana, the grill light is worth every penny. "These little buggers come in really handy," Valenciana says. "If you've been unfortunate enough to burn yourself on the grill at night—like some of us have—you'll recognize the importance of having a nice, well-lit surface." He recommends any model that clips to the handle (like this) so it's harder to bump into or lose.

Casserole carriers
Here's one for the guests who've been tasked with bringing a dish. Many crowd-pleasing apps and sides are served up in a rectangular baking dish or casserole pan, and keeping those dishes appropriately warm or appropriately cold on your way to a cookout is essential. For that task, there's nothing better than a casserole carrier. The design fits standard-sized baking dishes, but an overly large model can usually be made to fit a smaller dish more snugly with the addition of hot or cold packs. It's not just the insulation that makes these carriers a necessity, but also the velcro handles that require only one hand to lug the dish into a party and keeps the food level the entire time. Here's a high-rated model from Amazon. Keeping foods at the right temp is also a great way to make sure nobody gets food poisoning.