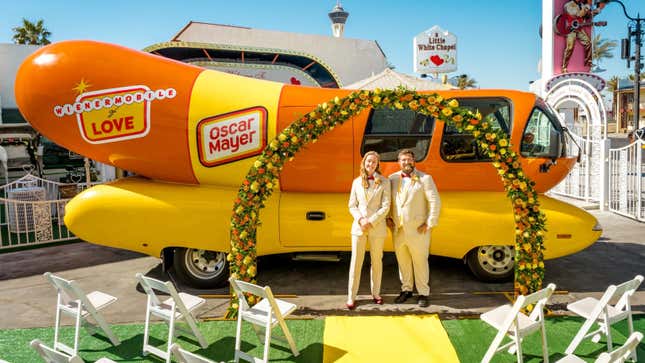 Weddings are not a serious business, or at least they shouldn't be. The context of a wedding ceremony—two people legally, financially, and emotionally committing to one another for the rest of their lives—is solemn enough on its own; the party thrown to mark the occasion should be as lighthearted as desired. That's why no couple should think twice about applying to be wed at the Wienermobile of Love, Oscar Mayer's makeshift chapel in Las Vegas. In fact, we think it's downright romantic.
Dr. Pepper Strawberries & Cream Is Tearing Us Apart
The Wienermobile wedding chapel, explained
Oscar Mayer announced this week via press release that for this weekend only, April 15 and 16, couples can come elope in front of everyone's favorite hot dog car turned chapel, a "unique all-expenses-paid ceremony" that includes being lawfully wed by the company's brand ambassadors, the Hotdoggers.
"As more people seek stress-free ceremonies with their partners, our Hotdoggers are thrilled to reignite the joy of this special day and give them a once-in-a-lifetime experience: a wedding through a pair of meat-colored glasses," said Ed Roland, Oscar Mayer's senior manager of brand communications.
Anyone interested in eloping this weekend in Vegas can head to this page of the Oscar Mayer website and apply to join the waitlist. Time slots are 30 minutes each, which feels like more than enough time for Hotdoggers to rattle off a good six dozen or so puns about being "linked" or "mustarding the courage" to pop the question.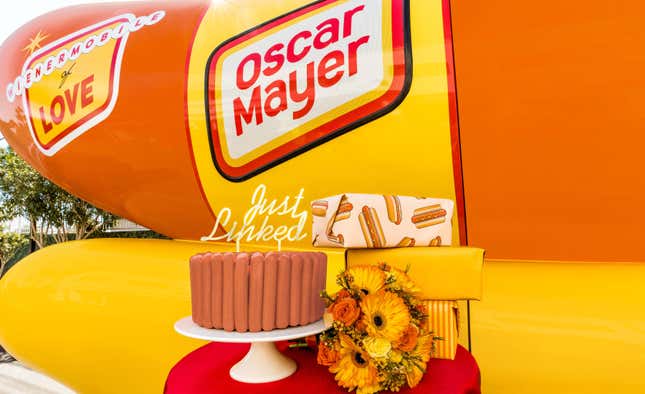 Renting the Wienermobile for your wedding
For those who don't make the cut for this weekend's event, though, just know that Wienermobile weddings aren't restricted to Vegas. In fact, the novelty vehicle has been intertwined with wedding ceremonies for a while now.
"We receive thousands of requests each and every year to be part of couples' big days," Roland says in the press release. Indeed, anyone who is interested in having the Wienermobile make an appearance at their wedding can simply fill out this form and, assuming Hotdoggers are in the area who can accommodate the request, the lucky couple just might hear the sound of both wedding bells and weenie whistles as they walk down the aisle. (Oscar Mayer recommends submitting requests 3-12 months in advance.)
There is no cost to renting the Wienermobile, just logistical hurdles. A representative for Oscar Mayer explained to The Takeout that the company fleet includes six Wienermobiles out on the road at any given time; the Hotdoggers who pilot them build schedules of public appearances and then slot in private events as they're able. If the stars align and there are Hotdoggers traveling somewhere your venue on your wedding day, congratulations—you'll probably be getting some great photo ops at your nuptials.
If you don't want the hot dog car to become the actual venue for your wedding, you can also integrate it into the ceremony in other ways. One rad-as-hell bride booked the Wienermobile as transport to her wedding reception in 2013, making a show-stopping entrance (one that didn't even involve the cumbersome choreography of a flash mob).
There's also the option to have the Wienermobile pop up at one's marriage proposal. Oscar Mayer started promoting this idea in 2020, presumably as a way to capitalize on our collective craving for novel outdoor experiences at the height of COVID. And one inspiring couple just celebrated their 50th anniversary with help from the brand, with photogenic results.
Why wouldn't Oscar Mayer bend over backwards to accommodate these requests? They are, after all, additional marketing opportunities for the brand, a chance to reinforce customer loyalty by building up the Wienermobile's association with milestone events. So whether or not you and your beloved choose to book a flight to Vegas this weekend, understand that the Wienermobile will always be there for you when you need it. Provided it doesn't get pulled over along the way.