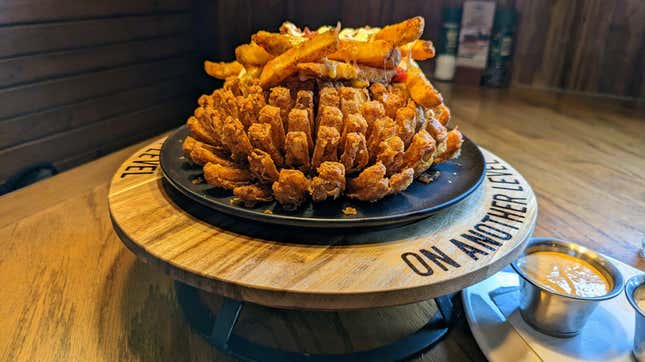 There's no question that Americans love the ridiculous over-the-topness of Outback Steakhouse (we think the Bloomin' Onion has plenty to do with it). But one thing we don't often consider is how well America's favorite restaurant chains fare in other countries. Some have a global presence and an avid fanbase worldwide, and Outback is one of them.
How To Dispose Of Cooking Grease The Easy Way After Frying
CNBC reports that one country in particular has a fascination with Outback: Brazil, whose market accounts for a whopping 83% of the chain's international sales. Why is Brazil so excited about this Aussie-themed restaurant?
Outback Steakhouse outside the United States
Outback's first location in Brazil was established in Rio de Janeiro in 1997, and by 2020, the number of locations had bloomed (see what I did there?) to 109 total restaurants across the country.
Fast forward to today, and CNBC reports that Outback's Brazilian year-over-year sales rose by 61% in the first half of 2023. The average check size increased by 19.2% in that same period, and foot traffic rose by an impressive 42%. Compare that to the U.S. market, where sales grew by 3.9%, the average check went up 8.9%, and foot traffic actually decreased by 5%.
Why Outback Steakhouse succeeds with Brazilian customers
In a way, it only makes sense that a chain steakhouse would do well in Brazil; after all, Brazilians practically invented the model of eating large quantities of beef in one sitting. Here in the United States, the experience at Fogo de Chão is modeled after Brazilian steakhouses' rodizio style of service, where servers regale diners with tableside meats. In its reporting on the phenomenon of Outback Steakhouses in Brazil, The Washington Post even notes that there are more cows in Brazil than humans.
You can see why the idea of having meat as the centerpiece of a meal might do so well—especially when customers want to try something novel in the relative comfort of a themed restaurant, where you can expect the same sort of experience through every location. And as the middle and upper class grows in Brazil, those particular customers have have enough disposable income to indulge in things they love. In this case, it's beef, and plenty of it, in contrast to the cheaper, traditional staples of rice and beans.
And yes, many Outback Steakhouse locations in Brazil are situated similarly to what we see here—that is, they're near shopping malls. I guess chowing down at a theme restaurant after a day of shopping for branded goods makes sense (hey, I do it too, despite my love of mom-and-pop joints). Comfort is a universal language, and there's something about a slab of red meat on your plate that lets you know you're being taken care of.