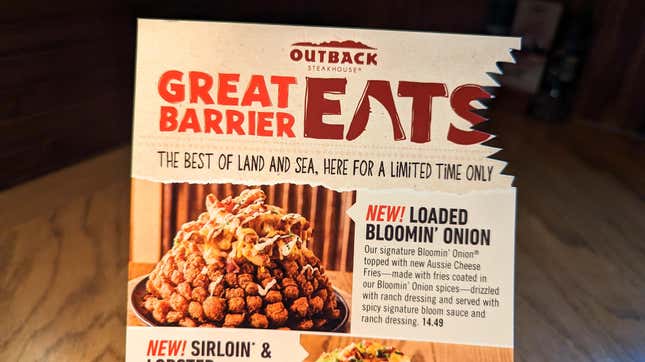 Seasonal menus at full-service chain restaurants are important for a few reasons: They attract diner curiosity, they make the brand seem more dynamic, and they provide the opportunity for fresh marketing campaigns (anyone who watches sports sees nonstop ads for these limited-time promotions). The rotating seasonal menu is a crucial part of the chain restaurant ecosystem, and the new Great Barrier Eats menu at Outback Steakhouse is a great example of just how attention-grabbing these offerings have to be if they're going to succeed.
McDonald's Shrinks Its Restaurant for the Digital Age
It's been many years since I've visited an Outback, mainly because I'm perfectly happy making my own steak at home. But there's plenty of value in going to a chain steakhouse, since the prices are generally fair for the quality of food you get. Besides, there's nothing wrong immersing yourself in the theatrics of a themed restaurant. And the Great Barrier Eats menu is nothing if not aggressively themed.
The newest menu items at Outback Steakhouse
Outback, it should be noted, is Australian-inspired—it was not founded in Australia, nor does it have much authentically Australian fare at all. Perhaps this is obvious, but Australians don't regularly chow down on Queensland Chicken and Shrimp Pasta or Brisbane Caesar Salad. The chain is actually based in Tampa Bay, Florida; it's part of the Bloomin' Brands restaurant group, which includes Carrabba's Italian Grill, Bonefish Grill, and Fleming's Prime Steakhouse & Wine Bar.
I was invited to try the newest Outback items as part of a media preview, and I wanted to see just how I'd feel about the whole experience after not having been there in over a decade. Available now as part of the Great Barrier Eats menu, the new dishes are as follows:
Loaded Bloomin' Onion: It's the signature Bloomin' Onion, but topped with Aussie Cheese Fries (another appetizer item on the regular menu), coated in Bloomin' Onion seasoning, drizzled with ranch, and served with ranch and spicy Bloom sauce for dipping. Price: Starts at $13.99
The Aussie JAWSie​: This raspberry lemonade cocktail has New Amsterdam raspberry vodka, blue curacao, citrus juice, and a grenadine sinker served out of a plastic toy shark (which you get to take home). Price: Starts at $7.99
Sirloin and Lobster Mac and Cheese: Your choice of six or eight ounce sirloin along with a side of macaroni and cheese topped with lobster meat, plus your choice of potato. Price: $16.99-$21.99, depending on size
Tasmanian Shrimp and Lobster Pasta: This is spicy fettuccine Alfredo topped with grilled shrimp and lobster pieces. Price: Starts at $21.99
​Prime Rib and Shrimp Combo: 12 or 16 oz. of prime rib served with grilled or coconut shrimp, served with your choice of potato and an additional side. Price: $29.99-$38.49, depending on size
Tim Tam Brownie Cake: This dessert features a brownie topped with layers of peanut butter, chocolate mousse, and is topped with Tim Tam cookies. Price: Starts at $10.49
I asked Becky Boyd, Director of Menu Innovation & Strategy at Bloomin' Brands, about the thinking behind each item. "This menu lineup is full of new food and beverage innovation," she said. "Even items we have introduced in the past, like our Loaded Bloomin' Onion, have a new twist."
The Loaded Bloomin' Onion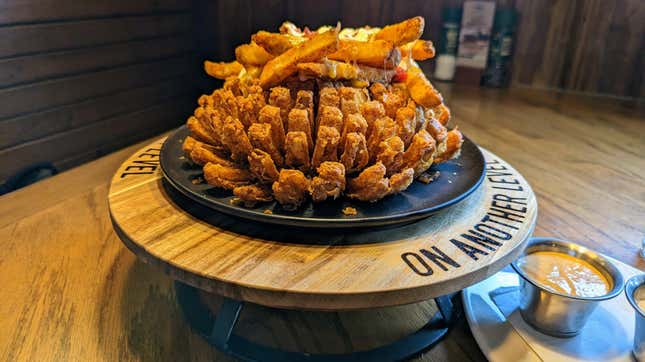 I'm a fan of the Bloomin' Onion, mostly because it's so over the top. Every time I try to wrap my head around the fact that this appetizer is literally an entire massive petal-sliced onion that's been breaded and deep-fried, I can't help but respect the American ability to deep-fry damn near anything.
In this case, the "loaded" part of the name refers to the fact that a whole other deep-fried appetizer, an order of Aussie Cheese Fries, is literally perched on top of the Bloomin' Onion. It comes with a side of two dipping sauces, the Bloomin' sauce (specifically for Bloomin' Onions, of course) and ranch. It's a hilarious amount of fried food that I don't even think four people could polish off in one sitting if they hope to finish their entrees. But it almost seems silly to go to Outback and not order a Bloomin' Onion, so if you want go go even more buck wild, here you go.
"The Loaded Bloomin' Onion is a limited time item we offered briefly in the past with great success," Boyd said. But this version has a slight twist: The fries are coated with Bloomin' Onion batter before they're fried.
The Aussie JAWSie cocktail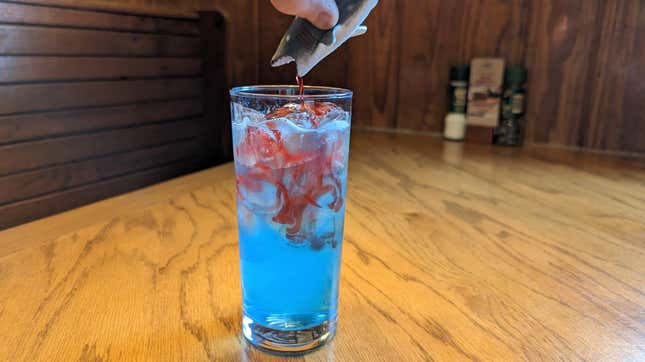 Okay, I have to say that the Aussie JAWSie may be my newest favorite novelty cocktail strictly for its presentation and despite its overwhelming sweetness. It comes with one of two plastic sharks, either a blue shark or a whale shark, filled with grenadine; once the drink arrives at your table, the server squeezes the shark to pour the syrup into your drink, filling the glass with a blood-like blush. It's a childishly mesmerizing blood-in-the-water visual effect, and it's so silly I had to forgive the drink for its ultra-saccharine jungle juice sweetness.
(It's important to note that whale sharks only filter feed, so it's not likely you'd ever see one in the wild ravaging its prey.)
Boyd explains that the shark population in Australia's waters were the inspiration for this one.
"The waters of Australia are home to almost 200 species of sharks," she said. "We took that inspiration to create a fun, interactive cocktail for our guests. The refreshing raspberry lemonade-style cocktail looks like the beautiful blue waters of Australia." And yes, you get to keep the plastic shark.
Sirloin and Lobster Mac & Cheese​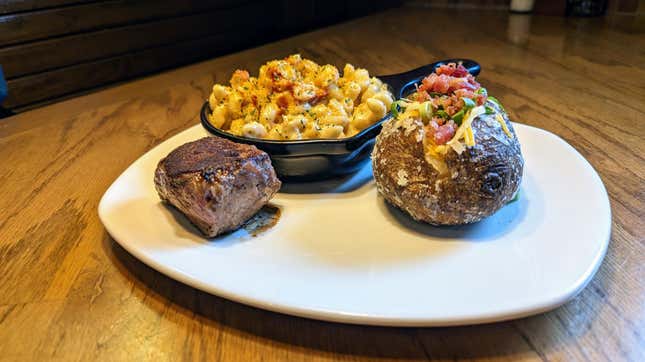 This combo puts together a 6-oz. sirloin (there's an option to get an 8-oz. one for a few dollars more), macaroni and cheese topped with lobster claw, and your choice of potato. Out of the three new meal options, this one's the most affordable. While a 6-oz. steak isn't particularly big after it's cooked, it's the cheapest of the entrees.
The lobster on the creamy mac and cheese is more of an adornment than a main feature, since there's not a ton of it, but it's enough to make you feel treated.
Tasmanian Shrimp and Lobster Pasta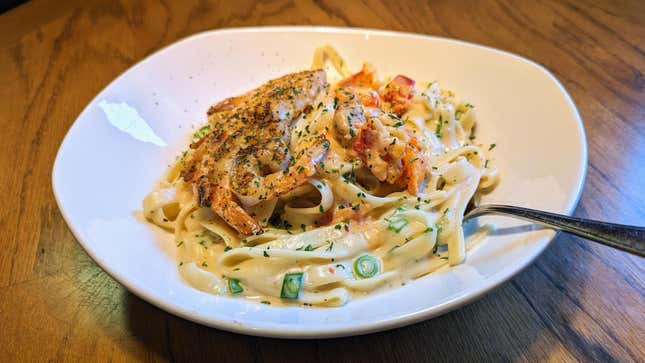 For those of you who aren't in the mood for red meat, there's a seafood pasta option combining shrimp, lobster, and fettuccine Alfredo. Boyd explains what the term "Tasmanian" means in Outback's own lexicon, which isn't particularly clear on the menu:
We coined "Tasmanian" as our strine for Outback's spicy items. (Strine refers to an Australian-English accent and slang). Tasmania is the coldest area of Australia, so we'd like to think items with a spicy kick help keep Aussies warm. For this dish, we serve lobster and grilled shrimp on a bountiful bowl of fettuccine tossed in a bold alfredo sauce made with our house-made Fresno Chili Jam for a kick.
For those generally spice averse, don't worry, the Fresno chili flecks really don't contribute too much heat. This is mainly just a creamy serving of noodles with buttery, scampi-like grilled shrimp on top and a small amount of lobster meat.
Prime Rib and Shrimp Combo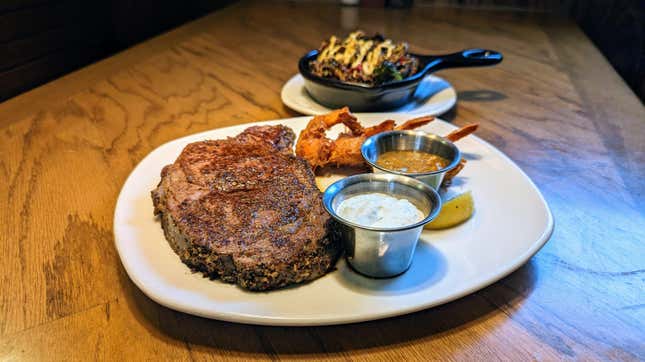 And to appease the carnivores, the Prime Rib and Shrimp ($29.99) combination puts together a 12-oz. prime rib, your choice of grilled or coconut shrimp, a potato dish, and a side. Boyd explained to me that this combination is inspired by a classic Sunday roast meal (but with shrimp added). It's a pretty unadventurous pairing, but a surf-and-turf dinner is a crowd-pleaser for a reason.
For this one, you can get a classic cut of prime rib (roasted whole and sliced), or you can get it "Outback Style," which means the prime rib is seasoned and seared on both sides. We ordered Outback Style since I'd never had one that way; I would say the classic is more my speed, because I cherish the beefy tender flavor of prime rib and don't need the extra cooked surface area.
Tim Tam Brownie Cake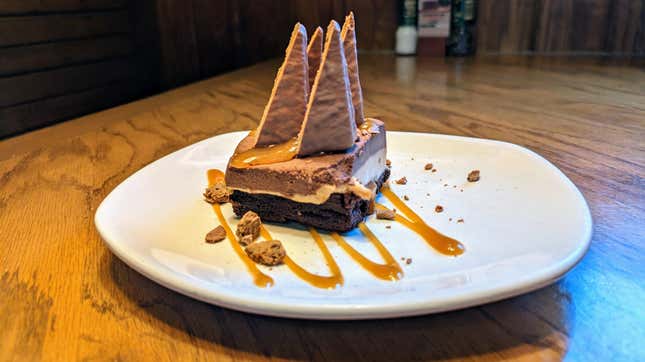 And for dessert, a Tim Tam Brownie Cake, which features a brownie with peanut butter and dense chocolate mousse on top, along with what is arguably Australia's best grocery store treat, Tim Tam cookies. Boyd says this one is so popular that it's been kept on the menu after debuting last season. It's certainly indulgent, and the Tim Tams are a nice regional touch.
While the new Great Barrier Eats menu has some flashy items in the appetizer, drink, and dessert categories, its staples aren't adventurous by any means, and they don't have to be. After all, by its very nature a steakhouse does not promise to be cutting edge, and that's doubly true for a chain that wants to provide a consistent experience. Outback promises combinations of meat, shrimp, and carbs, and that's what you'll get, even when the menu has a novelty shark bite cut out of the side.
Like I said, it's been years since I'd been to an Outback. I went in with zero expectations. But I'm happy to say the food here is cranked out by people who know how to approach their steak, and the atmosphere is the right level of silly and fun. Just show up with a group, because flavoring your cocktail with a toy shark just doesn't hit the same if there's no one else to watch.