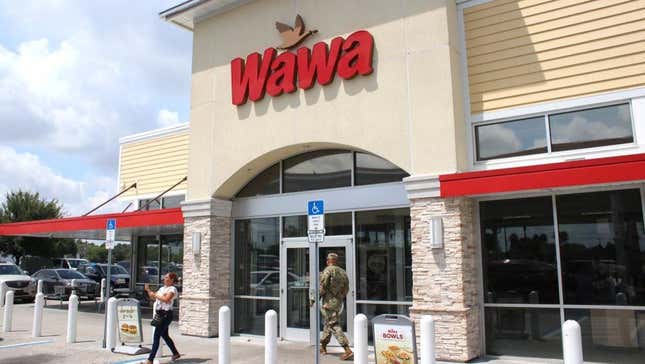 Gas station pizza is an institution with a passionate fan base, and brand loyalty means a lot—so breaking into the space can be tough for outsiders. However, Wawa, a convenience store chain located mainly throughout the East Coast, will now be entering the ring, reports Restaurant Dive, and it's bringing a lot of devotees along with it.

How To Dispose Of Cooking Grease The Easy Way After Frying
Wawa Pizza, explained
After a successful test run in select stores back in June, Wawa has decided to add pizza to its menu of offerings and has already rolled out the dough (heh) at more than 900 of its locations. The pizza is made with a proprietary sauce and whole milk mozzarella cheese, and the press release notes that Wawa spent "years" perfecting the recipe. The menu will include cheese, pepperoni, sausage, mushroom, and veggie pizzas, though the company noted in the announcement that it plans to add more pizza options down the line.
The pizzas will be available from 4 p.m. to 3 a.m. in locations that are open 24 hours. Customers can get a 14" or 16" starting at $12.99, but a few locations will only have personal-sized pies.
Casey's and the convenience store pizza phenomenon
Although Casey's General Store is a Midwestern chain located in 17 states, its pizza is well known among road-trippers and gas station aficionados throughout the country. And Casey's has recently expanded its pizza offerings as well, debuting a square-cut thin crust pizza to the delight of Midwesterners in particular.
The deep bond Midwesterners have with gas station pizza is as indelible as it is inexplicable. Whatever causes it, Casey's breakfast pizza that has a cult following that any brand breaking into the pizza space can aspire to. Cheese, scrambled eggs, bacon, sausage, veggies, original or gluten-free crust—it's brunch in a box, and it's everything road trip food should be.
Kwik Trip, too, has a pizza program that a newbie like Wawa could learn from. The chain's pizza comes in three varieties: whole pies, individual slices, or take-and-bake. And yes, Kwik Trip offers breakfast pizza, too, which is usually pretty reliable (even if it's not quite as delicious as Casey's).
Wawa, currently better known for its hoagies, has been expanding its hot food offerings in recent years. Starting in 2021, Wawa revamped its dinner menu by adding angus beef burgers alongside pasta bowls and a few other entrees. Last year, Wawa also tested a chalupa featuring pulled pork, beans, salsa, cheese, and corn wrapped in something akin to pita bread. In fact, Wawa reportedly released multiple chalupas in 2022, but its absence from the current menu suggests Tex-Mex flavors aren't currently a focus for the brand. Pizza is where Wawa's sights have been set, and it sounds like the brand is committed to making it work.

"Pizza is one of the most beloved foods in America, so we couldn't be more excited to make it a part of Wawa's fast-casual-to-go offering," said Wawa's VP of fresh food and beverages Mary-Rose Hannum in the press release.
Of course, because pizza is so beloved, it's also the most crowded field to break into. Will Wawa's pizza dethrone Casey's as America's eminent gas station pie?