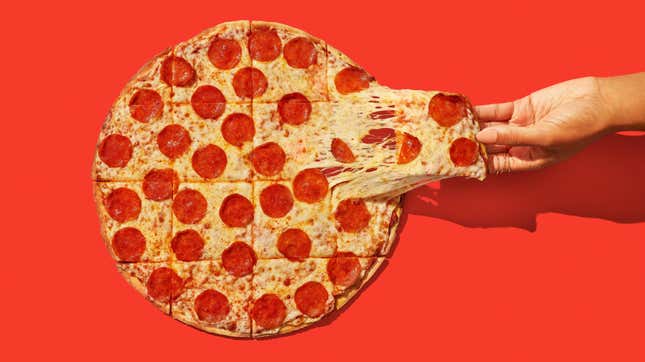 Casey's isn't your ordinary road trip gas station. This chain, which has a footprint in 16 Midwestern states, is known for one thing—its pizza. And the people who love Casey's pizza absolutely swear by it (especially in Iowa). You can buy the stuff by the slice from a rotating heated carousel, which is perfect for a quick car meal, or you can order entire pies to go.
How To Dispose Of Cooking Grease The Easy Way After Frying
Ever since a Casey's opened up near my parents' place north of Chicago, I've become a fan. The breakfast pizza in particular has a cult following, and after I tried a few slices, I totally get it. Now, though, my devotion might only deepen: Casey's is adding a whole new pizza style to the menu, one it hasn't featured before—and from a Midwesterner's point of view, this might be a game changer.
Casey's newest pizza, explained
While the Midwest is known for more than a few different types of pizza, we're particularly fond of the thin crust, square-cut kind. It's crisp, strong enough to withstand a large amount of toppings, and is designed to be maximally shareable. The smaller slices mean you can eat as much or as little as you like, choosing either the cheesier or crustier pieces as you go. It's our ultimate comfort food, and it only makes sense that Casey's would want to add it to the menu.
Casey's now offers its own version of thin crust, square-cut pies, which, when combined with Casey's signature toppings, could result in a whole new creature. A crisp square of breakfast pizza with egg, breakfast sausage, and cheese sauce? Hell yes. How about a taco pizza or a barbecue brisket pizza on a cracker-thin slice? Sounds great to me.
Considering Casey's started as a single shop in Iowa, it's only fitting that it reps the Midwest's favorite style of pizza. In fact, I'm somewhat surprised it hasn't done so for years already, but Midwest thin crust pizza's popularity is on the rise. The New York Times prominently featured it in March of this year, and national interest in this pizza style has only increased since.
The one downside to square-cut pizza
Unfortunately, when it comes to square-cut thin crust pizza, there is one glaring downside for on-the-go consumption: The crust's format doesn't lend itself to being sold by the slice. 
A representative for Casey's confirmed that the pies would only be sold in whole format. Honestly, though, that's not much of a problem—it just means more pizza for everyone. Besides, although I don't exactly condone eating while driving, especially on the highway, a small square of pizza is way easier to stuff into your mouth while your other hand is on the wheel.