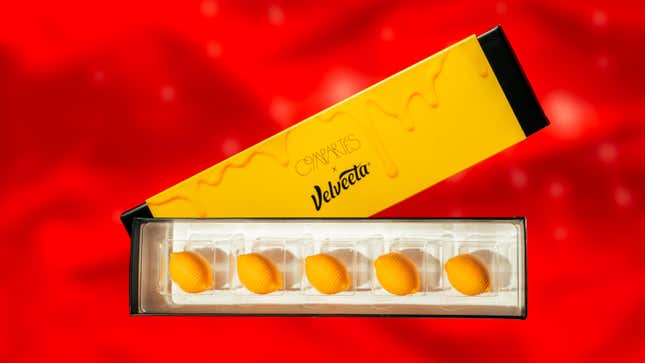 Frankenstein-esque cross-branded food mashups happen often in the culinary world, especially over the past few years. Take Saucy Gloss, for example, a line of flavored lip glosses mimicking the wing sauces at Applebee's. Or the overhyped, overpriced Brooklyn creamery Van Leeuwen, which has released several odd grocery-inspired flavors like Hidden Valley Ranch, Grey Poupon, and Kraft Macaroni & Cheese. Speaking of that last one, now there's a new sweet concoction featuring a different Kraft cheese product, and I have to say, it sounds like it might be pretty good: the TruffVel.
Dr. Pepper Strawberries & Cream Is Tearing Us Apart
Los Angeles chocolatier Compartés is collaborating with Velveeta on a limited-edition cheesy truffle. Called the TruffVel, the white chocolate truffle is shaped like the iconic Velveeta mac & cheese shell and filled with a dollop of the orange processed cheese product. An odd couple, to be sure, yet I can't help but think the two elements somehow work together. (Better than Velveeta and vodka, at least.)
If you're a frequent reader of my articles (or, as I call them, masterpieces), you might have picked up by now that I'm negative and skeptical about pretty much everything. So why have I decided to come around to this awkward class clash of sweet luxury chocolate and savory fake cheese? I'm glad you asked.
First of all, I'm one of those rare people who actually likes white chocolate. In fact, I love it. The white chocolate Lindt truffles are my favorite variety, and everyone always avoids them, leaving plenty for me. The common critique of white chocolate is that it tastes like soap, but I find it to be a nice balance between the sweetness of milk chocolate and the bitterness of dark chocolate. So stop yucking my yum.
But of course, the most controversial part of this truffle isn't the white chocolate shell, but rather the Velveeta filling. And it's not a sweetened Velveeta-based filling, either—it's a straight-up mouthful of the classic liquid gold. And according to the press release, the cheese is the star of this show.
Now, I understand why this all might sound gross, but the reality is that people have been mixing Velveeta with chocolate long before it was cool. Plenty of fudge recipes, for example, call for Velveeta to add some silky creaminess to the consistency. It's just like the chocolate cupcakes or egg nog recipes that call for mayo. One food YouTuber made Velveeta fudge and said it "may be the best fudge I've ever had," adding, "This is magic. I don't understand." Clearly it's not as crazy as it sounds!
Of course, I say all this having not yet tasted TruffVels for myself. There's a high chance I could take one bite and feel the need to wash my mouth out with soap—real soap, not white chocolate. But until someone gifts me a box of 5 for $24.95, I'm willing to give this treat the benefit of the doubt.