How Do You Take Yours?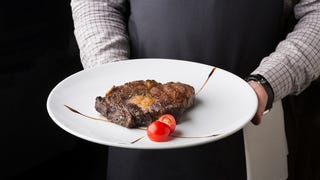 How Do You Take Yours?
In How Do You Take Yours?, The Takeout solicits staff and outside expertise for secret tips on improving one dish.
Velveeta gets a bad rap, and frankly, we think it's undeserved. (The state of Texas will respectfully disagree.) The golden processed brick has actually been around in some form for a century—it was created in 1918 by Emil Frey of the Monroe Cheese Company, then sold to Kraft in 1927. Yes, the product has been classified by the FDA since 2002 as "pasteurized prepared cheese product." Still, that cheese product known as "liquid gold" to fans actually melts really nicely and mixes well, which makes it an ideal fit for dishes from soup to queso, even burgers. But don't (just) take our word for it: We asked a few chefs to find out their favorite ways to incorporate the "cheese product" that sits on a shelf into monumental meals.

---
Soup, sandwiches, easy chili-cheese dip
Any quandaries I have about Velveeta's cheese product stance, I get over in favor of the ease in which it can be used in everything from appetizers to man courses, and consummate deliciousness. One of my favorite burgers, Redamak's in New Buffalo, Michigan, features Velveeta cheeseburgers on the menu. My dad used it to make his legendary broccoli and cheese soup, as nothing mixed better without ever curdling. The Velveeta slices make the best grilled cheese, and Velveeta shells and cheese are miles better than Kraft's little blue box. And yes, the queso is great, but here's another super-easy party dip: Velveeta and one can of chili melted in a microwave and mixed. Anyone who may scoff at your processed preparation is guaranteed to scoop that right up.—Gwen Ihnat, deputy managing editor, The Takeout 
Cheesy scalloped potatoes
This dish has been part of every family holiday dinner—Easter, birthdays, all the way through Christmas. Layer thinly sliced potatoes, dusted with flour, salt and pepper, and dried minced onion. Sparsely shingle with thinly sliced Velveeta. Pour milk around the edges of the dish to come about halfway up the sides of the potato layers. Cover tightly with foil and bake until potatoes are tender. Remove foil and continue to bake until the top is golden and dark brown in spots. —A.E. Dwyer, The Takeout contributing writer
G/O Media may get a commission
Kid-friendly, microwave nachos
This is how my young kids get to cook for dad without my fear of them burning themselves (too badly). Sailor, Miles, and Hunter have been making their take on nachos in the microwave with Velveeta for some time, adding avocado, sour cream, and cilantro if I beg them. —Brian Malarky, Chef, Herb & Wood, San Diego
Breakfast burritos
As I said in my piece about unglamorous camping food, I love a good Velveeta mac 'n' cheese around the campfire. If there's extra sauce left—rare, but it happens—it's great to slather on tortillas for the next morning's breakfast burritos. The spreadability definitely beats the hard shredded cheese that instantly congeals on a chilly camp morning. —Kate Bernot, associate editor, The Takeout
Better queso fundido
I use Velveeta when I want to make a queso fundido with several cheeses. It provides a melting quality that natural cheese doesn't have, because the hydrocolloids in Velveeta allow you to get multiple cheeses with different melting temps to become super silky. I'll add rajas (roasted poblanos and caramelized onion) to the Chihuahua and Oaxacan cheese, plus Velveeta, served with homemade tortillas. —Jonathan Zaragoza, chef/co-owner, Birrieria Zaragoza, Chicago 
Buffalo chicken party dip
Delicious enough to serve at parties, shameful enough to eat alone in the din of your darkened living room while examining your life choices. I take Velveeta and Rotel chiles and make your classic queso base. I add chicken chunks (could be leftover rotisserie chicken, shredded), along with copious amounts of hot sauce and a few large spoonfuls of blue cheese dressing. Serve with chips. Yikes. —Kevin Pang, editor-in-chief, The Takeout
Mac 'n' cheese grilled sandwiches
We actually make our own Velveeta cheese at the restaurant. We use really fancy cheese and add melting salt (sodium citrate), which keeps the emulsification intact when you melt it. We use this melting cheese on our burgers and hard shell tacos. You can also make it into mac 'n' cheese, put it between bread and grill it in a sandwich maker. —Jonny Hunter, Underground Food Collective and Forequarter, Madison, Wisconsin