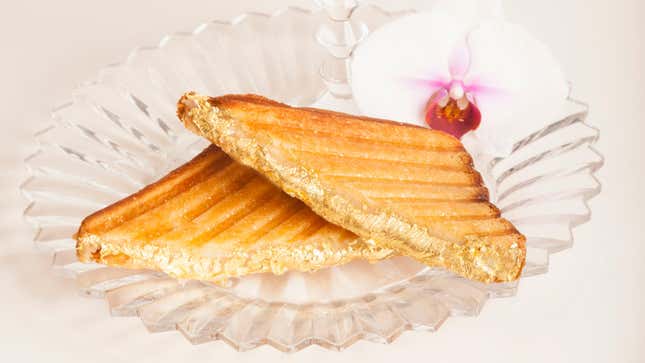 Perhaps you've seen Serendipity brand ice cream pints in your grocery store's freezer—maybe even the ones made in partnership with Selena Gomez. But you might not realize that the brand originates from a renowned New York City restaurant of the same name. Located just a block away from Bloomingdale's, Serendipity3 has been an Upper East Side institution for decades, serving overpriced desserts to European tourists and old Manhattanites with too much disposable income. It was also featured in the 2001 romcom Serendipity starring John Cusack and Kate Beckinsale. Most importantly, however, the brand has mastered the art of stunt food.
Dr. Pepper Strawberries & Cream Is Tearing Us Apart
What's so special about Serendipity3?
The restaurant's signature item is its Frrrozen Hot Chocolate, several variations of which are posted to the online menu lists several variations of the dessert and conveniently omits all prices, but they start around $10 and go up as the offerings get more complex. For a Fruity Pebbles Frozen Hot White Chocolate, I wouldn't be surprised if the price tag were $20. Happy customers are all to willing to pay, take pics and videos, post them, take two sips, and leave. What a time to be alive!
But those aren't the only (presumably) overpriced items Serendipity3 is serving up. In fact, the business has a whole section of the menu dedicated to items that have won the Guinness World Record for being the most expensive in their class. Want a $100 milkshake served in a glass covered in Swarovski crystals? You got it. A $200 plate of fries? Done. At $1,000, the Golden Opulence Sundae held the record for world's most expensive dessert until the restaurant outdid itself with the Frrrozen Haute Chocolate, which sells for a cool $25,000. And for Valentine's Day, the brand unveiled the Diamond Frrrozen Haute Chocolate worth ten times that much, a mind-boggling $250,000 (spoiler: it's dripping in gemstones).
Now, in honor of National Grilled Cheese Day on April 12, Serendipity3 has brought back the world's most expensive sandwich: a $214 grilled cheese.
The world's most expensive grilled cheese, explained
These days, every sandwich seems like it's the world's most expensive. It's nearly impossible to go to any cafe or restaurant in New York—even in my neighborhood, which is supposedly "affordable"—and order a sandwich for under $15. Often, the product tastes worse than something I could've made at home; I simply paid extra to have it served to me by someone with a cool neck tattoo. Given Serendipity3's swanky address, a $214 price tag doesn't tell me a sandwich is going to be delicious—it just tells me I'm in a pricey neighborhood. Am I wrong to be cynical here?
The Quintessential Grilled Cheese Sandwich, as it's officially known, features bread made with Dom Perignon champagne and flakes of 23k edible gold. It's filled with an Italian cheese called Caciocavallo Podolico—"one of the finest and rarest in the world," according to the press release. Coated in truffle butter and toasted, the sandwich is served alongside a South African lobster tomato bisque. (Screw Campbell's tomato soup.) It must be ordered 48 hours in advance.
In this current stage of my life, I am morally and ethically opposed to this sandwich's existence. It's a gaudy display of wealth that I'm sure is exclusively ordered by highly insecure people whenever it returns to the menu. But if I were, as I aspire to be, an old widow who lived on Park Avenue and inherited my late husband's fortune, I would absolutely order this simply because I could. If I'm going to make myself constipated, I want to make it count. And as much as it pains me to say so, this grilled cheese sounds like it might be worth it.