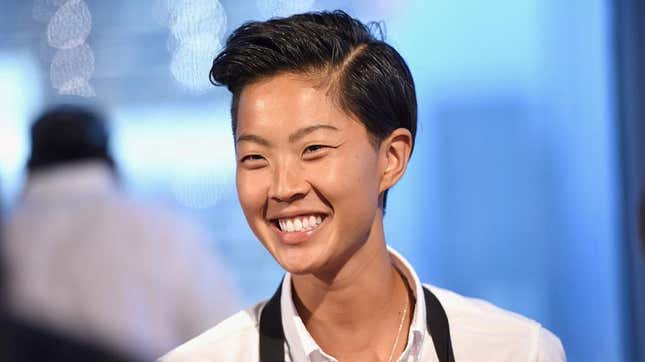 Last month, Padma Lakshmi announced that she would be stepping away from her Top Chef hosting duties, a position she has held for an impressive 17 years. Naturally, media outlets immediately started speculating on who might become her successor. Now we know, and the answer is awesome: Kristen Kish, a former Top Chef winner herself, will take on the job.

How To Dispose Of Cooking Grease The Easy Way After Frying
Who is Kristen Kish?
Kish, 39, is a former contestant on Top Chef, having competed on the show in 2012 and having won in 2013 at the conclusion of season 10. She's a former model, a Korean-American adoptee, and owner of the restaurant Arlo Grey in Austin. Ever since her first Top Chef appearance, Kish has had a wide variety of TV gigs, most recently on National Geographic's Restaurants at the End of the World. She also provides color commentary alongside Alton Brown on Iron Chef: Quest for an Iron Legend, so we know she can bring a lot of personality to the screen.
I have her cookbook, Kristen Kish Cooking, on my shelf. If I had to categorize her dishes and overall style, I'd call it higher-end American cuisine with heavy leanings on French cooking techniques. It's fine-dining-type cooking, not your everyday food—and it's definitely not a beginner's cookbook. But then again, Kish is a Top Chef, and her recipes speak to that.
The next season of Top Chef
Along with the new host, the setting for the next season of Top Chef, premiering in 2024, was also announced: season 21 will take place in Wisconsin. Since we're headquartered in Chicago, The Takeout staff is delighted not only by the proximity of the show, but its nod to the Midwest as a culinary destination. The challenges will bounce between locales, including Milwaukee (an underrated city to visit) and the state capital of Madison.
Madison is a gorgeous city set in between lakes, so we're guaranteed to get some pretty drone shots of the city, along with picturesque rolling hills and farms. Too bad a TV camera can't capture the, uh, bouquet of the dairy cows that blanket the surrounding area. Top Chef producers, if you're reading this, have me on as a guest judge.
The other judges on the roster include returning chef Tom Colicchio and food critic Gail Simmons, so the show's format likely won't be changing much. Top Chef fans, are you excited about Kish as the new host? It's a pretty sharp knife to handle, but I have a feeling this will be a seamless handover.