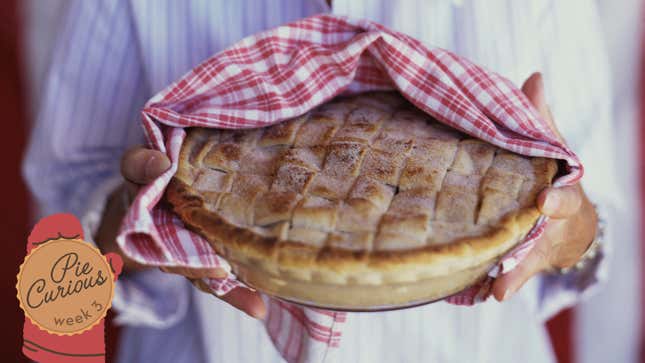 I think I was in middle school when my parents declared that they were no longer going to make pie crust by hand, as they thought the frozen Pillsbury stuff was just as good without all the hassle. After the past few weeks, I can certainly see where they were coming from. It's not rocket science, but as last week's disaster showed us all (especially me), it's not not rocket science either.

How To Dispose Of Cooking Grease The Easy Way After Frying
So shattered was I after last week, I couldn't move forward with another chef until I had mastered the wonderful apple pie recipe given to me by my pastry coach Leigh Omilinsky from Chicago restaurant Nico Osteria. My first step was to right my many wrongs: I used straight-up pork belly lard, not that mysterious duck fat concoction that was in the fridge that I suspected (and The Takeout editor and food expert Kevin Pang confirmed) was my major detour last week. I chilled bowl, lard, and butter. Instead of an automatic mixer, which I think might have overworked the dough, I went back to hand-mixing. I was able to add in the egg that I failed to include last week. Honestly, the most tenuous part of preparing the dough was the mixing in of the ice water, as Leigh put it, "by feel," which honestly has never been my strong suit. I scheduled in an overnight chilling time to make my dough as pliable as possible to work with.
I cook a fair amount, so am not overly thrilled most days when I prepare something. I have to say, nailing this pie crust has excited me like few other culinary victories in my life. As I rolled it out, it now resembled a less weirdly shaped state in the union, more like Iowa than Alaska. The sheet of dough had a nice weight and heft, much like the ones of those pastry chefs I admire so. I finally was able to unfurl my own carpet of dough over the pie plate, instead of frantically scraping it off the table like last week. I remembered my mistake of two weeks prior and left plenty of room around the sides of the pie so that the crust wouldn't shrink entirely.
Me being me, I immediately got cocky, and decided to go for it: That's right, the whole double crust. Pretty sure I've never pulled off a double-crust pie in my life; even my previous poor pie crust attempts escaped with a safe streusel topping. For this maiden voyage, I wasn't about to attempt any fancy crimp or cutout styles: baby steps, people. Just some basic slits and a simple fork crimp would do.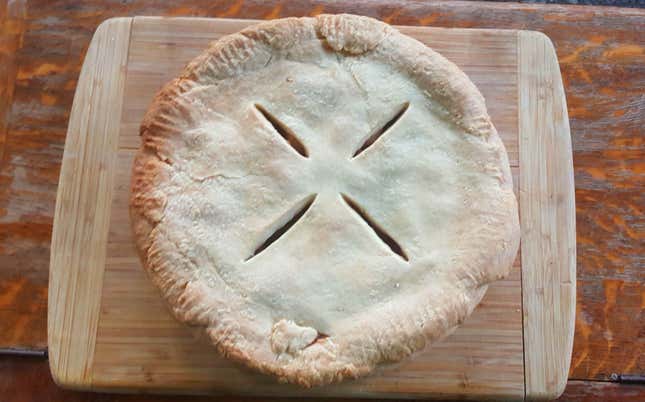 I'm so glad I went back to this recipe, actually, because if I hadn't, I would have missed the opportunity to introduce you guys to Leigh's delicious apple pie filling. It uses brown and white sugars and butter to create this kind of caramel apple affect: truly delicious. Had a hard time saving enough for the pie, to be honest.
My house filled with the most delicious aroma this morning as the pie became pie. When I finally pulled it out, I saw that in my haste not to have the crust shrink too much, I had left too much on the sides. It kind of looked like a Frankenpie. But it was my Frankenpie. The luckiest kids in America had pie for breakfast and I was redeemed slightly for the sand-like quiche-crust I served them for dinner last week. My son enthused that the "apples are awesome," while the crust was "well-cooked," unlike last week's. Always ready to push it, I asked if my concoction was on the same level as our local bakery. My son shook his head. "No mom," he said. "I'm sorry, but their pies are amazing."
But most kids are going to give a pie for breakfast a giant thumbs-up, so I took the rest of the pie to work to get some feedback from the more discerning palates of adults. Actually, my tasters weren't that discerning, eagerly downing the pie with a side of vanilla ice cream. The pie did not weather the trip on the train all that well, so lost marks for aesthetics but it still tasted great, according to my work friends. While one taster noted that the crust was a "little thicker" than they were used to, the crust was solid overall, held together well, and those delicious caramelly apples received kudos as well.
But I held out for the final word from my food expert colleague Kevin Pang, who sent me these notes: "I think it's pretty solid for an amateur pie baker! There's good, balanced flavor throughout, though perhaps slightly overworked. There's parts that are underdone, especially on the underside (a bit uneven thickness?) but the top crust is pretty close to nailing it." Yeah, my bottom crust was definitely thicker than my top crust. Next time!
Kevin Pang's pie crust grade: "I would give this pie crust a solid B!" And I'll take it!
---
Leigh Omilinsky's Apple Pie
Crust
1 lb. + 1.5 oz all-purpose flour

2.5 Tbsp. sugar

2 tsp. salt

6 oz. butter

1/2 cup lard

1 egg

ice water

Apple Pie Filling
4 granny smith apples

16 g all purpose flour

30 g sugar

30 g brown sugar

5 g salt

8 g lemon juice

1.5 tsp. cinnamon

22 g butter

Cube the butter and lard into uniform 1/2-inch cubes. Chill for an hour.
Combine the flour, sugar, and salt. Add the chilled butter and lard and combine. (Leigh used an electric mixer; I used my hands.) Then add the egg and some ice water on a very slow speed, until the dough resembles play-dough. Chill the dough for a few hours.
For the filling: Melt the butter. Peel and dice the apples. Combine everything together in a bowl and mix until everything is evenly coated. Cook in a pot on low until the apples just begin to get soft but are still crunchy on the inside.
Roll out the dough to a 1/4-inch thickness and place in pie plate. Pour in filling, add top crust, and bake for about 45 minutes at 350, until the pie is golden brown.
Next week: Graduation class with one final chef.