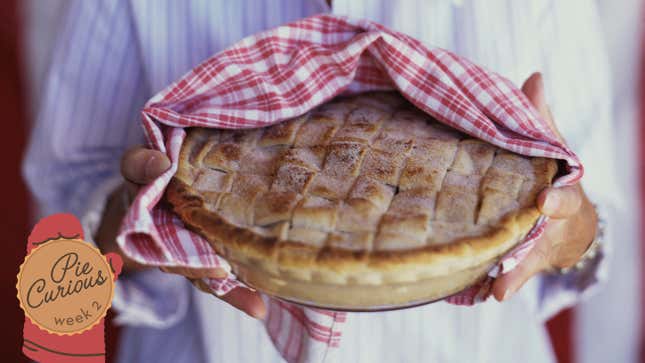 My overall phobia about pie crust is based on the fact that yes, it can go right, but there are so very many ways it can go wrong. This is why I wanted to learn how to make a pie crust in the first place, even as the disastrous one I made yesterday turned into something like congealed powder.

Case in point: Pastry chef number two, the delightful Leigh Omilinsky from Chicago restaurant Nico Osteria, suggested using lard to make pie crust. Leigh is a Chicago-area native who won the Jean Banchet award—a Chicago-area restaurant award—for Best Pastry Chef in 2013. After five years working with French pastry, she now incorporates that experience into crafting creative pastries for the Italian cuisine of Nico Osteria.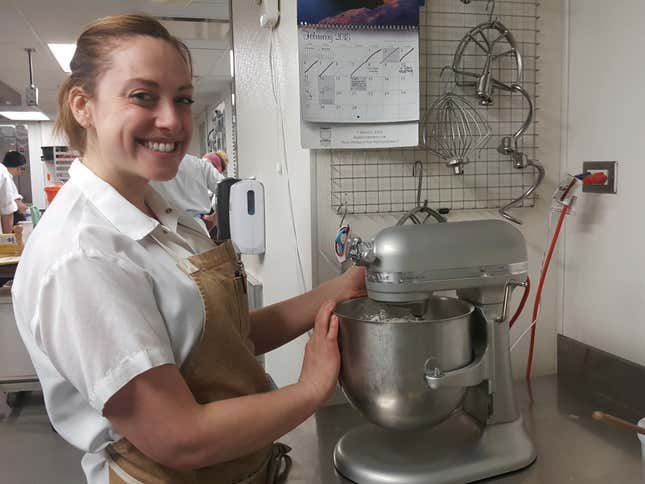 Since she's an expert, I was inclined to believe Leigh as she enthused about the lard. "It makes such a difference with the texture," she stressed, even though things can get "a little sticky." Unlike my first go-around, which was all butter and hands, Leigh incorporated lard and a kitchen mixer to make a crust that seemed pretty straightforward. Like my pastry chef from last week, Ashley Danello of El Che Bar, Leigh stressed the importance of temperature, but she used an electric mixer until everything "comes together in a shaggy mess." At that point, she described, just a little pressure "will stick [the dough] together," making for a pie crust dough that she unfurled into a small foil pie tin with aplomb.
Lard is one of those things that many of us grew up having an unsavory connotation to—my own grandmother had a big bucket of the white stuff in her kitchen. But today's chefs, like Leigh, seem to be very enthusiastic about it. It certainly is a bit more pliable than chilled butter.
Maybe too pliable. Before I tried to mimic Leigh's method at home, my husband had assured me that we had some lard. When I pulled it out, it smelled faintly of garlic, and he explained that it was like 95 percent lard, 5 percent duck fat. Maybe it was the duck fat that defeated me; I'll never know. [Editor's note: It was, sweet Gwen!] But "sticky" was an accurate description: As I mixed it, I soon realized that this dough was a lot "wetter" than my previous effort. I was afraid to add the egg in the recipe (and I found some online lard pie crust recipes that bypassed that step) for fear it would make my pie crust too gloppy—turns out, that ship had sailed. Still, I added some extra flour, put it in the freezer, and hoped for the best.
No luck: I had the hardest time rolling it out, as it crumbled at the edges and refused to come together. Eventually I gave up and just pressed it into the pan like an asshole. Then I had to rethink the apple portion of my pie, due to the faint tinge of garlic. Through some divine miracle, we actually had all the ingredients for Betty Crocker's Quiche Lorraine recipe on hand—bacon, eggs, cheese, onion, cream—so I set out to make quiche for dinner.
Things I improved on since last week: Adding foil around the edges so that the outside (crumbly) crust did not burn. New wrinkle: I really should have used pie weights to keep the crust from puffing up. As it was, I couldn't even fit all of the quiche custard into the pan.
God bless my family, who had to eat that quiche for dinner. They all took turns critiquing me like I was on Chopped, which I'm pretty sure they all found amusing. The word that kept popping up most often was "disaster." The egg—custard-filling part of the quiche was a big hit, with my Ted-Allen-wannabe son telling me, "You've got a nice marbling here with the cheese, and the bacon adds some good texture." (Yes, I know what marbling means!) But once we got to the crust part, it was like taking a big bite of "pencil shavings," as my daughter described. My husband lunged for his water glass. The kids said it was like kinetic sand, as it appeared to take a shape, but then exploded completely as soon as you bit into it. Eventually everyone scraped the egg part off to eat that (it was really good, thank you Betty Crocker), and we threw the dissolved crust away.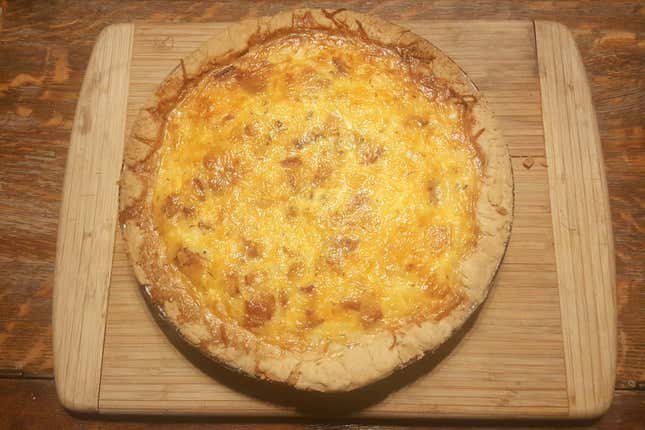 Family pie crust grade: D-

Now, I have a mission. Now, lard is my white whale. I am going to follow up with Leigh and ask where she thought my version of her pie crust went so terribly wrong. First thing first: No more garlicky duck fat! But more importantly: I should have followed Leigh's recipe and added the egg. You know the saying, "Cooking is an art, baking is a science?" I've learned that baking is not a time to improvise. Unless you know what you're doing, winging it is never a good idea. Next week, I may even just try this version again. You will not defeat me, lard. In fact, we have barely begun. (And if you have any possible tips for me—pie crust, lard, or otherwise—am grateful for any suggestions in the comments.)
---
Leigh Omilinsky's Pie Crust
1 lb. + 1.5 oz all-purpose flour

2.5 Tbsp. sugar

2 tsp. salt

6 oz. butter

1/2 cup lard

1 egg

ice water

Cube the butter and lard into uniform 1/2-inch cubes. Chill for an hour.
Combine the flour, sugar, and salt. Add the chilled butter and lard combine using an electric mixer. Then add the egg and some ice water on a very slow speed, until the dough resembles play-dough. Leigh said that pie crust is "all about feel," and again, this may be where I'm falling short.
Chill the dough for a few hours. Then roll out to a 1/4-inch thickness and place in pie plate. For the quiche I put foil around the edges and baked the crust at 425 degrees for 15 minutes before adding the filling, below. Please add pie weights or dried beans to prevent crust from puffing up, which I did not.
---
8 slices bacon, crisply cooked, crumbled (1/2 cup)

1 cup shredded Swiss or Cheddar cheese (4 oz)

1/3 cup finely chopped onion

4 large eggs

2 cups whipping cream or half-and-half

1/4 tsp. salt

1/4 tsp. pepper

1/8 tsp. ground red pepper (cayenne)

Sprinkle bacon, cheese, and onion in pie crust. In medium bowl, beat eggs slightly; beat in remaining filling ingredients. Pour into prepared pie crust (above).
Bake 45 to 50 minutes at 325 degrees or until knife inserted in center comes out clean. Let stand 10 minutes before serving.