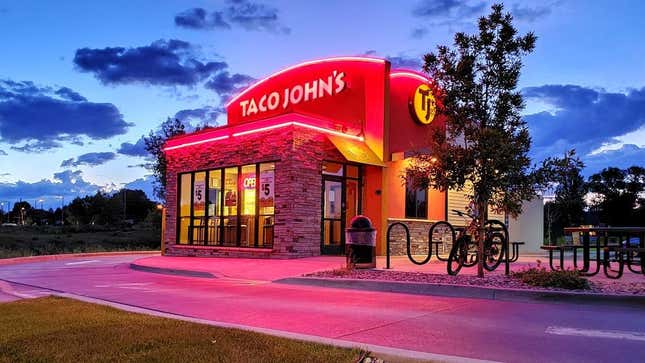 The monster who wields the Taco Tuesday trademark is only continuing to feed off the attacks against it, reports Nation's Restaurant News. In a plot twist we would not have guessed, Taco Bell's efforts to strip Wyoming-based Taco John's of its Taco Tuesday trademark have actually resulted in bigger success for the home of the Potato Olés.
McDonald's Shrinks Its Restaurant for the Digital Age
If you aren't yet immersed in the legal battle surrounding this extremely common phrase and the multiple chains attempting to lay claim to its use, don't you fret. The Takeout has had an eye on this tortilla-wrapped ruckus since it all started and we can bring you up to speed.
The battle for Taco Tuesday, so far
Taco John's has held the trademark for the phrase "Taco Tuesday" since 1989, despite documented evidence showing the brand was neither the inventor nor the originator of the term. The chain holds this trademark in 49 states and has not held back from enforcing its power over smaller restaurants who have attempted to promote their own Taco Tuesday specials.
Taco Bell has recently taken up the mantle as defender of the little guy, fighting to free Taco Tuesday from the sole possession of Taco John's. The Bell filed a legal petition to cancel the trademark registration of "Taco Tuesday" via the United States Patent and Trademark Office. In its filing, Taco Bell notes that it is not seeking to own the trademark itself, but rather to cancel Taco John's ownership so that the common phrase can be released to the public and used in Tex-Mex establishments far and wide.
Taco Bell also recruited NBA superstar LeBron James to bring some celebrity clout to its campaign. James himself actually tried to trademark Taco Tuesday for his own brand in the past, but the USPTO rejected his claim, noting that Taco Tuesday is "a commonplace term, message or expression widely used by a variety of sources." Why that logic does not also apply to Taco John's current trademark is beyond my understanding as someone without any professional legal background whatsoever.
Of course this very public taco beef, or rather taco-related marketing campaign, couldn't remain confined to the two restaurant chains. Jack in the Box, another brand that offers tacos on its menu, decided to throw itself into the fray as well. After noting the news about Taco Bell and Taco John's going head to head, Jack in the Box filed for ownership of Taco Tuesnight. In an email to The Takeout, a representative of the chain known for its $0.99 taco deal and its Tiny Tacos called Taco Bell's campaign a "hissy fit." Yes, the trolling never ceases.
How Taco John's is winning the Taco Tuesday battle
In response to Taco Bell's legal efforts, Taco John's took the opportunity to announce a "special Taco Tuesday deal" of 2 tacos for $2 running until May 31 for rewards members who order through the app.
"I'd like to thank our worthy competitors at Taco Bell for reminding everyone that Taco Tuesday® is best celebrated at Taco John's®," Taco John's CEO Jim Creel wrote in the announcement. In regards to the legal matters at hand, Creel also said "No más, por favor!" (Note: This author is sighing heavily.)
Setting the cringiest of marketing beefs aside, all this publicity is actually benefiting Taco John's. The brand's Chief Marketing Officer, Barry Westrum, noted in a recent interview that the company has had "significant improvement" in same-store sales growth and traffic in the last week and its app has had a 25% increase in downloads since the whole Taco Tuesday battle kicked off. As for giving up the trademark eventually, Westrum said it ain't happening.
"We feel strongly that we owe it to our franchisees and other small business people who had an idea and drove the idea and saw success with the idea and fought to get the claim," said Westrum. "We feel obligated to defend it for them and for our fans who have come to expect great deals from us every Tuesday for the last 34 years."
What's the lesson to be learned from this trademark battle turned marketing opportunity? Truthfully, nothing. If anything, this skirmish drives home my point that tacos do not need a designated day of the week to be celebrated and enjoyed. Whenever we start thinking about them, we start craving them, no matter what day we hear about all this corporate (ground) beef.