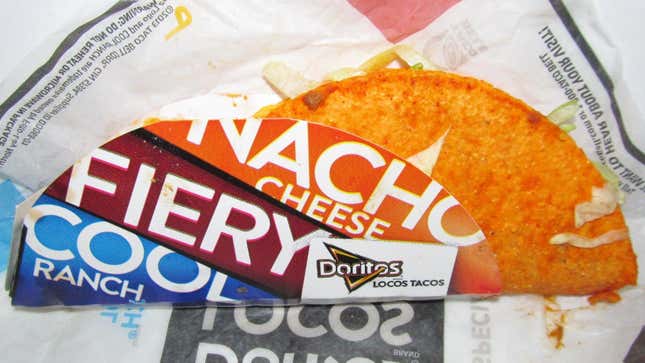 The ownership battle over the term "Taco Tuesday" might be over—Taco Bell won, with Taco John's surrendering its federal trademark—but we're all still experiencing the fallout from this landmark legal decision. For the next four Tuesdays (August 15 to September 5), Taco Bell plans to celebrate its win by giving away free Nacho Cheese Doritos Locos Tacos to customers via the Taco Bell app (no purchase necessary).
How To Dispose Of Cooking Grease The Easy Way After Frying
Additionally, Taco Bell is tacking on an extra Taco Tuesday promotion September 12, putting $5 million toward partially cover the tab on DoorDash orders at any participating restaurant that serves Mexican food (not just Taco Bell). But CNN reports that the Garden State is being left out in the cold on that one, and it all comes down the the term "Taco Tuesday" itself.
Why Taco Bell won't give away Mexican food in New Jersey
If you were paying attention to the finer details of the Taco Tuesday fight, you might recall that there's only one state in which the term "Taco Tuesday" is still trademarked by a local business, rather than by the national Taco John's chain. In New Jersey, the trademark is owned by a local business called Gregory's, and that continues to be true regardless of any Taco Bell litigation.
Gregory's resistance to Big Taco is admirable and all, but that means the citizens of New Jersey are left in a bit of a lurch. At least they can proudly celebrate other local delicacies that the rest of us can only dream of.
So on Tuesday, September 12, to celebrate the liberation of "Taco Tuesday" in all 49 other states, Taco Bell will partner with DoorDash to subsidize your meal (assuming you want tacos). The company has set aside $5 million to cover a part of any order placed through DoorDash at participating vendors that sell Mexican food. The finer details for the remaining 49 states have yet to be released, but we'll keep a close eye on them, because we love free food as much as you do.
It looks like the fight to release Taco Tuesday from Taco John's grasp has benefited us all, except for about 9 million understandably grumpy folks in the Northeast who are not getting rewarded quite as much as the rest of us. For them, at least, there's always Gregory's.
---
Note: A previous version of this article contained an error about which Taco Bell deal New Jersey is entitled to. The text has been updated to reflect the correct information about the promotion.