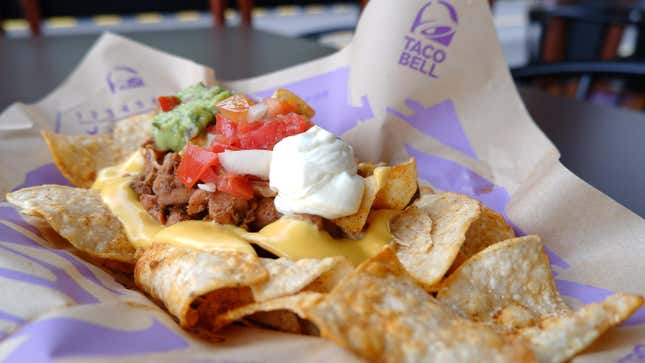 There's no question that Taco Bell's digital game is strong. Currently it offers online ordering, mobile orders, and third-party delivery capabilities, and as someone who has used all three of those options, I've found that they all work great when I need that Bell. And that's the thing: Taco Bell has kept a close eye on its digital trends, developing a keen sense of where the market is headed. The company announced in an earnings call earlier this month that it hopes the business will eventually go 100% digital—not just for the ease of monetary transactions, but for other reasons as well.
How To Dispose Of Cooking Grease The Easy Way After Frying
Why does Taco Bell want to switch to 100% digital orders and payments?
Aside from making it easier for customers to complete impulse transactions at the click of a button, there are other reasons for Taco Bell's switch to an all-digital operation. Going cashless and making customers order through screens rather than with the assistance of a human being means that Taco Bell can use its technology to suggest additional items to supplement one's order. Yup, the good old-fashioned upsell, modernized for the digital age.
Chris Turner, CFO of Yum! Brands (owner of Taco Bell), said on the earnings call that the company is using a new customer data platform to survey customer behavior, with the end goal of increasing Taco Bell customer visits.
"Eventually, this and other internal programs will provide the infrastructure to unlock personalized marketing, joint branding, and future automation," he said.
I hope Taco Bell doesn't figure out I like adding guacamole to pretty much everything, because if the kiosk pieces together my secret preferences, my wallet's going to be whittled down by all these extra fees. (At least I know better than to spend $28 in one go.)
Cashless transactions have their downsides
We're not big fans of forcing people to go cashless when dining out. It's one thing to tout the ease and convenience of paying with a card (or via digital wallet), but to deny people service because the infrastructure only accepts digital currency means that these businesses inherently wall off those who can only deal in cash, like undocumented and unhoused people.
And even if you have a bank account, paying by card is not always preferable. I think back to all the days I used to be tipped out with cash as a restaurant employee—on my late commute home, sometimes that cash was what I had available to spend at fast food restaurants to get a meal after midnight (nothing else was really open). One can't survive on 7-Eleven roller hot dogs alone.
When is Taco Bell aiming to go cashless?
Currently there's no definitive timeline for when Taco Bell plans to go cashless, but it's something the company expressly aspires to do. Digital ordering kiosks have already been installed in all Taco Bell stores, which is one piece of the puzzle. Don't be surprised if someday in the not-too-distant future, your Nachos BellGrande can only be ordered by tapping a cold, hard touchscreen.