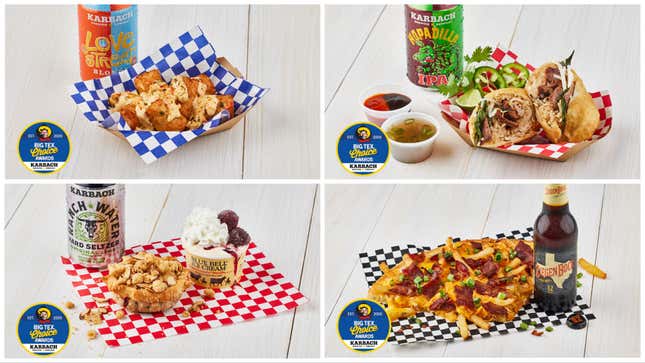 It started with Minnesota. Then Iowa. Then the baffling choices of Ohio. Like a warm front blowing from west to east, we wait with anticipation for each summer's rolling announcements declaring which state fairs will serve which wonderfully wacky foods (fried on a stick or otherwise) to the masses this year. Up next is the State Fair of Texas, the largest state fair in America, with over 2 million estimated visitors expected to attend from September 29 to October 22. With an event that big, is it any wonder that countless eye-catching treats are already in the works?
How To Dispose Of Cooking Grease The Easy Way After Frying
The State Fair of Texas announced today the finalists in the 19th annual Big Tex Choice Awards, a yearly competition to determine which new foods will make their glorious debut at the fair. Among these finalists, three winners will be chosen: Best Taste (Savory), Best Taste (Sweet), and Most Creative.
The contest saw 19 savory and 17 sweet entries make it to the semifinalist round, all of which were then tasted and judged by the awards panel. Here are the ten (5 savory, 5 sweet) that were selected out of that round:
Deep Fried Cheesy Crab Tater Bites: Minced crab meat, shredded potato, cheese, and spices fried up in bundles and served with a cheesy Cajun sauce
Deep Fried Pho: Picture every element in a bowl of Vietnamese pho, turned into an egg roll of sorts. "With every bite, you get a harmonious and succulent mouthful of noodles, slices of beef, fresh herbs, bean sprouts, and a taste of aromatic pho broth that has been slowly simmered for hours."
Loaded Fries Pizza: A pizza topped with buttermilk ranch dressing, shredded mozzarella, salted french fries, a layer of cheddar, and a sprinkling of chopped bacon
Ox'cellent Soul Roll: Slow-simmered oxtails, potatoes, smoked gouda, mozzarella, onions, celery, and peppers loaded into a spring roll, served fried with garlic chili sauce
Turkey Ribs! [yes, with that exclamation point]: Featuring "the best part of turkey you never knew you loved," fried up and served with stuffing-seasoned fries, gravy, and salsa
Biscoff Delight: Chocolate-coated New York cheesecake slice with crumbled Biscoff cookies and a drizzle of Biscoff cookie butter
Bourbon Banana Caramel Sopapillas: Traditional sopapillas (fried pastry dough) served with vanilla caramel banana slices, bourbon syrup, crushed candied pecans, sweetened mascarpone cheese, crumbled Nilla Wafers, and powdered sugar
Fernie's Fried Cherry Pie in the Sky: This cherry pie is layered with shortbread cookies, topped with butter almond shortbread crumble, and served with ice cream, whipped cream, and sugared dark sweet cherries
Sweet Encanto: A waffle wafer drizzled with dulce de leche and layered with cream, strawberries, kiwi, peaches, and shredded coconut, topped with raspberry jam and sweetened condensed milk
Trail-Ade: An NA cocktail blending lemonade with summer fruit, cucumber, and mint, served up in a souvenir cup shaped like a cowboy boot
Click here to see the delectable page of finalists, featuring photos of each item and a writeup noting the dishes' creators and even an ideal beer pairing for each.
The winners of the Big Tex Choice Awards will receive prime placement in the state fair visitor guide, as well as priority real estate on the website and social media channels. However, simply becoming a finalist has its benefits, too: The media circuit surrounding the competition is substantial, providing lots of exposure for the businesses, not to mention bragging rights. Best of all, regardless of whether they win, all finalist dishes will be on offer at the fair this year.
The three winning dishes will be announced on August 27 live on the State Fair of Texas' Facebook, Twitter, and YouTube channels. Representatives for the State Fair of Texas confirmed to The Takeout that more new fair foods will be announced in the coming weeks. Which one sounds most delicious so far?