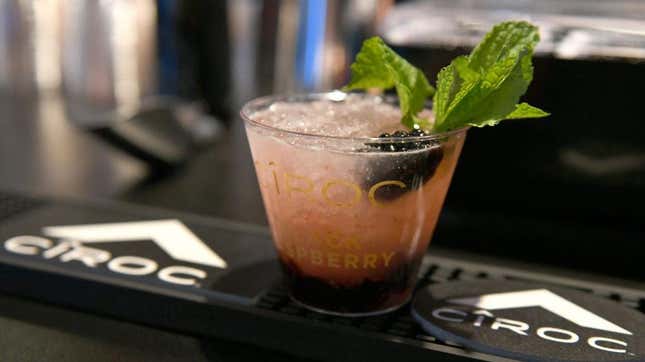 Just about every celebrity seems to have their own liquor brand. The market is overflowing with tequila from Kendall Jenner and The Rock, a spritz from J.Lo, a money-printing gin from Ryan Reynolds, and countless others. But as one celebrity seeks to prove in court, not every star-studded brand is as successful as it could be.

How To Dispose Of Cooking Grease The Easy Way After Frying
A lawsuit filed May 31 by rapper, producer, and entrepreneur Sean "Diddy" Combs (under Combs Wines and Spirits LLC) alleges that Diageo North America, the company that handles the distribution of Diddy's Ciroc vodka and DeLeon tequila, neglected the brands by failing to sufficiently invest in them. Combs entered into an equal ownership deal with Diageo to manage Ciroc in 2007; he later purchased DeLeon Tequila and made a similar deal with Diageo to manage that brand in January 2014.
The lawsuit alleges that because Combs is Black, the company did not make promised investments in the two brands and instead treated them as inferior products, limiting their distribution to mostly "urban" neighborhoods. By comparison, the filing also calls out how Diageo allegedly more actively promoted and funneled resources toward celebrity products such as George Clooney's Casamigos tequila, which it purchased for $1 billion in 2017.
"While Diageo may conspicuously include images of its Black partners in advertising materials and press releases, its words only provide the illusion of inclusion," reads Combs Wines and Spirits LLC's complaint in part. 
Regarding DeLeon tequila specifically, the complaint alleges that it's extremely obvious how little marketing was put behind the brand, especially compared to similar tequilas within the Diageo portfolio—not only the aforementioned Casamigos, but also Don Julio. The lack of effort is termed a "self-fulfilling prophecy": the lawsuit alleges that such neglect by DeLeon's parent company caused the brand to grow only minimally, thus allowing Diageo to justify further lack of support or resources.
Combs also alleges that Diageo leadership told him explicitly that the alcohol's distribution was limited because of his race and that some key figures in Diageo leadership resented Diddy's financial success. In a statement to Bloomberg, Diageo denied all of the allegations of racial discrimination and described its business relationship with Combs as "productive and mutually beneficial."
"This is a business dispute, and we are saddened that Mr. Combs has chosen to recast this matter as anything other than that," read the statement to Bloomberg. "Our steadfast commitment to diversity within our company and the communities we serve is something we take very seriously."
Combs intends to seek "billions of dollars in damages" for the alleged neglect.