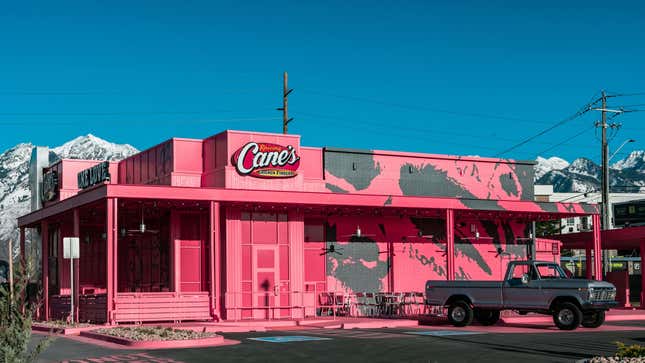 Chicken fingers, slaw, and Post Malone? A combination many of us wouldn't immediately think of. But because of the rapper's pure love for fast food poultry, all three of these elements are coming together in the form of a highly unique restaurant.

Dr. Pepper Strawberries & Cream Is Tearing Us Apart
Post Malone has teamed up with fast food chain Raising Cane's to design his own bespoke location in Midvale, Utah, and the artist himself will cut the ribbon for the grand opening this week, notes a press release from the brand.
"This collaboration is unique because of Post being a longtime fan of Raising Cane's and his friendship with Raising Cane's Founder Todd Graves, who even made a surprise appearance in Post's 2021 Motley Crew music video," the release said. The songwriter and music producer will be at the new location today, April 13, to welcome guests into his personally designed Cane's.
The partnership between the two parties is strictly design-based, so although the design of it screams Posty, Malone holds no ownership stake in the restaurant. As we saw with the artist's collab with Crocs and his very own rosé, the color pink carries a major role in the design of this new restaurant.
From the outside in, the entire Cane's location will be pink. The exterior of the building is wrapped in solid pink with Post Malone tattoo imagery, and the rosy colors continue throughout the interior—yes, both the walls and the flooring are pink. The window wraps will create a glow at night while stainless steel and silver accents will be present throughout, such as the silver fabric lining the booths.
Other pink heavy features of the restaurant will include ping pong balls running through a track system on a major interior wall, connecting to large shadow boxes filled with pink ping pong balls on either side and light fixtures with color changing filters and a vending machine wrapped in pink vinyl and stocked with exclusive merchandise from the collaboration. Guitars and outfits worn by Post Malone will also decorate the walls, including a pink suit worn by the artist at the 2019 Grammy Awards.
By contrast, here's what a normal Raising Cane's looks like: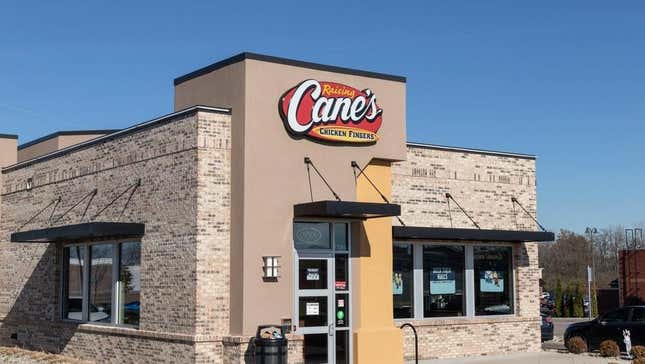 In addition to the visual Post Malone takeover, customers will also be able to order the "Posty Way," which means a four-piece order of Cane's chicken fingers, crinkle-cut fries, two Cane's Sauces, two Texas Toasts, extra salt & pepper packets, and half unsweet tea/lemonade. For the drink, customers will also get one of four four "uniquely designed" Post Malone collector's cups.
"I have the best childhood memories of eating at Raising Cane's in Dallas," Post Malone said in the press release. Upon moving to Utah, he personally requested the opening of a Cane's near his home, which is how the collab came about.

This isn't the first time we've seen fried chicken and celebrities come together in a high-profile way. Drake loves Dave's Hot Chicken so much he now claims a significant ownership stake in the fast-growing chain. And Megan Thee Stallion didn't just release a hot sauce collab with Popeyes—she's so committed to the chain that in 2021 she announced plans to become a Popeyes franchisee. Even Stranger Things star Noah Schnapp (he of hazelnut spread fame) has gotten in on the game, launching the chicken-focused digital restaurant brand TenderFix to sell out of ghost kitchens.
This is Raising Cane's first-ever celebrity meal, and it's a highly Instagrammable collaboration. So, maybe if this palace of pink, silver, and chicken sells enough Posty-style combos, there could be more celebrity Cane's collabs on the horizon.

Overall, what did I learn from this mashup of fast food and rap? Well, now I know Post Malone loves the color pink almost as much as a quality chicken finger. Me too, Post. Me too.